2020 Week 16 - Longview vs. Lufkin
The Lobos will now take on Lancaster in the 5A, DI, RII area round at 7:30 p.m. Friday at Mesquite's Memorial Stadium.
HE SAID IT
On Longview's strong start: "Got a stop defensively right out of the gate and get the ball and march right down the field to score. That was big to start like that. That's what I wanted to see us do. You've got to take control of it when you can against Lufkin," - Lobo HC John King
On Longview's execution: "We executed pretty well on both sides of the ball all night. We had a few blunders with our snaps in punting game which has got to be corrected and will. Other than that, I thought it was a pretty solid performance.
Defensively, they got put in a bind a couple of times and held them to a field goal then intercepted the ball in the endzone. Strong showing on that side of the ball and that was two big possessions for us.
Offensively, I'd say after we got the stop late in the half and went down and score to make it a 24-point game."
On grabbing and keeping the momentum: "I've had that feeling before where they're working on grabbing that momentum and I did last night at times. It's a close game, you make a mistake and here they come. They've got life and they're rolling back. That happened last night but we were able to come back even bigger. They had chances and our defense stood up."
On Kaden Meredith and Markevion Haynes both having 1,000 yard seasons: "We've got two unselfish running backs that feed off one another. Sometimes Markevion has to do a little of the dirty work and sometimes he's the benefactor of it too. They both ran the ball well and I thought we blocked well for most of the night. They ran the ball hard. To have two 1,000-yard rushers, that means you've got good backs and you've been effective up front."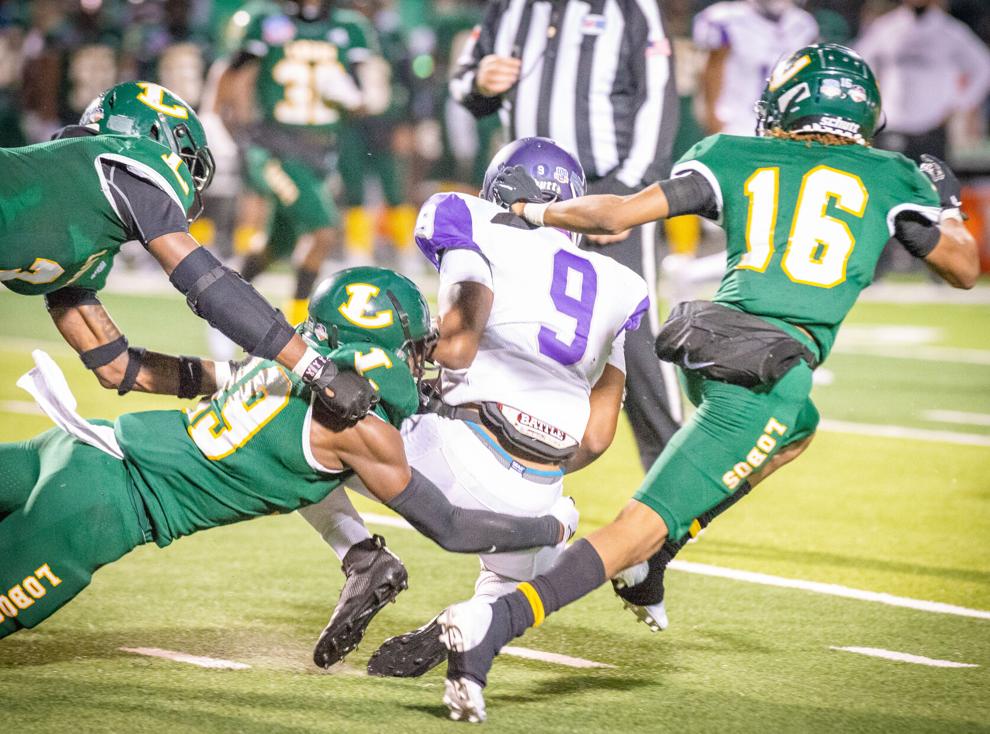 Here's the full box with defensive stats:
LONGVIEW 41, LUFKIN 5
Longview 13 | 14 | 7 | 7 — 41
LV — Jalen Hale 37 pass from Jordan Allen (PAT failed), 7:57
LV — Markevion Haynes 14 run (Antonio Onofre kick), 2:33
LP — Brandon Cano 26 field goal, 11:10
LV — Kaden Meredith 5 run (Onofre kick), 1:40
LV — Meredith 1 run (Onofre kick), 6s
LV — Meredith 11 run (Onofre kick), 4:11
LV — Haynes 5 run (Onofre kick), 10:26
First Downs: LP: 9 | LV: 21
Rushing: LP: 15-8 | LV: 49-367
Passing: LP: 174 | LV: 67
C-A-I: LP: 13-30-3 | LV: 5-8-0
Fumbles-Lost: LP: 1-0 | LV: 2-0
Punts-Avg: LP: 5-30.4 | LV: 2-23
Penalties-Yards: LP: 2-20 | LV: 5-39
Rushing — LP: Toddrick Johnson 12-6, Jordan Moore 3-2; LV — Kaden Meredith 25-155, Markevion Haynes 18-192, Robert Vinson 2-17, Taylor Tatum 2-4, Jon'Khavien Bates 1-(-2)
Passing — LP: Jordan Moore 12-29-3 150; Elijah Moody 1-1-0 25; LV — Jordan Allen 5-8-0 37
Receiving — LP: Kelton Wright 7-92, Cameron Jackson 3-46, Cristian Diaz 3-36; LV — Jalen Hale 3-49, Dekalon Taylor 1-11, Markevion Haynes 1-7
TFL: Devean Isaac (2), Laqualon Hale (2), Kybrien Jackson-Jamerson (1), Kaden Brooks (1)
Sacks: Devean Isaac (1), Laqualon Hale (1)
INT: Dylan Davis, Decameron Thomas, Tyree Hale
PBU: Kybrien Jackson-Jamerson, Dylan Davis, Jacobi Williams, Devean Isaac, Ta'Darion Boone
Tackles: Laqualon Hale (7), Dylan Davis (4), Jahkamian Carr (4), Jacobi Williams (3), Decameron Thomas (3), Charlie Templeton (3), Trevor Tamplin (3), Kybrien Jackson-Jamerson (2), Tyree Hale (2), Ta'Darion Boone (2), Joe Jones (2), Kaden Brooks (2), Six with one