Back in June, I stumbled on something that has really helped with my mental, emotional and spiritual attitude during this pandemic. It has also brought my family closer together. I'm sharing since it's an idea maybe some of you who are also struggling, or even if you're not, might like to try.
When you live alone and have no kinfolk nearby, holidays and special occasions, as well as everyday life, can be difficult at times. During this pandemic, it's been even harder, especially since my family and I have not seen each other much since it began. I was feeling particularly alone and depressed the week before Father's Day. I was missing my husband, who has been gone two years now. I knew one of my daughters was also struggling, so I reached out to her with an idea. I asked if she would be willing for us to text each other nightly to share just one good thing we were grateful for that day — no matter how small.
She agreed to try it, and so we began our nightly sharing. It went so well that I soon invited my other daughter to join us. Amazingly, now four months later the three of us are still sharing our "one good thing" with each other every night. Besides looking forward to reading each daughter's good thing, I also look forward to knowing we'll be "together" daily. We have grown closer these past few months, and know that we are there for each other. This strengthened bond with my daughters is probably the very best "good thing" that has come from this time of unrest and uncertainty.
I've found when you start looking for good things, you begin seeing so many that it's really hard to pick just one. Usually topping my list is walking in my neighborhood or on our beautiful nature trails in Longview, and trying to capture that beauty on camera. (I have countless pictures, my daughters like to remind me, of my favorites: clouds, trees and sunsets. And when I'm lucky — the occasional deer.) Nature feeds my soul. But so does a good book, a phone call or text from a friend, and helping someone in need. I've been reminded the world is chock-full of "good things" just waiting to be seen or experienced.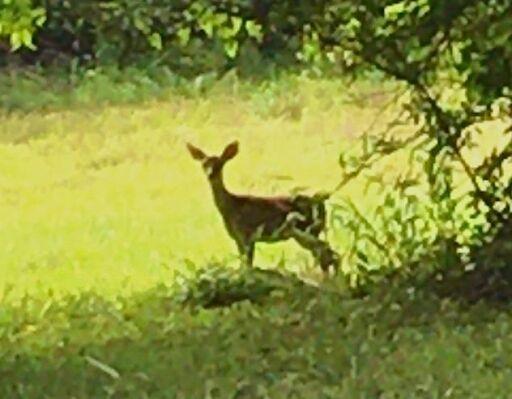 It changes you when you go through the day looking for the good instead of just noticing all the things that are wrong, or focusing on the bad news of the day.
I praise God for His grace that continues to cover us all, and His joy that still abounds in all circumstances. We indeed have cause to celebrate life every day — even in the midst of a pandemic.
"Listen to your life. See it for the fathomless mystery that it is. In the boredom and pain of it no less than in the excitement and gladness: touch, taste, smell your way to the holy and hidden heart of it because in the last analysis all moments are key moments, and life itself is grace" (Frederick Buechner, "Listening to Your Life").
"This is the day the Lord has made; we will rejoice and be glad in it!"
Psalm 118:24