As I stepped into this new decade alone, I paused and looked back, acutely aware of Byron's absence and wishing he was still here to go forward with me. We navigated the previous four decades together. It's hard to go it alone without the love of your life.
For our family, this past decade was dominated by Alzheimer's disease, beginning in 2010 with Byron's diagnosis of Mild Cognitive Impairment and a year later, early onset Alzheimer's disease.
We felt God's sufficient grace and loving care with us as we trusted Him through the decade of disease. Not that there weren't challenges and incredibly hard times on occasion. But as we all know, so much of life is about our perception of our circumstances, and whether we view them through the lens of doubt or faith. We are thankful and blessed that in God's ultimate plan of redemption, there is meaning in our suffering. What we learn and share through our trials becomes a gift for others going through difficulties.
I mentioned in my previous column that people with Alzheimer's and other types of dementia need more than just their biological needs being met. Otherwise, they will experience social and emotional isolation — the main causes of suffering in dementia, says Michael Verde, founder of Memory Bridge. People with dementia start to lose their place in a body of belonging because they typically become "othered" as the disease progresses.
Byron had times of feeling isolated and disconnected. "Where are all my people?" he would ask. Or, "I don't have a place," and "I don't know what my purpose is anymore." Fortunately, the times he felt like this were infrequent, because he did have a caring community that made a significant difference in his Alzheimer's journey. (Byron didn't like me using the word "journey." He said it made him sound noble, and he didn't think of himself that way. But I did.)
I'd like to share some suggestions on things we did that seemed to help create and maintain a supportive community not only for Byron, but for me also. If you have a loved one or friend with dementia, perhaps this will give you some ideas to expound on.
1. Be open about the diagnosis. Attend support groups and seminars and learn about the disease. Help educate others in your community and become an advocate for people with dementia.
*You can't have a supportive community if you're secretive about the diagnosis. I think the fact that we were open about Byron's diagnosis from the beginning and didn't try to "hide" his symptoms was a huge positive for us. Sharing your journey helps educate others and leads to understanding and awareness, which leads to acceptance. Ultimately, sharing helps create community.
2. Keep doing the things you love to do as long as you can. Keep up your social life and hobbies. Keep being around people — don't isolate yourself.
*As a couple, we continued to do what we had always enjoyed as long as we could: getting together with family and friends, church activities, traveling, concerts, going to the gym, movies, festivals and cultural events, eating out, walking our dog and enjoying the outdoors.
*Byron continued to use his many gifts and talents doing the things he had always enjoyed. (He even picked up a new hobby — creating collages and selling them.) He was an entertainer and musician at heart, and for the next five years or so after his diagnosis he was able to keep doing gigs as BeeRon the Clown, Santa Claus, the Easter Bunny and other characters. He continued playing his guitar for events and at church as part of the praise team. He also gave the children's sermons at church and volunteered at Longview Community Ministries.
As the disease progressed, we would modify and adjust the activities as needed until he could no longer do them. He loved music and was able to continue playing his guitar (as well as playing catch and dancing) until almost the very end. We also continued going to church every Sunday until about a few months before he died. Of course he didn't recognize anyone, but he still loved the hugs and being around his church family.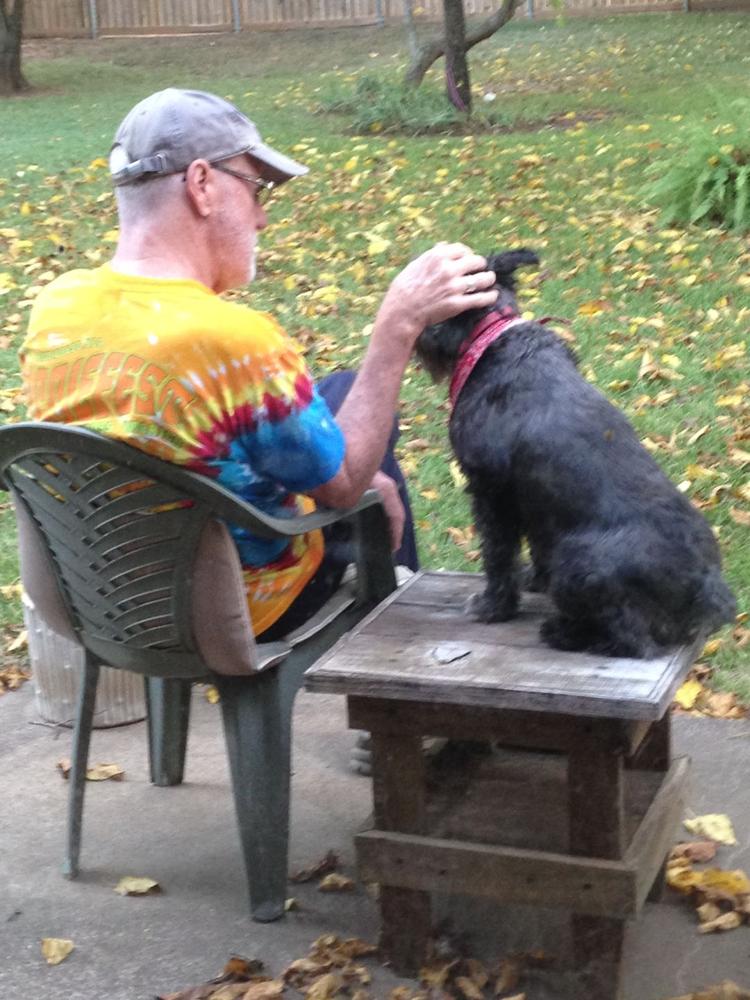 3. Accept the various ways people offer to help, and don't be afraid to make suggestions. Below are some examples of ways that people reached out.
*Byron had friends who invited him to go to movies or out to eat, etc.
*Our pastor invited us to speak to our church family from his pulpit one Sunday about the disease and our journey. That meant so very much to us, especially Byron. He felt like people really understood after that. He felt affirmed and loved. It opened up more communication and led to a greater sense of community.
*Our associate pastor put together a men's coffee group that met weekly for support and fellowship for him.
*He was invited to become a part of the Sr. High Boys' Bible Study that met weekly. The two leaders told me the boys enjoyed his presence as well as his contributions to the discussions.
*His last year he moved to a memory care facility, and friends as well as caring people who did not even know him would come by and visit. Sometimes they would sing or read Scripture and pray with him. Other times they would just sit and "be" with him — by their presence giving him community.
*He was a member of a small group of fellow believers that met together weekly (for more than 15 years) to share and pray. One of the members picked him up each week. The last year of his life they met at his memory care facility so he could still be a part of the group.
These are only a few ideas. There are many additional ways people can help facilitate community for friends and loved ones with dementia.
I'm so grateful for all of you who have followed our journey and prayed and reached out in various ways. You gave us community and blessed us immensely.
If you have a family member or friend with dementia, there are resources, support groups and educational classes available to you through East Texas Alzheimer's Alliance. Go to http://www.etxalz.org or call 903-230-8001 for more information. (Next Hope & Help Hour class coming up will is "Challenging Behaviors in Dementia Care" by speaker LuAnne Harms on Thursday, Feb. 20 from 5:30 to 7:00 p.m. at E. Texas Builders Assoc. Event Center, 2023 Alpine Rd., Longview.