It's been four months since Byron died. There is never a day that I don't think about and miss him terribly. It is a season of uncertainty and grief. But more and more, the memories are making me smile instead of cry, and for that I am grateful.
I felt numb for about the first two months, except when I was sleeping. That's when my mind was awake and ruminating about what I tried not to think about during the day — the "what if's" and "if only's" and the suffering Byron endured towards the end. The intrusive thoughts would sneak in and wreak their havoc, waking me up in the wee hours while my guard was down, and then linger until dawn. All I could do was pray. Thankfully, the painful thoughts have mostly lost their grip on me. I am slowly learning to let go and depend on God to give me His peace and strength to accept the things I cannot change. "Lord, when doubts fill my mind, when my heart is in turmoil, quiet me and give me renewed hope and cheer" (Psalm 95:19).
I found much comfort and wisdom in the book, "Winter of the Heart: Finding your Way through the Mystery of Grief," by Paula D'Arcy. She lost her husband and young daughter in a tragic accident caused by a drunk driver years ago. Following are some of her thoughts: "We don't get over loss, we assimilate it…. Will I accept the life before me, even though I wanted my life to unfold differently? Will I reach out toward a new purpose in life, even when the purpose I wanted is no longer possible? Will I look for the beauty in exactly what I've been given?.... We slowly mine the circumstances we have been given until our heart finds a hidden beauty that was always there, beneath the pain…. Everything is gift, and gratitude is a powerful lens."
Byron always wore the lens of gratitude. We prayed together often throughout the disease, and he never failed to give thanks for his many blessings. He was not bitter. When he couldn't communicate much anymore, I would do the praying and he would add an emphatic "Yes" after each praise or supplication I mentioned. That he could still see the gifts through his confusion and pain was a testament to his strong faith. "In quietness and trust is your strength" (Isaiah 30:15).
Pastor Shelley Kral shared an astute observation about Byron's faith during his memorial service: "Because of Byron's willingness to go public with what it meant to follow Jesus in Alzheimer's, we get a living picture of what it looks like to have a meaningful life in the midst of suffering ... a suffering path on which, no matter what the disease did to his body, Byron would always be Byron — that silly husband, father, brother, G-Daddy and friend we loved."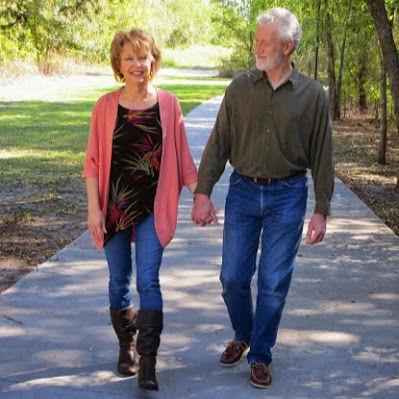 Below is the closing paragraph of a talk Byron gave on prayer at a spiritual renewal retreat in 2005:
"God gave us prayer so that we can get a little preview of what it's like to be in His presence — talking with Him and listening to Him tell us He loves us. Today we share our joy, our pain and our needs with Him through the dark glass of faith. But we know that one day we will see Him face to face. And prayer will become reunion."
Fast forward to Sunday, May 27th — two days before Byron died. The hospice nurse told me he had begun the dying process. His eyes had been closed since the day before. I was by myself in the room with him, when suddenly his eyes opened and his eyebrows lifted in surprise. A look of what could only be called rapture shone from his face. For about ten minutes, his gaze focused intently on the ceiling by his window, where the light was shining through. Finally, his eyes closed and didn't open again (except for a brief time shortly before he died). I truly believe that during those holy moments, he was getting a glimpse of prayer becoming reunion.
Byron's experience served as a beautiful and strong reminder that in the end, death does not win. We can grieve with hope knowing the battle is already won and that God is with us. He will give us strength to face each day, one day at a time. "The peace of God, which transcends all understanding, will guard your hearts and minds in Christ Jesus" (Philippians 4:7).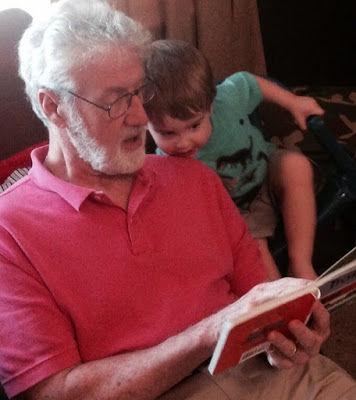 "For now we see through a glass, darkly, but then face to face. Now I know in part, but then shall I know, even as also I am known."
"This is my command — be strong and courageous! Do not be afraid or discouraged. For the Lord your God is with you wherever you go."