I'm really yearning for "more cowbell" right about now.
Seven months ago, I took a deep breath and put a deposit down for a 10-day trip to Switzerland in July. No one else from Longview was going, so I was a little nervous about not knowing anyone. Little did I know what an amazing adventure was in store for me with a group of complete strangers.
Six weeks ago, there I was in Switzerland — with 35 new friends. We were from all over the U.S., and mostly retired folk. Everyone was friendly and laid-back. All but five of us had been on multiple trips with the same agency.
We flew into Milan, Italy, where a big, fancy (except for not having a working bathroom) chartered bus picked us up and drove us to Milan's high-end downtown area. The idea was for us to walk around a few hours so we would stay awake and our jet-lagged body clocks would start readjusting themselves. (It all sounds reasonable, except we were there during the Great European Heat Wave. And we had on our warmish airplane clothes, too.)
Our veteran travelers educated us newbies on the occurrence of what they termed, "hiccups."
"Things are going to happen when you travel," they said. "You just 'roll with it' because the hiccups are what you will remember best and laugh about later."
I'd say the heat was definitely Hiccup #1. (And I remember it, but still haven't laughed about it.)
Very soon, we would score "Hiccup #2," when a few of us found out the hard way you had to pay to use the bathrooms in Italy. Who knew? And we had no Italian money on us. So there we were, panhandling for "pee money" outside a restaurant bathroom in swanky downtown Milan. (The Italian attendant was rolling his eyes, not the least bit sympathetic to our plight, and apparently fed up with this kind of annoying behavior by Americans.) Later, we found an ATM. Problem solved.
Several sweaty and exhausting hours later, we finally made it to our hotel, only to discover our big, fancy chartered bus was too large to fit through the hotel's historic stone gate (Hiccup #3).
After several failed attempts trying to somehow squeeze the bus through the gate, our driver gave up. We unloaded our luggage at the street and began dragging our suitcases up the steep, winding stone driveway to our hotel. Relief at last, we thought, as we finally straggled inside ... only to discover the air conditioning had just gone out (Hiccup #4).
Still, most everyone took it in stride. "Just another hiccup," our sage and upbeat traveling companions advised. "Remember, roll with it." (I cue Steve Winwood's song in my head this time. I can do this, I tell myself.)
Luckily, the staff was able to get the problem (mostly) under control in the next few hours, and all was well. In the meantime, I was getting this rolling thing down.
The next morning, we planned to visit some ancient castles on top of a nearby mountain. However, our bus driver discovered (luckily, before we drove under it) that our big, fancy chartered bus was too high to make it under a certain overpass on our route (Yes, apparently an Italian version of Longview's notorious truck-eating "Green Street Monster").
Unfortunately, this route was the only way to get to the castles (Hiccup #5). We waited while our driver and director tried to figure out what to do about the dilemma.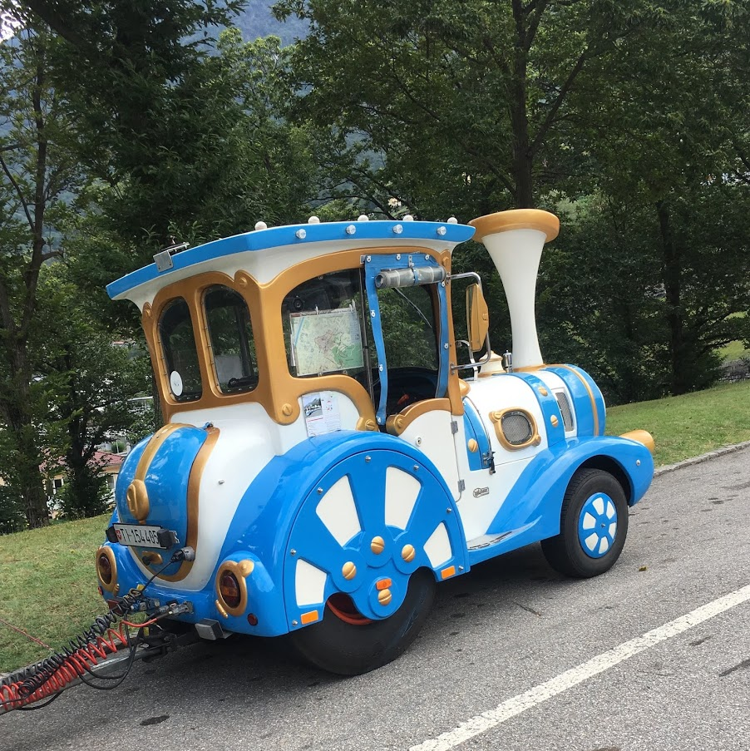 Before long, here comes what I can only describe as sort of a cheerful, colorful children's train engine, with five or six little cars attached, puttering down a hill towards us. Suddenly, it struck me: "The Little Engine that Could (Go Under the Overpass)" had apparently come to our rescue! Of course, it didn't look like it was designed to carry 35 adults up and back down a mountain on its little wheels. But hey, by now we were adventurers so we held our collective breath and "rolled with it" — literally this time. It was fun but scary, and (hopefully) one of those once-in-a-lifetime experiences.
The next day we visited Lake Como in Italy, then drove on to Switzerland for the remainder of our trip. There were no more hiccups, (but plenty of hairpin curves and sheer drop offs), along with vast beauty and wonderful adventures.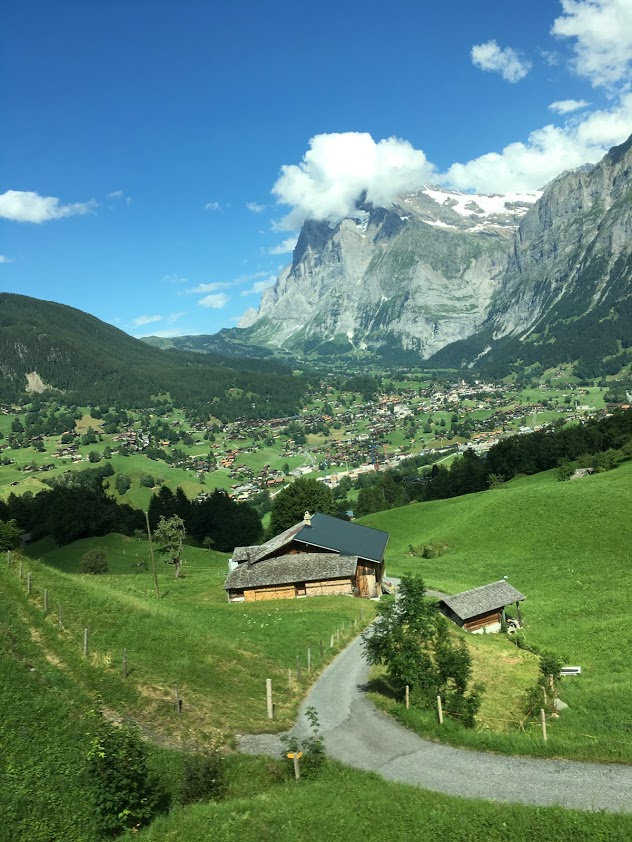 We arrived in the small, idyllic town of Wengen, where we would spend the next four nights. One of my favorite things was listening to the cowbells on the sheep. They were grazing on a hillside about three blocks from our hotel; I could look out of my third floor window and see them. But best of all, I could always hear their bells. They filled my dreams at night.
Each morning we took the train to yet another amazing destination. While there, we sometimes took breathtaking rides on gondolas, funiculars and boats. We were witness to so much astonishing beauty: majestic mountains, glorious waterfalls, gorgeous aquamarine lakes, spectacular cloud formations and picturesque villages with quaint wooden houses, adorned with colorful flowers. There were churches with steeples and clock towers in valleys and perched on hillsides. Cows, sheep and goats grazed in lush green meadows, their bells providing a symphonic accompaniment for our viewing of God's marvelous masterpiece.
I carry the melodies of the cowbells in my heart, for in them reside my memories of Switzerland — truly one of God's most exquisite creations ... a "canvas of His grace."
Holy, holy, holy is the Lord of hosts; the whole earth is full of His glory!