A retired member of a SWAT team and a K-9 handler for a sheriff's office, Marcus Jeansonne remembers what it is like to need a pick-me-up.
"I lived on energy drinks. There were long hours and you had to have ways to keep up," Jeansonne said. "With the energy drinks, once the sugar wears off you crash."
Along the way, Jeansonne discovered a healthier option that helped him stay steady and balanced — smoothies and herbal teas. That led him and his father, Gerald Jeansonne, to open Panthers Nutrition at 3800 Gilmer Road and Firstlite Nutrition at 212-A N. Fredonia St. in Longview.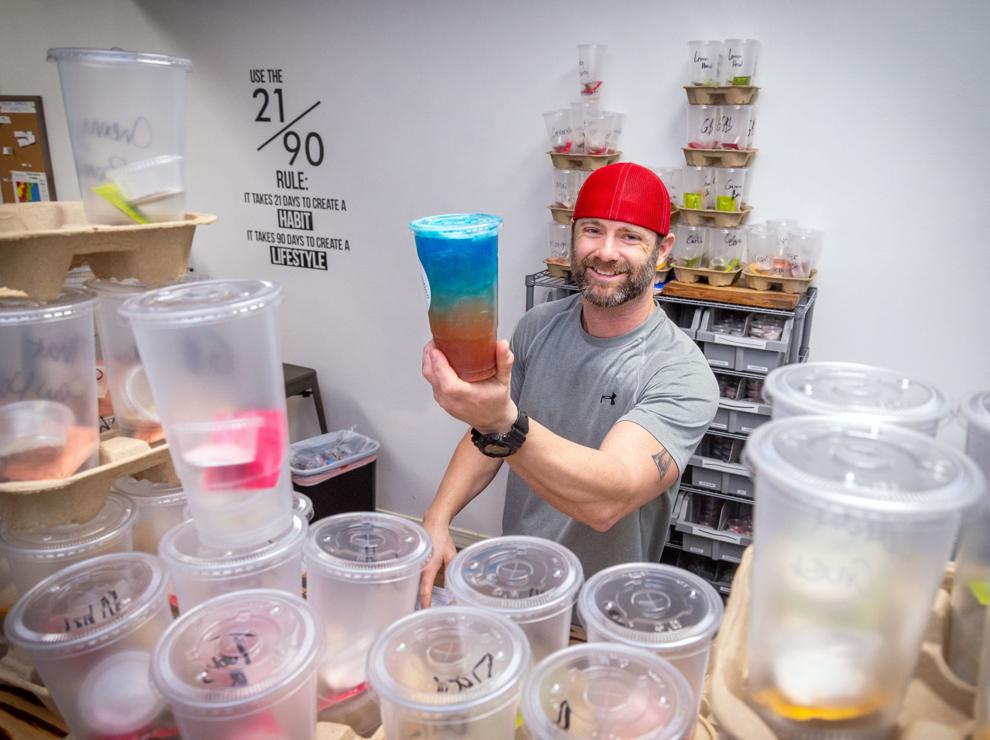 The stores are part of a growing industry that the website of Smoothie King, a franchised smoothie bar with a location in Longview, traces back to the 1960s. The company says the industry began developing in the 1960s during a movement that saw Americans become more concerned about living healthy. The movement really began to grow into the multibillion dollar business it is today starting in the 1990s. A number of nutritional smoothie and blended drink businesses have sprung up around East Texas in recent years.
Panthers Nutrition and FirstLite offer 150 to 200 smoothie options and 300 to 400 tea possibilities.
"These smoothies are meal replacements. We offer a healthier option for meal replacement," Jeansonne said. "We want to give them less calories, less sugar, less carbs."
For people who crave sweets, there are flavors such as Banana Nut Muffin, No Bake Cookie, Sugar Cookie, Peanut Butter Cappuccino and Samoa, a flavor similar to the Girl Scout cookie.
"We try to get something that tastes good but doesn't taste healthy. And this fills your sweet tooth but at the same time it is not going straight to your belly or your butt," Jeansonne said. "Think about it, you are drinking dessert in a cup. The shakes are 200 to 250 calories with 24 grams of protein, 13 carbs and 6 to 9 grams of fructose sugar. So it's really good for you."
The smoothies are made of a smoothie powder and water —no milk of any kind.
People who use the smoothies as a meal replacement and tack on an exercise routine see results. Jeansonne said he does a lot of wellness coaching and has helped one woman lose close to 100 pounds through drinking the smoothies and working out.
The energy teas in his shops are for just that — lots of energy. They are sugar free with four simple carbs, which is the equivalent to two and a half cups of coffee. The energy contained in them comes from the Ginseng group. The teas have aloe for digestive and gut health and natural raw guarana for mental clarity and focus.
"The herbal tea concentrate helps to burn calories," he said. "From a 32-ounce tea you can expect to burn 80 to 100 calories."
For customers who want to add a beauty booster to their tea, the shop has collagen, which can be added for healthier nails and skin. This does not affect the taste, Jeansonne said.
Another store that is looking forward to opening soon is Three Girls Nutrition, at 174 Beechwood Drive, across from Judson Middle School. Paula Warner said she and her husband Stephen are looking forward to serving Longview.
"This is our first shop opening and we expect it to be popular," Paula Warner said. "We have high expectations for it."