Lip gloss. For me, those two simple words conjure up memories of my earliest forays into the wonderful world of cosmetics. I have a very distinct memory of receiving tins of Lip Licking flavored lip balms for my seventh birthday party at a McDonald's in Shreveport. You know the ones — they had the sliding lid and came in a variety of scrumptious flavors.
Fast forward 40-ish years: With warmer months approaching I think it's the perfect time to explore the world of lip gloss in 2019. But first, a little lip gloss history …
Max Factor & Co. was founded in 1909 by a Polish beautician named Maksymilian Faktorowicz who emigrated to the United States. Max Factor's specialty was movie makeup, driven by the growing film industry.
In 1930 Max Factor set out to create a product that would make lips shiny for actresses in the black and white films of the day, which yielded the first lip gloss. The gloss was launched commercially in 1932 under the name Max Factor X-Rated, and the world of lip color has never been the same.
Today, lip glosses are available in tins, canisters and tubes, to be applied with fingertips, brushes, roller balls, doe foot applicators and more. Glosses range from translucent to opaque, with glitter, gloss, shimmer and liquid finishes as well as everything in between.
To narrow down the vast, vast options, I did a quick survey of my girlfriends for feedback. I received fantastic information — I hope you find it as insightful as I did!
My friend Claire prefers a conservative look in her line of work. Her favorite gloss is Bobbi Brown Lip Gloss in Buff ($29, www.bobbibrown.com), a long-lasting, neutral color. For special occasions she says Chanel Rouge Coco Gloss in Amarena ($30, www.chanel.com) is her go-to shade. She likes it because it is a reddish color without being too over-the-top and provides enough shine for a special occasion. Plus it feels good and is moisturizing.
Both Jessica and Melissa are fans of MAC Lipglass ($17.50, Dillard's). Jessica says that no matter what other brands she tries, she always goes back to MAC no matter what. It is the best, in her opinion (and she is a connoisseur of lip glosses). Melissa says Boundlessly Beige is her favorite shade, that it stays on forever and is the perfect neutral.
Jessica and Melissa also said they are big fans of Beautycounter Lip Gloss ($29, www.beautycounter.com). Beautycounter glosses come in 12 shades and have glowing reviews. Their primary claim to fame, though, is that their products do not include any potentially harmful chemicals.
My friend Amy said her friends fought over Buxom's Full-On Plumping Lip Cream Gloss ($21, Ulta) at her Christmas party pass around this year, and my friend Dawn swears by it. Dawn says, "It tingles forever and I love that!" And she gave me permission to use that quote — ha! Buxom's "Full-On" line of glosses come in more than 100 shades, so there is definitely a color (or 10!) to suit everyone's skin tone.
Did you know that Lip Licking lip balm tins are still available today? Check out the list of flavors. For about $6 (www.tintecosmetics.com), one will take you right back to your youth:
Pink Lemonade
Miss Pepper
Butterscotch
Peppermint
Cotton Candy
Root Beer
Peach
Wild Cherry
Spearmint
Tropical Punch
Vanilla
Strawberry
Grape
Watermelon
Bubble Gum
Pumpkin Spice
Coffee
Three lip glosses I have and love: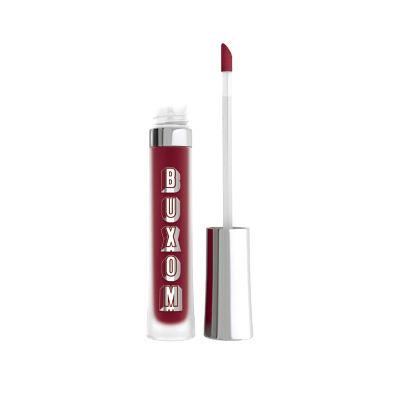 Buxom offers several "Full-On" formulas; the "Cream" variety indicates a lack of shimmer, although the product is still shiny, not matte finish. There are 23 "Cream" shades, and a whopping 100 shades in the Buxom Full-On Lip "Polish" formula with shimmer. Also in the "Full-On" lineup is a "Holographic" line, and a limited edition "Wanderlust" line. The claim to fame of the Buxom products are the peptides that act as a plumping agent and the tingly feeling on your lips. My lower lip is extremely sensitive to products that sting or tingle (think Carmex – eek!), but this gloss has just the right amount of tingle without a burning feeling. I chose a shade called Sangria, which is a shade similar to a poppy flower — or light red, as my husband would call it. The product applied smoothly and faded evenly over several hours' time. It was not sticky, and my lips continued to feel moisturized long after the color receded.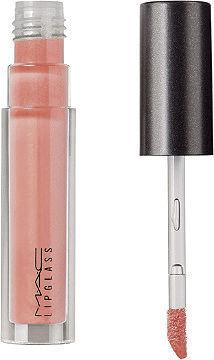 MAC's wildly popular Lipglass is available in 39 shades, not including special edition colors. I chose the shade All Things Magical, a shimmery, neutral pink. I really liked the color for everyday-running-around-in-workout-clothes kinds of days. (If you have read my column long, you know I gravitate toward a RED lip). The color goes on evenly and lasts for hours; it does not feel goopy or sticky.
This highly-rated gloss lives up to its rave reviews and is available in 14 shades. I tried the color Foxy, which is a great, neutral pink that is perfect to add a bit of polish to your everyday look. I really like the Merle Norman formula, as it provides a little more pigmentation than other brands, but with a glossy look and lightweight feel.