For 78 years, "Rural East Texas" has been telling a bigger story than just the scenes it depicts from its spot above an office door in the downtown Longview post office lobby.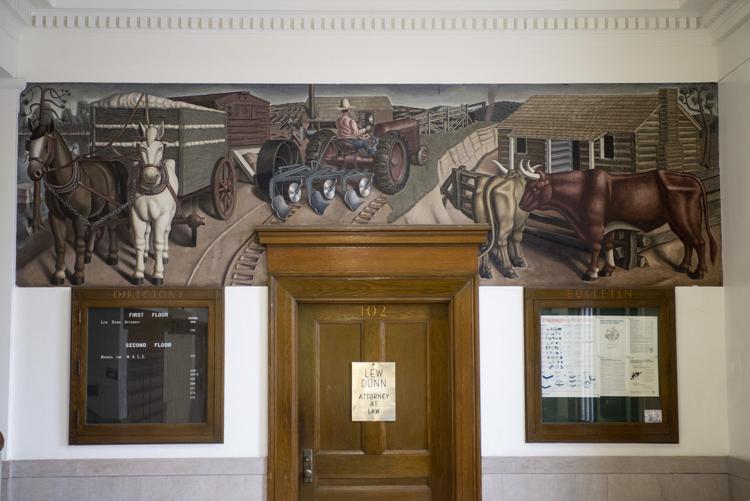 The mural also helps tell the story of how the United States recovered from the despair of the Great Depression and crafted a new image for the country while putting artists to work, from the early years of the Depression into the early World War II-era. The painting's almost primitive style and dark colors show horses pulling a cotton wagon, a farmer on a tractor, a log cabin and cattle, with what appears to be people working at a sawmill in the background.
"It's fabulous" and representative of art from that time period, said Tiffany Nolan Jehorek, executive director of the Longview Museum of Fine Arts.
The downtown post office was dedicated in April 1940 in an event that drew a large crowd, according to a Longview newspaper article from that time. U.S. Postmaster General James A. Farley came to town to mark the opening of the $235,000 structure. Photos and a story about the dedication included the headline, "Scenes at Dedication of Longview's Magnificent Post Office."
The mural came later, though, in 1942, when artist Thomas M. Stell Jr. was hired to create "Rural East Texas." Stell, who was born in Cuero in 1898, was a painter whose career included stints teaching at the Dallas Art Institute and the Dallas Architectural Club, according to the Handbook of Texas online. In 1938, Stell also was named the state director of the American Index of Design, a Work Projects Administration project. He lived in San Antonio during that time and taught at Trinity University. He later taught drawing and design in the art department at the University of Texas. Stell also was known as a member of the "Dallas Nine," an influential group of regional artists in the 1930s and 1940s.
His variety of work includes winning a commission in 1934 under one of the New Deal art programs — there were several — to paint murals of the fall of the Alamo and surrender of Santa Anna for what was Forest Avenue High School in Dallas. He was hired for several other mural projects over the years, including murals at the post offices in Longview and Teague in Texas and in Perry, Oklahoma.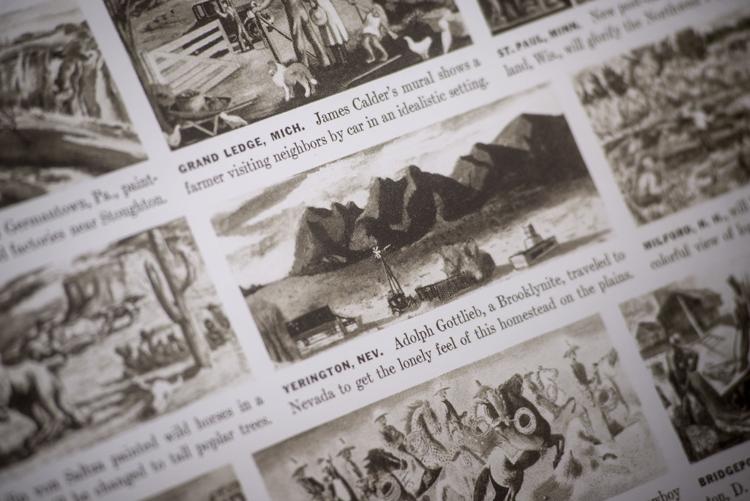 New Deal-era art has been a focus of Jared A. Fogel — the son of Seymour Fogel, another artist who painted murals during the New Deal era, and Robert L. Stevens, an education professor at the University of Texas, author and art collector. Stevens, with Fogel, has extensively studied and written about New Deal murals and Seymour Fogel, specifically. One of their articles, "The Canvas Mirror: Painting as politics in the New Deal," was published in the Organization of American Historians "Magazine of History" in the fall of 2001. It details the evolution of New Deal art, which started under the umbrella organization of the Works Progress Administration and included programs such as the Federal Writer's Project, Federal Music Project, Federal Theater Project and the Federal Art Project for "unemployed artists," the article says. It also included what was the Treasury Section of Fine Arts," know as "The Section." Murals, and specifically post office murals, were a focus of that program.
".... The impetus for such art projects, especially mural art in public buildings, was largely propagandistic," the article says. "It was intended to advertise Roosevelt's vision of an America restored to economic and emotional health by means of governmental largesse."
In a recent interview, Stevens said post office murals were always tied to construction of a new post office.
"There were 22 states that were able to get murals. What the government tried to do was locate the smallest, poorest communities in each of those states," because so much money was going to larger cities for infrastructure projects, he said.
Many of the paintings didn't acknowledge the "industrial revolution" that had started in the United States in the 1840s. He likened them to "comfort food" for the public, with farm scenes that appealed to America's identity that "this is who we are as a people."
Murals generally fell into four categories, Stevens said, including one he said he and his writing partner, Fogel, identified as American Idealism. The other categories are Social Realism, Regionalism and Anti-Fascism. The new concept of American Idealism came about as the Depression ended, and American society evolved to a "more modern, industrial set of values."
"What we see now, instead of a farm, we see the factory. Instead of horses, we see a tractor," Stevens said.
American Idealism melded the concepts of Social Realism and Regionalism, he and Fogle said in another paper they authored, "American Idealism: A New Deal Synthesis in Art." Stell's "Rural East Texas" is an example of American Idealism, Stevens said.
"Regionalism dominated Southern post office buildings during the Depression. But your mural was installed in 1942. The farmer is driving a tractor," rather using two mules to till the soil, he said.
Numerous other murals were installed in post offices around East Texas. Some are still in their original locations, while others have been lost to time. The U.S. Postal Service itself does not maintain complete information about the murals.
"New Deal-era murals and sculptures were created between 1934 and 1943 as part of President Roosevelt's New Deal agenda to get people back to work and to restore the economy. Since that time, many artworks are no longer located in the lobbies of postal-owned facilities; nonetheless, they remain publicly accessible," a spokeswoman for the postal service said. "Preservation efforts on our murals are on a case-by-case basis." Here's a look at some other East Texas post office murals, including information about where the murals are now if available. (Information from Longview News-Journal archives and the website wpamurals.com.)
KILGORE : murals by artist Xavier Gonzalez originally hung in 1941 in what is now called the Old Post Office History and Art Center in Kilgore. They were moved to the East Texas Oil Museum in 1999 when that post office on South Kilgore Street ceased operating. The Kilgore Historical Preservation Foundation restored the 1938 building and returned the murals to their original home. The oil on canvas murals are: "Drilling for Oil," "Pioneer Saga," "Music of the Plains" and "Contemporary Youth." LINDEN: Victor Arnautoff's "The Last Crop" is an oil on canvas painting he created in 1939. It hangs in the Linden Post Office at 200 E. Rush St. MINEOLA: The 1937 Mineola Post Office is now the Mineola Historical Museum and remains home to the 1938 mural painted by California artist Bernard Zakheim, "The Horse and Buggy Give Way to Modern Methods of Mail Transportation." HENDERSON: The 1937 "Local Industries" fresco by Paul Ninas is listed as destroyed. PARIS: The 1934 oil on panel murals "John Chisum, Davy Crockett" and "Paris Fire of 1916" are now in the Paris Public Library. RUSK: Zakheim's tempera on canvas mural "Agriculture and Industry at Rusk" hangs in the Rusk Post Office at 112 W. 5th St.