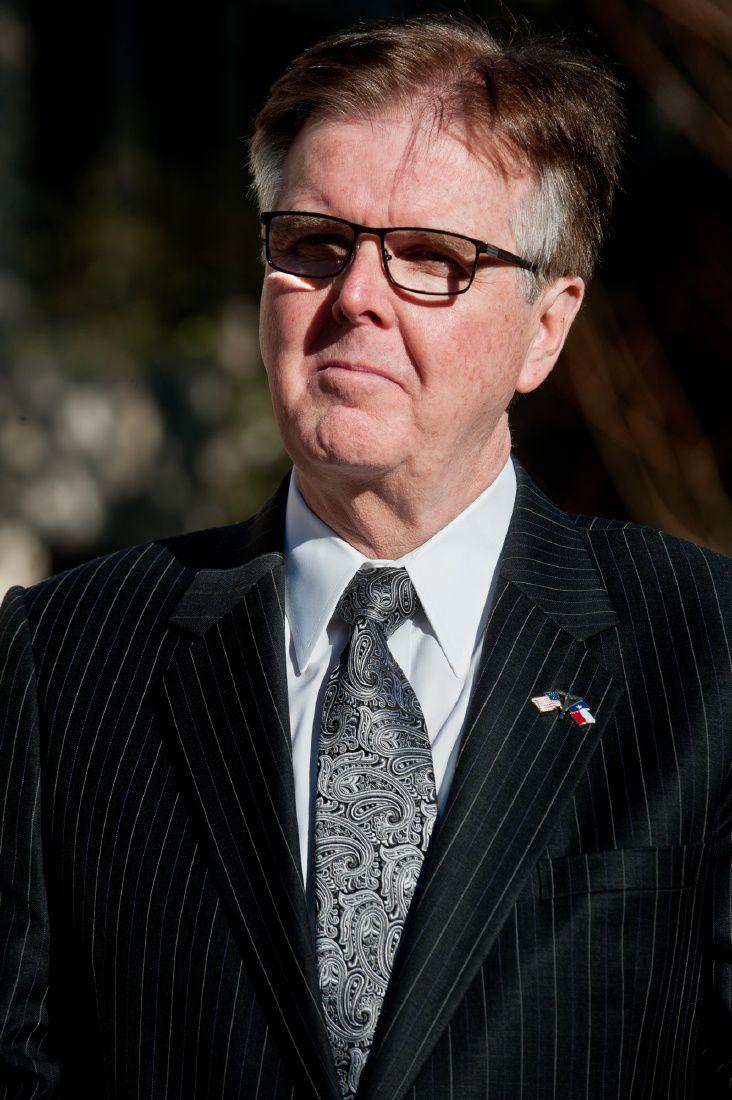 Lt. Gov. Dan Patrick publicly endorsed expanding the state's background checks to private gun sales Friday, defying the National Rifle Association — a group that had previously given the conservative an A-plus grade for his Second Amendment bona fides.
Patrick, a Republican who was elected to a second term in 2018, went so far as to say during an interview Friday with The Dallas Morning News that he was "willing to take an arrow" from the gun lobby.
Patrick's stance on expanding background checks followed a cycle of gun violence in the state.
It came less than a week after a gunman terrorized motorists near Odessa, killing seven people and wounding at least 21 more with an assault-style rifle that he obtained from a private seller in Lubbock, despite failing a background check in 2014 for a mental health issue. Earlier in August, 22 people were killed in a shooting rampage at a Walmart in El Paso in which a gunman targeted Hispanics.
"That gap of stranger to stranger we have to close, in my view," Patrick told the Morning News, speaking about gun sales. "When I talk to gun owners, NRA members and voters, people don't understand why we allow strangers to sell guns to total strangers when they have no idea if the person they're selling the gun to could be a felon, could be someone who's getting a gun to go commit a crime or could be a potential mass shooter or someone who has serious mental issues."
Patrick's endorsement of expanded background checks came with a major caveat, according to the Morning News. Gun owners would not be required to conduct a background check when transferring a firearm to a family member, and friends would also be exempt — though the lieutenant governor acknowledged that could be abused.
Patrick's office did not immediately respond to a request from comment later Friday.
The NRA's Institute for Legislative Action panned Patrick's policy shift, which it said parroted the agenda of a prominent gun control group, Everytown for Gun Safety, which was started and financed by former New York City Mayor Michael Bloomberg.
"With due respect, Texas Lt. Gov. Dan Patrick's 'proposals' would resurrect the same broken, Bloomberg-funded failures that were attempted under the Obama administration," the NRA said in a statement Friday. "Like most political gambits, Lt. Gov. Patrick's 'solution' precedes his possession of the facts, including this critical concession by the Obama administration: Criminalizing private firearm transfers would require a massive, governmental gun registration scheme."
Gun control advocates said closing the loophole on private gun sales was long overdue and represented a message to the Trump administration and U.S. Sen. Mitch McConnell, the majority leader, about the need for sweeping reform at the national level.
"Look, the political ground is shifting," John Feinblatt, president of Everytown for Gun Safety, said in an interview Friday. "It's time for the Senate to get the memo. The truth is the NRA has never been weaker. What you're seeing is elected officials, many of whom were closely aligned with the NRA, turning their back on the NRA and choosing to be with the public rather than the gun lobby."
A number of top Republicans in Texas — from the governor, Greg Abbott, to Sen. Ted Cruz and Patrick — faced significant criticism for their position and statements on guns following the Aug. 31 shooting rampage near Odessa.
Not long after the bloodshed in West Texas, a 2015 video resurfaced of Cruz firing an assault-style rifle at an Iowa shooting range with bacon wrapped around the gun's hot barrel and then eating it. Cruz was a presidential candidate at the time.
"Of course in Texas, we cook bacon a little differently than most folks," Cruz said in the video, posted on a conservative website, adding, "Machine gun bacon."
In 2015, responding to a report in The Houston Chronicle, Abbott said on Twitter that he was "embarrassed" that Texas was second in the nation to California in new gun purchases. "Let's pick up the pace Texans," Abbott wrote on Twitter.
On Thursday, Abbott issued eight executive orders that he said would improve the red flag system for keeping guns out of the hands of criminals and better assess threats.
The measures require the Texas Department of Public Safety to develop standard intake questions for law enforcement officers to ask callers reporting suspicious activity and to train the police to assess threats.
The orders also tie future state grants received by counties to the timely reporting of criminal convictions to a state database. By 2020, 90% of convictions must be reported to the state within seven days, or a county would lose funding. By 2021, it must be done within five days.
But the executive orders signed by Abbott do not touch on gun laws, including background checks on private sales of firearms.
Abbott's office did not immediately respond to a request for comment about his stance on Patrick's suggestion that background checks be required for private sales.
Patrick told the Morning News, "Look, I'm a solid NRA guy," but warned that Republicans could feel the wrath of voters in Texas and nationally on the issue of gun control. Five Republican members of Congress from Texas have already bowed out of running for reelection in 2020.
"Someone in the Republican Party has to take the lead on this," Patrick said.
The NRA said in its statement that Patrick's proposal was misguided.
"Instead of trampling the freedom of law-abiding Americans, the government should focus upon actual solutions: fixing our broken mental health system, prosecuting known criminals and enforcing the existing gun laws that require follow-up whenever a prohibited person tries to buy a firearm," the NRA said.