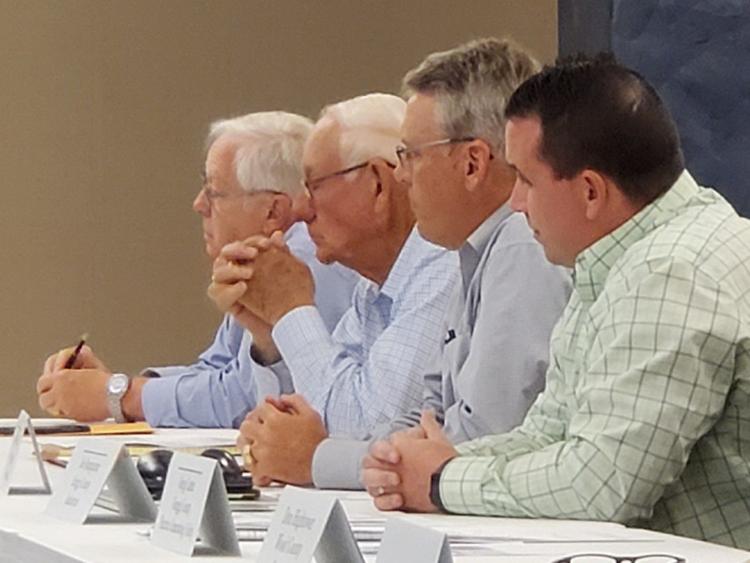 PITTSBURG — As Dallas-Fort Worth area suburban growth pushes east, the long-term water needs of communities in that path are forcing Longview and other Northeast Texas water users to seek solutions.
Those potential high-growth communities include Greenville and Celeste, which could see four-fold population increases by 2070, consultants suggested Wednesday.
"Wow, they're going to be thirsty," Longview City Manager Keith Bonds said, "so somebody has got to figure out how to get some water to them."
Future water sources were a focus of discussion Wednesday for Bonds and other members of the Northeast Texas Regional Water Planning Group.
The board selected seven people to represent the region — known as Region D — in negotiations with the Dallas-Fort Worth area, or Region C, as both regions plan how to meet their water needs during the next 50 years.
Times and locations for those negotiations haven't been set.
It's been four years since both regions settled several years of contentious debate about whether to build a reservoir on the Sulphur River north of Mount Pleasant.
In 2015, despite Region C's desires to build what would have been called the Marvin Nichols Reservoir, both regions entered a signed agreement to put that idea on hold indefinitely.
Richard LeTourneau, a Harrison County resident and Region D board vice chairman, called the past four years "a simmering time" for both regions to look at other similarly important issues. Now, with Region D working toward completing a regional water plan by 2021, the Dallas-Fort Worth region wants to find solutions, he said.
"Of course, we've got our feelings about what some of those options may or may not be, but we're going to try to work with them to try to solve some of their problems," LeTourneau said. "There's a big hope that there will be a lot of mutual cooperation, and I'm certainly hoping so. I'm speaking primarily of existing reservoirs and utilizing what we already have before we go to destroying more river bottoms and mitigation and what-not."
Bonds said Marvin Nichols would be "a great source of water" to the Sulphur River basin, adding that an inter-basin transfer with the Sulphur and Sabine river basins could be a possibility.
Other options could be more costly to water customers in Longview and other Northeast Texas communities, he added.
Among those options is what Bonds called the Sabine River Authority's super plan, in which the Dallas-Fort Worth area would start getting water from Lake Fork and Lake Tawakoni, and then a water pipeline would be built from the Toledo Bend Reservoir to Greenville, with a spur connecting the pipeline to Longview.
"Water is one thing, but the electricity to pump it uphill" to Longview and Greenville is another, Bonds said. "That's a long way to pump, and it's very expensive.
"The customers of the Sabine River Authority will pay for it," he added.
Longview is among those customers, as it gets 40% of its raw water from the Sabine River Authority. The remaining sources are 40% from Lake Cherokee and 20% from Lake O' the Pines.
Water supply needs for they Northeast Texas region are estimated to triple just for municipal uses alone between 2020 and 2070, according to information presented Wednesday by consultant Tony Stone with Austin-based Corolla Engineers.
Corolla is developing the board's 2021 regional water plan.
Selected to the subcommittee that will represent Region D in negotiations with the Dallas-Fort Worth area are David Nabors, Sulphur River Basin Authority board member Kelly Mitchell, International Paper-Texarkana Mill Environmental Manager Cindy Gwinn, former Region D board member Fred Milton, David Montagne, LeTourneau and Region D board Chairman Jim Thompson.
Montagne has served as executive vice president and general manager of the Sabine River Authority of Texas, and Nabors represents Lamar County agricultural interests.
Kathleen Jackson, a director for the Texas Water Development Board, called Region D negotiations with Region C an example of how to step forward and address concerns proactively.
"I'm encouraged," Jackson said. "They came to a resolution before, because both groups kind of sat down and worked together. They've got some good talent, and certainly the folks that are on there are committed, so I quite frankly think it's how the process was intended to work."