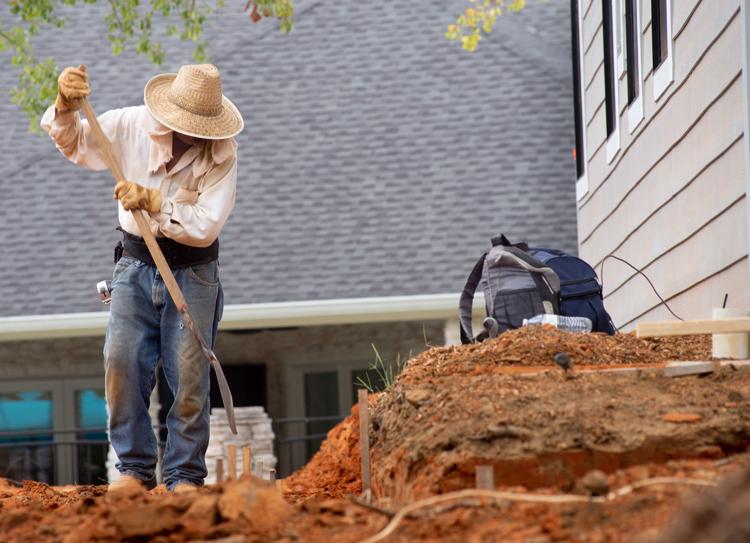 Tropical Depression Imelda is expected to dump 4 to 6 inches of rain in Longview through Friday and relieve the parched Piney Woods after a summer of drought, according to the National Weather Service in Shreveport. And life-threatening flash flooding also is a threat.
The weather service forecast said showers and thunderstorms are likely tonight in Longview, with a 70% chance of precipitation through tonight and Friday, dipping to 20% after Friday night. The storm was expected to arrive Wednesday night.
With the rain, a relief from the heat also is expected, the weather service said. The high today for Longview is predicted as only 82 degrees, with a low tonight of 71. Temperatures are forecast to gradually rise to a high of 88 degrees by Sunday in Longview.
Imelda developed Tuesday near coastal Texas and will continue a slow northward track, bringing 5 to 10 inches of rain across East Texas into western Louisiana, with isolated storm totals as high as 20 to 25 inches, the weather service posted Wednesday at weather.gov . Heavy rains also are likely to produce "significant to life-threatening flash flooding" across East Texas into western Louisiana, the weather service said.
"We are not anticipating flooding (in the Longview area), because it has been so dry," weather service meteorologist Aaron Davis said. "However, flash flooding is a completely different deal," more likely to occur in low-lying and urban areas.
While rains could raise the level of the Sabine River slightly, Davis said he does not see a threat of flooding because the river was only 2.5 feet high downstream of Longview on Wednesday, far below flood stage at 25 feet.
He said the additional rainfall also is likely to bring the summer rainfall totals to normal.
Longview registered 4.04 inches from the start of summer on June 21, less than half the summer average of 9.21 inches and the 8.8 inches recorded during the summer of 2018, according to data supplied by Davis and meteorologist Mario Valverde. Only 0.05 inches was recorded Wednesday as of 4.40 p.m., Valverde said.
But despite the dry summer, Longview has recorded 37.04 inches so far this year as of Wednesday morning, which is higher than the normal average of 32.45 inches and 2018's comparison of 32.01 inches, Davis said.
The precipitation is higher than normal because Longview enjoyed an usually wet spring, said Davis and fellow weather service meteorologist Aaron Stevens. Davis said Longview recorded 25.34 inches during spring, more than double the spring average of 10.94 inches and 11.29 inches from 2018.
"It was definitely an above-average spring," Davis said. "It was a wet winter, too."
Stevens agreed.
"We were really, really wet in the spring. We had lots of foliage available to bloom, and all of a sudden, it stopped raining. It got really dry," he said.
Stevens said the rainfall likely will lead area county courts to lift burn bans.
As of Wednesday, the Texas A&M Forest Service reported 172 of the 254 counties in Texas had imposed burn bans, including Gregg, Harrison, Upshur, Rusk, Smith, Bowie, Cass, Marion and Morris in Northeast Texas.
Gregg County Judge Bill Stoudt said the court will determine where the county falls on the Keetch-Byram Drought Index before deciding whether to lift a ban that went into effect Sept. 4.
"If it drops a considerable amount, we certainly will consider (lifting the ban)," Stoudt said.
Harrison County Fire Marshal Thomas Mock said dry seasons have occurred around mid-July and have lasted until early November.
"Hopefully, we will get enough rain coming pretty soon" to relieve the drought, he said.
The Texas drought monitor website drought.gov on Wednesday said 12.892 million Texans — 51% of the state's population — are living under drought conditions. The site said another 6.908 million Texans — 28% of the state's population — are living in abnormally dry areas.
The Texas drought monitor map shows the southern portion of Gregg County and northern part of Rusk County to be in severe drought, along with southern Morris County, western Camp County, southwestern Cass County and small areas of Upshur, Cass and Titus counties.
Longview businessman Dennis "Spike" Bowles, who owns farm and ranch holdings, said the dry summer has affected hay for the winter.
"If we can get the rain, it will be OK," said Bowles, who raises cattle on a few thousand acres in Gregg and Upshur counties.
Crops such as hay grown in East Texas are accustomed to 4 inches of rain a month, said Calvin Trostle, professor and extension agronomist at the Department of Soil & Crop Sciences at Texas A&M AgriLife Research & Extension Center in Lubbock.
"If you've got drought and you have a lack of water, you are going to have less growth" for hay, Trostle said. He added he would not be surprised if the yield is half of what would otherwise have grown.