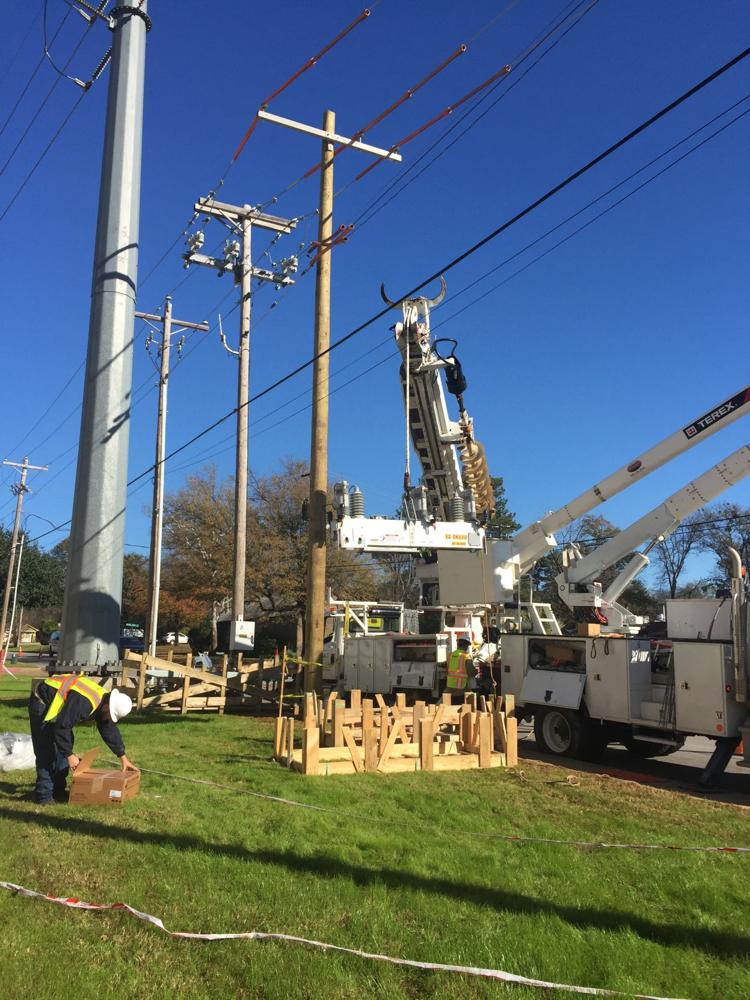 A power outage two weeks ago left 85,000 Northeast Texas electric customers in the dark and temporarily crippled Eastman Chemical Co.'s plant outside Longview. The culprit? AEP Southwestern Electric Power Co. officials say it was vegetation that came into contact with power lines, with heat and high power usage factoring in as well.
It's a theme found regularly in documents detailing penalties that SWEPCO has agreed to pay the state for violations of its reliability standards in recent years. It's also an issue that SWEPCO Communications Director Carey Sullivan said the company is working to address with more money and an increased focus on vegetation management.
"The number of outages has increased in 2019, and it's due to two factors," Sullivan said. "The first is the number of minor storms we've had, and the second is excessive rainfall."
SWEPCO logged six minor storms and two major storms in 2018, Sullivan said. The first six months of 2019 saw six minor storms and three major storms. Another storm this weekend left a couple of thousand customers in this area without power. Minor storms are defined as outages that last two to three days, according to SWEPCO.
Some outages can't be prevented, Sullivan said. The ground gets saturated when there's been excessive rainfall. When strong winds come through, trees fall and often take power lines with them. Rain also means more vegetation growth.
"We're doing all we can do to make our tree trimming dollars go farther," Sullivan said, adding that SWEPCO's tree trimming budget for distribution lines that serve people's homes and businesses in Texas is $10 million a year — up $2 million from 2016.
On Aug. 18, as Longview residents watched power voltage fluctuate through lights that dimmed and brightened repeatedly, plumes of smoke billowed from Eastman's plant on the outskirts of Longview.
"The power outage forced us to have an unplanned shutdown and our equipment responded as designed under these circumstances," Eastman spokeswoman Kristin Parker said in an email. "The flaring produced black smoke due to the loss of steam during the power interruption. During the shutdown, the flares safely controlled process materials but may have emitted certain materials in excess of the levels that require us to provide the (Texas Commission on Environmental Quality) and the National Response Center notice.
"It is a normal procedure to contact regulatory agencies when flaring during a shutdown. We do not believe employees at our site, nearby neighbors or the surrounding community were in any danger from these flaring activities."
She said plant operations restarted within five days.
"We did pull the start date forward of the planned turnaround of our hydrocarbon cracking plant 4 (HCC-4) as a result of the power interruption, and we also encountered some issues that increased the scope and duration of work we had originally planned. As you might expect, the increased scope and duration of the HCC-4 turnaround will come with some costs, but we do not have that information to share at this time," Parker said.
She also said the company is in contact with SWEPCO to share information about what happened and "determine corrective action to prevent this from happening at our site in the future."
Sullivan said the incident showed more needs to be done to address vegetation management.
"We not only trimmed trees away from the power lines that were involved in that outage on the 18th, we're looking to get more dollars to trim transmission rights of way to prevent it from happening," she said.
"We have allocated an extra $3 million for trimming, managing vegetation along transmission lines in Texas," she said later. "We're bringing crews in, and we plan to do some vegetation management along 325 miles of line that SWEPCO has."
While she said some of this involves rearranging money the company already has, the additional work likely will affect future rates increases the company requests from the state's Public Utility Commission, along with increasing health insurance, wage and equipment costs.
To stretch tree trimming dollars, the company is changing tree trimming specifications, so that when possible a mechanical device can be used to trim trees and keep the canopy — instead of requiring someone to climb the tree to get branches at the top.
"By doing it mechanically, we'll be able to get more done with the same amount of dollars," Sullivan said.
Tree-trimming benefits
Data support tree-trimming, she said. Tree-related outages decrease by more than 80 percent when a circuit — a power line — is trimmed from end to end. She pointed to a project to trim vegetation on the entire length of one power line that runs between Texas and Louisiana. It's a project SWEPCO noted in a settlement agreement reached this month with state regulators for violations in 2018 of state reliability standards.
One state measurement shows SWEPCO's service in Texas became less reliable between 2016 and 2018, although the resulting state enforcement penalties against SWEPCO aren't that unusual for electric providers. It's common for electric utilities to be fined, with some incurring penalties much greater than SWEPCO's, the Public Utility Commission reported. However, the agency did not provide more information this past week about those penalties.
Since 2015, SWEPCO has agreed to pay increasing fines for growing violations of state reliability standards related to the duration of power outages, to the tune of $142,000 for the 2013 to 2018 service years. (For perspective, SWEPCO's parent company, AEP, reported about $1.9 billion in net income in 2018.)
Separate state standards measure reliability in terms of the average number of service interruptions and average duration of those outages, as well as whether specific parts of the system regularly experience above average service disruptions. The Public Utility Commission may penalize utilities up to $25,000 per violation, each time a violation occurs, with consideration given to the seriousness of the violation; potential hazards to health, safety or economic welfare of the public; economic harm to property or to the environment as a result of the violation; history of previous violations and other measures.
Missed targets
The News-Journal reviewed settlement agreements SWEPCO has made for each service year from 2013 to 2018 (with actual settlement agreements made in each of the following years). That review shows that since 2014, SWEPCO has exceeded the standard the state sets for its System Average Interruption Duration Index by more than the allowed 5 percent each year — 69.3 percent in 2018, 31.1 percent in 2017, 26.2 percent in 2016, 50.2 percent in 2015 and 24.1 percent in 2014.
A systemwide violation of that index was not recorded in 2013. Sullivan said those measurements do not consider outages from major storms.
She said the company knows it is missing its reliability targets, as illustrated in the steps the company has outlined in the agreements with the utility commission.
"We're working on our grid modernization program," she said, and on storm-hardening the system — changing out power poles with taller or thicker poles, for instance. Starting in fall 2020, SWEPCO plans to invest $20 million in replacing wooden poles with steel poles and installing new power lines along a 14-mile line between Marshall and Jefferson.
Modernization includes the installation of smart switches that help decrease the duration of outages by talking to each other and automatically rerouting power as necessary to isolate problems.
"We call it self-healing," Sullivan said.
Also, in 2018, the company inspected 32,000 poles and replaced 2,000 of them. This year, the company expects to complete inspections of more than 22,000 poles, with 1,050 poles replaced and more work planned. Sullivan said monthly reliability meetings also address "hot-spotting" — spot problem areas that need to be addressed.
While the company might have logged violations of state standards, SWEPCO's reliability is not something Wayne Mansfield, head of Longview Economic Development Corp., has heard complaints about from local businesses.
"Yes, electric power for companies is absolutely vital," he said. "In fact, oftentimes with companies we're recruiting, the ability to provide redundant power is at the top of the list ... They want 100 percent power, 100 percent of the time. Companies also understand that outages do occur.
"We work with SWEPCO quite a bit both from the economic development side and from the construction side," Mansfield continued, and the people LEDCO works with are "top notch," "very helpful." "They're a great partner with us. They have to — any utility provider has to be. Those are critical elements for recruiting companies here."