Police: Longview 17-year-old arrested after threatening school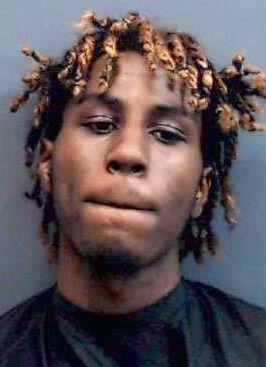 The FBI contacted Longview police this week after a post on the instant messaging app Snapchat threatened gun violence at a Longview ISD campus.
An arrest affidavit for Michael Crosby, 17, said Snapchat initially contacted the FBI.
Crosby, a student at Longview Early Graduation High School, was arrested Monday on a third-degree felony charge of exhibit firearm on campus or school bus.
A report by Longview police Detective Trenton Capps said the FBI had traced the internet address of the post to a Longview residence that also is the student's home address.
The Snapchat post was a photo with the caption, "Oh hood imma shoot this bih up (middle finger emoji.)" There was a second caption, as well, according to the detective's report, which was used to obtain an arrest warrant for Crosby.
The post was made at 9:48 a.m. Monday with a location tag of Longview Early Graduation High School.
The detective's report went on to describe the photo, which showed characteristics of the building as well as clothing of the person who made the post that helped the detective verify the location and the person.
The detective contacted Kristi Means, who is the principal of Longview Early Graduation High School, which the detective identified as Longview LEAD Academy. (The name of the school was changed in 2014).
Means told the detective there was an incident at the campus between Crosby and a teacher. The teacher sent Crosby out of the classroom and to the front office.
Capps then spoke to the teacher by phone.
"(The teacher) advised Michael was not following directions and (the teacher) frequently had to correct Michael," the report states. "Michael then asked (the teacher) for a pencil and, when Michael took the pencil from (the teacher), he forcefully removed the pencil from (the teacher's) hand and caused discomfort to (the teacher's) hand. "
Crosby was released from jail Tuesday on $7,500 bond.
Longview ISD's website describes its Early Graduation High School as "a public school with a private school atmosphere" that provides a safe learning environment for all students with the expectation that all students can and will succeed as they become college and career ready when they move onto the next academic level.
"Our goals are to provide a safe environment for students who would like to complete their requirements for graduation early, an opportunity to earn dual-credit, and provide experiences that will enhance our student's learning."
The school is at 410 S. Green St.
Crosby's arrest makes the fifth student charged in a threat against a Longview campus since classes resumed in August.
Two juvenile students were charged in separate incidents at Pine Tree High School, while two juvenile students also have been charged in separate incidents at Judson Middle School in Longview ISD.