For close to five hours a few weeks ago, a man in a blue t-shirt sat near the Smith County Courthouse steps on a lawn chair, getting up to see some sights and talk to people.
As the sun shifted in the afternoon, he moved under a shade tree with some friends and was in good spirits.
I had one thought in my mind.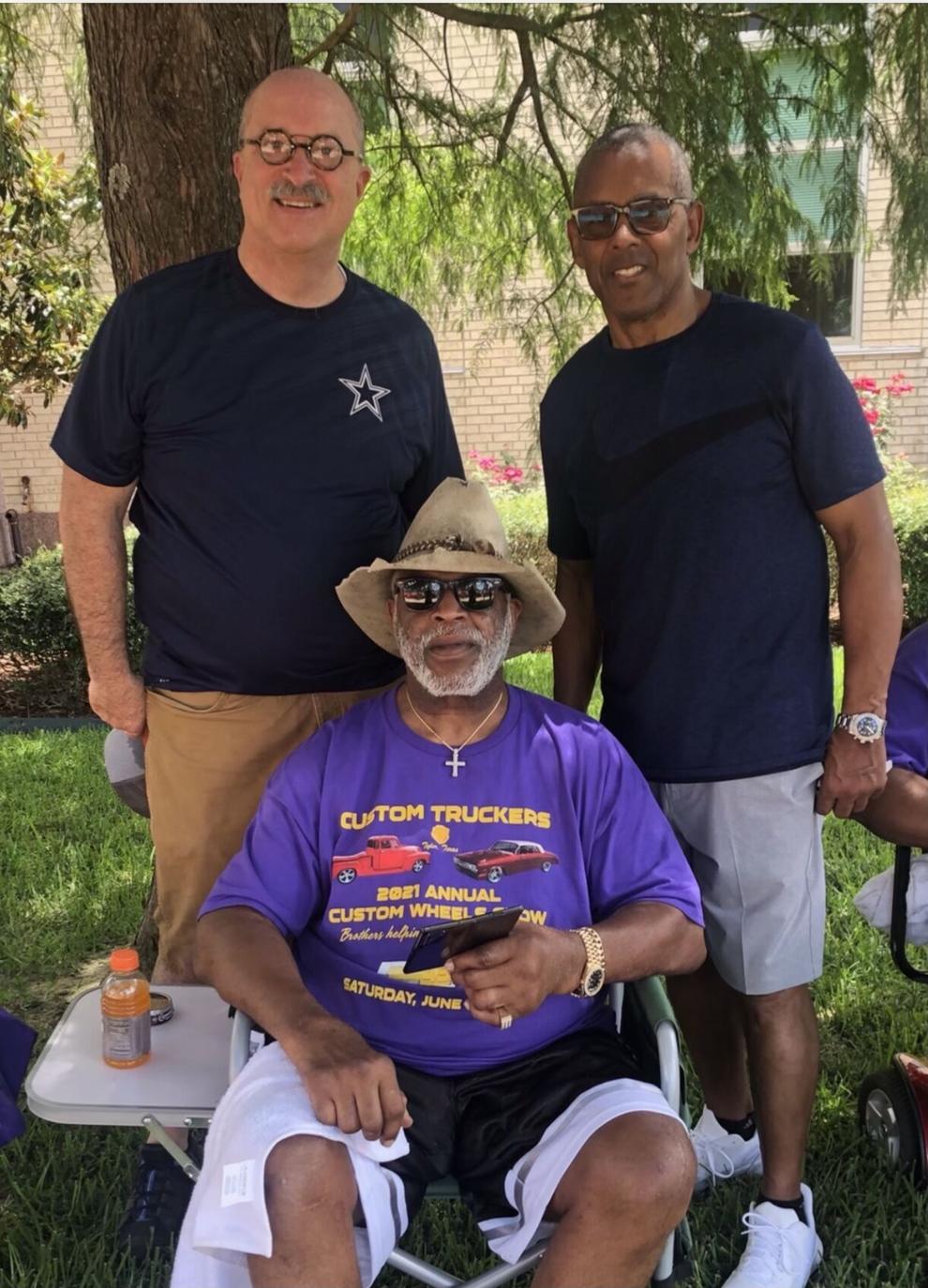 "Let today be a good day for him..."
I mentioned to someone what I wanted to do, and they told him the Tyler Morning Telegraph wanted to talk to him and get some photos. The man sprung up out of his chair and approached me with a smile and a handshake.
Today was a good day for him.
I'm not old enough to have interviewed Dorsett when he was winning football games, a Heisman Trophy or a Super Bowl with the Dallas Cowboys before retiring after the 1988 season. I did get the experience with Emmitt Smith, who wore that 22 jersey in full pads with a million-dollar smile for hours after a Super Bowl win, graciously answering all questions from the media.
A few years ago, I saw Smith and soon-to-be NFL Hall of Famer and Cowboys receiver Drew Pearson at a card show. Smith and Pearson and I talked for a minute about those Super Bowl memories. Smith gave a speech to the crowd about Prova, a company he has to verify autographs. The proceeds go to a charity he set up with his wife, Pat.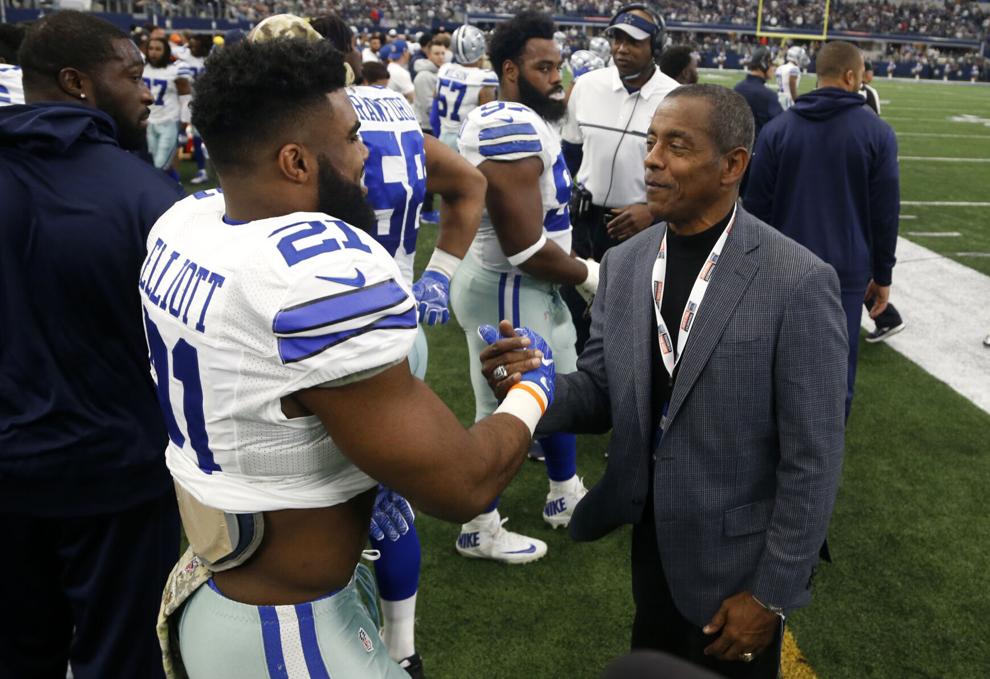 Dorsett was also at the show to sign, but his friends said he was having a bad day and could not talk. He made it a point to come up to me and say hi, shake my hand and thank me for the interest in an interview before heading out.
Of course, I accepted that. After all, Dorsett was very honest about concussions about nine years ago when he talked about doctor visits, memory loss and anger. He was the face of a lawsuit to protect close to 5,000 former NFL players who had concussions and injuries. They won a settlement in 2013 that would not only give much-due compensation to players but helped fund research for current and future NFL players. Other players who needed financial help now would have their medical bills paid.
To me, Dorsett standing up and seeing the settlement through to the end with the ending he wanted was just as impressive as his career.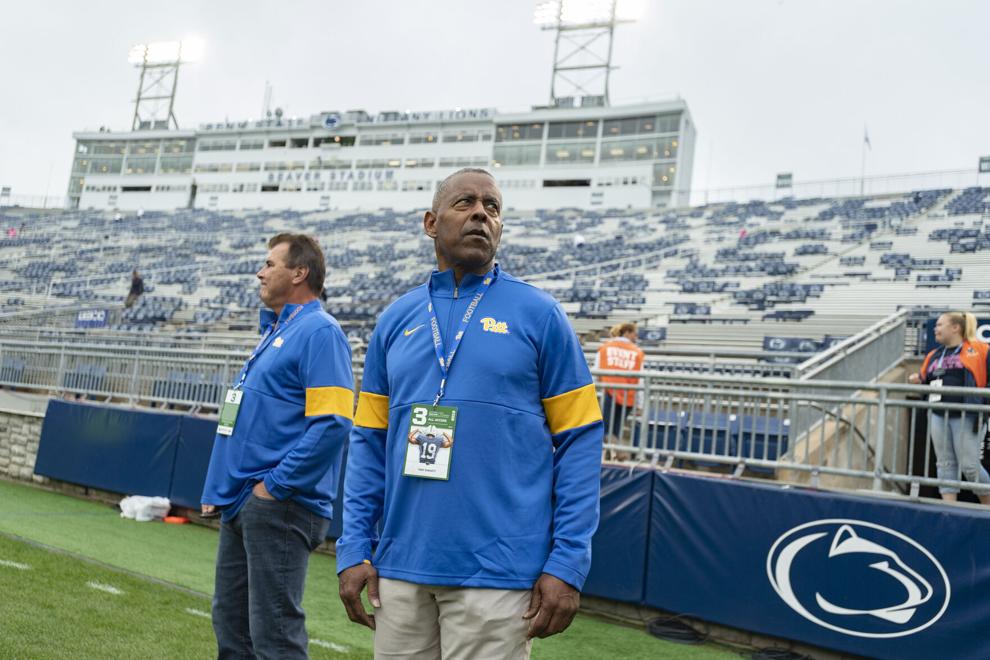 And what a career he had.
In college alone, he won the Heisman Trophy at the University of Pittsburgh, was a four-time Division I All-American, won a national championship and ran for 6,082 yards, a record at the time. He was drafted and played for the Dallas Cowboys, the arch-rival of the Pittsburgh Steelers. However, he was so loved, Tony Dorsett Drive is right in the middle of the Steel City.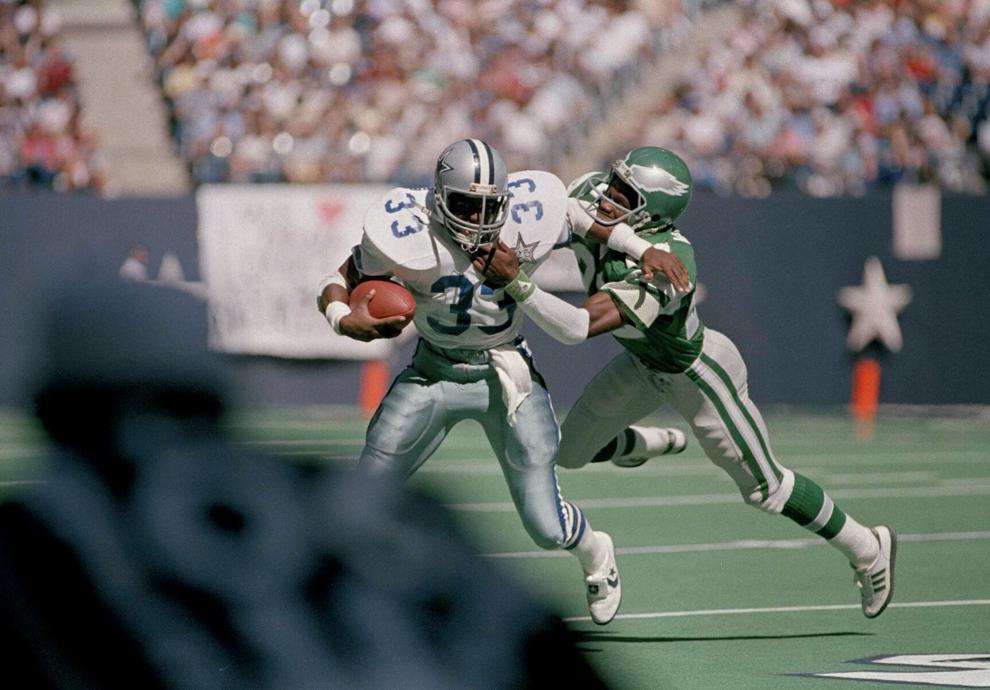 At age 67, I knew this was a man who had been handed the ball over 4,100 times in college and the NFL alone and took many hits.
But on this Saturday in Tyler, Dorsett looked like he could take a handoff between the numbers 33 and accelerate across the downtown square, leap the fountain and hand the ball to a referee.
Each question I had for Dorsett, he wanted to praise one of his teammates. Being first-class didn't end with his retirement.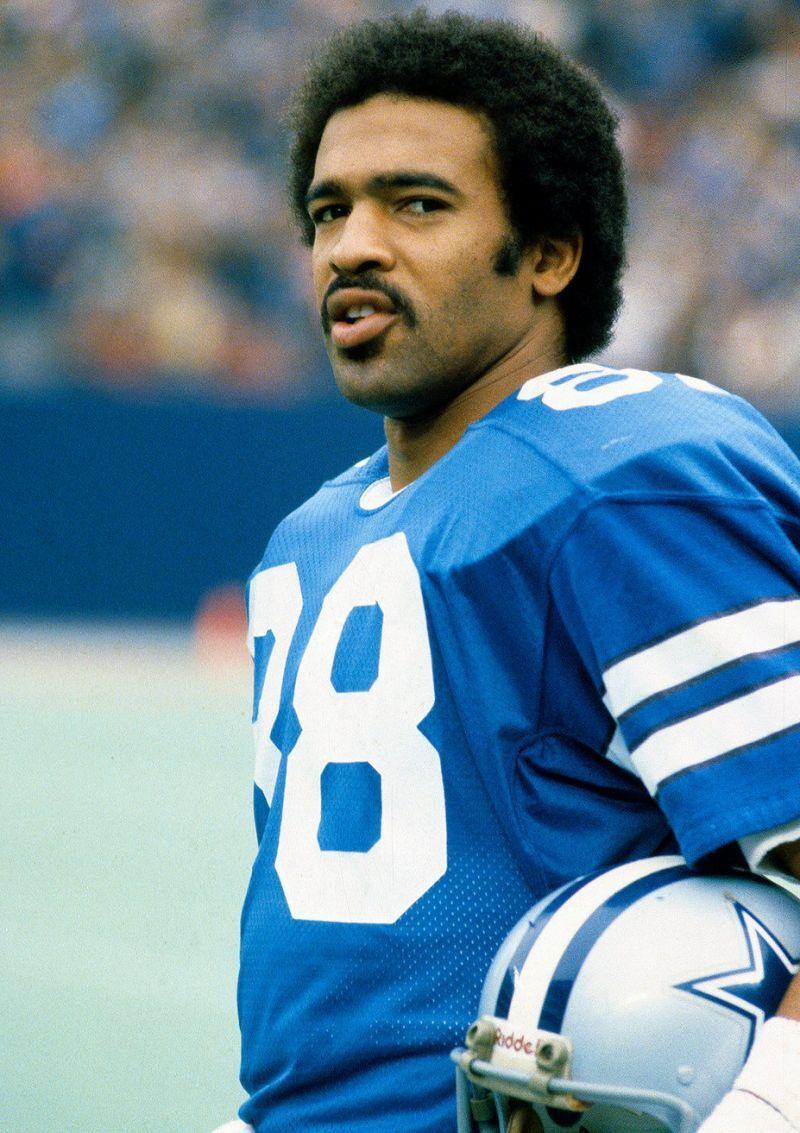 "My boy Drew is coming in the Hall of Fame. It is just fantastic. Let me tell you something I played with all the top players. I played a lot of years with Drew Pearson and you talk about a constant professional, this cat was a pro from the word go," Dorsett said. "When I first came to Dallas, I looked at Drew and thought he was knock-kneed a little bit and he's not that fast. But when you see him run a route? I thought, 'He can run some routes boy, Wow. Now I can see why he is the starting wide receiver here!' He was a route-running guy. He knew the zones, he knew the man-to-man, Drew Pearson was a great pro and now he's a Hall of Fame pro."
Dorsett set a record that was tied, but will never be broken, a 99-yard touchdown run. The Cowboys had 10 men on the field as the fullback didn't make it in. Dorsett played both roles by hitting the hole, then breaking three tackles where a full back would have disrupted the defense. Pearson made up for a lack of an extra player on his escort of Dorsett to the endzone.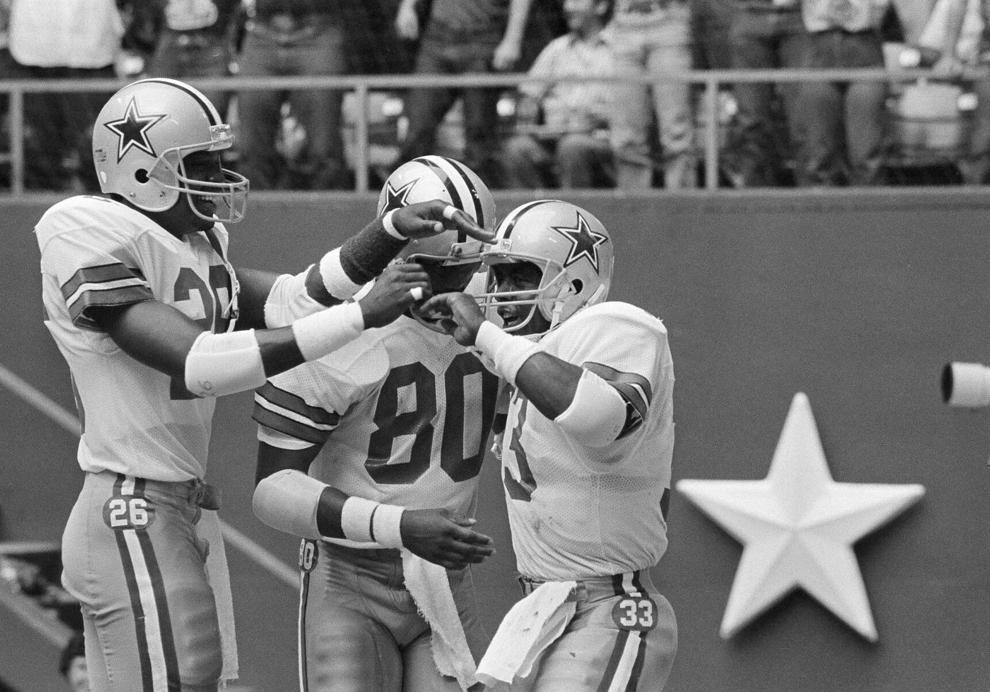 "On that run, Drew Pearson was trying to get down there and get in the way. I used to always tell Drew, Tony Hill and all of our wide receivers, 'Look man, y'all don't have to knock them down — just get in the way. Make them move, make them change direction or do something, and I'll do the rest. Don't worry about it.'" Dorsett said.
Pearson went above and beyond on that run. With two quick Vikings defenders closing in on Dorsett at the 50, Pearson got in the way of one defender and pushed a second. The two kept chasing as Dorsett knew he had to get close to the sidelines.
If you pause the replay of the run at the 30 yard line, you will see Pearson fly through the air like Superman in an attempt to take out both defenders.
Pearson took one defender out and shoved the other one downfield but away from the angle he had on Dorsett. That was just enough to allow Dorsett to avoid being pushed out of bounds on the final tackle attempt. Fittingly, Dorsett and Pearson embraced in the endzone before the rest of the team ran the length of the field to celebrate.
"On the 99-yard run, Drew Pearson was one of the last offensive players we had and he started getting in the way. When he would do that, I would make a move or make a decision, he was an important part of that 99-yard run," Dorsett added.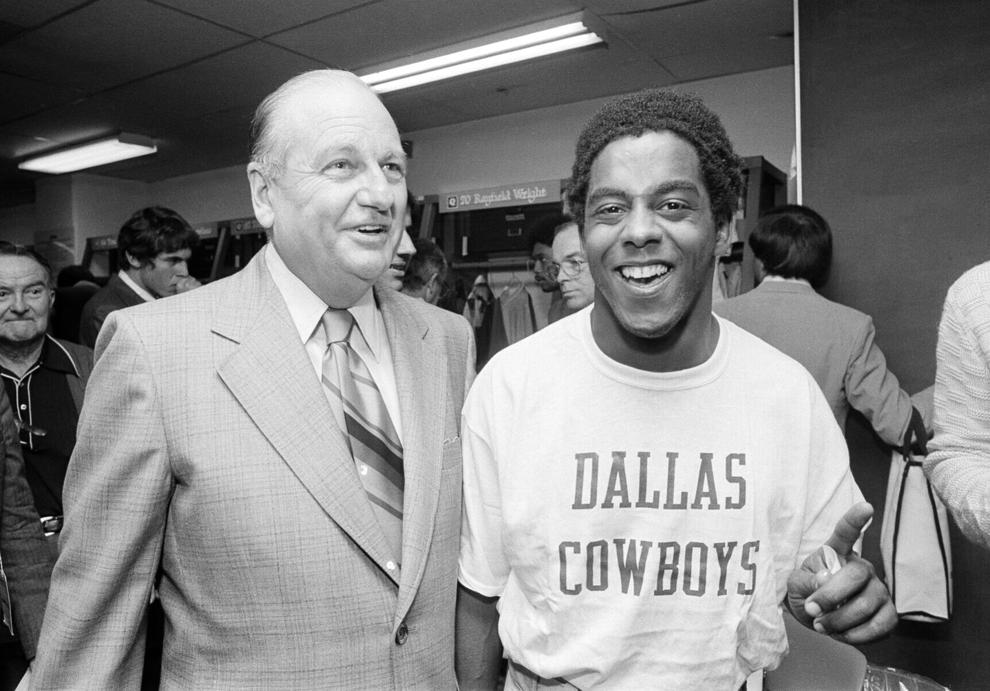 As Dorsett talked, it was evident he was in good shape and he was in good company. He spent the day catching up with Earl Campbell, Ed "Too Tall" Jones and Flozell Adams. He played with Jones, competed against Campbell and the Houston Oilers and watched Adams anchor some great Dallas offensive lines.
"For me, personally, being able to catch up with one of my teammates, Ed "Too Tall" Jones and one of my buddies, Earl Campbell, who I competed against for yardage to see who had more yards in a season, it's great," Dorsett said. "It's great to get around. Also, to see the fans and see how they still react to the old timers."
Dorsett is embraced by Cowboys fans for setting the bar for other Super Bowl-winning teams.The day Dorsett could not do an interview, Pearson talked about being a Super Bowl champion.
"It's the greatest feeling in the world. You work so hard to make it happen. So many things have to fall into place through the course of a season to make it happen," Pearson said. "Then, when you make it happen, you don't want to blow that opportunity because you never know when it will happen again."
Like Dorsett, Pearson also talks about others. He respected his coaches and feels the late Tom Landry could coach in the NFL today.
"Yes, he would make adjustments, coaches like Tom Landry and (former Buffalo Bills coach) Marv Levy would make adjustments. Because first of all they are great men, smart men and they know what to do to be successful," Pearson said.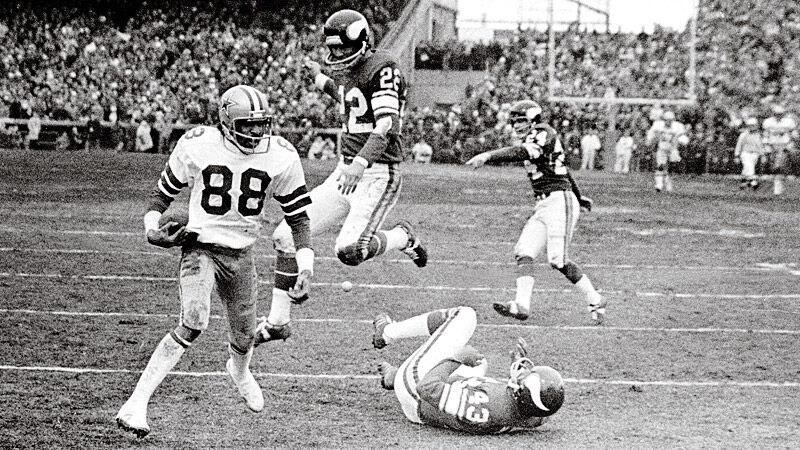 Pearson then pulled out his cellphone and said, "It might be a little different with all of these cellphones and Coach Landry going crazy to make sure nobody had those in the meetings. And God forbid if one of those went off in a meeting, you might as well just answer that and keep walking out the door because he would not tolerate nothing like that! But another thing, if he was coaching today, he would give us advice on how to deal with social media and not to put anything out there you really don't want to be out there."
After I finished talking to Dorsett, he posed for photos with a few fans and thanked them for their passion. He then went to go sit back down and share some more stories and catch up with the Tyler Rose as they enjoyed a Saturday afternoon together.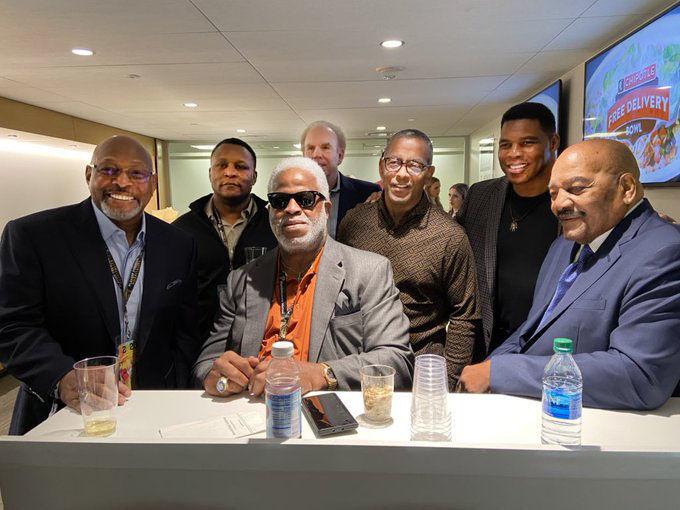 Dorsett then made a step and turned back, the same one he did when he would lose a defender. He added, "For me, personally, this is the place to be."