They are the ones wearing that All-American smile. They confidently stroll down the hallway with a radiant glow. They seem to sport more patches on their letter jacket than anyone else and they are usually surrounded by an entourage.
From the first time they picked up an old leather ball and flung it back and forth in the front yard with their friends, there was just something about the way that prolate spheroid traveled through the air. Didn't matter if it was a tight spiral or wobbly duck, they were reeled in hook, line and sinker. They knew their destination.
It starts innocently enough as a young child's dream playing on a well-manicured front lawn, or a blacktop dead end street, or maybe even a pasture out in the country. They imitate their Friday night heroes in hopes of one day being that same conqueror to a child not yet born.
They hold tight to a football that's clearly too big for their young hands. But they rest in the assurance they'll soon grow into that which they've spent hours upon hours daydreaming of becoming.
Quarterback is a position unlike any other in sports. It's not for the weak, timid or hesitant. It's designed for the strong, self-assured and confident. This position not only draws the most accolades and recognition, it also draws equal parts criticism and castigation.
Fair or foul, the quarterback position can be the most polarizing and ostracizing on the field. Monday morning water cooler talk doesn't revolve around the pulling guard, nose tackle or third-string halfback. The conversation focuses on that dude taking snaps from center. And the conversations range, depending on the previous Friday night verdict, from the excitable encourager to the cantankerous curmudgeon.
Those who accept this illustrious duty of being quarterback should have a strong constitution, thick skin and arrive on the scene with eyes wide open.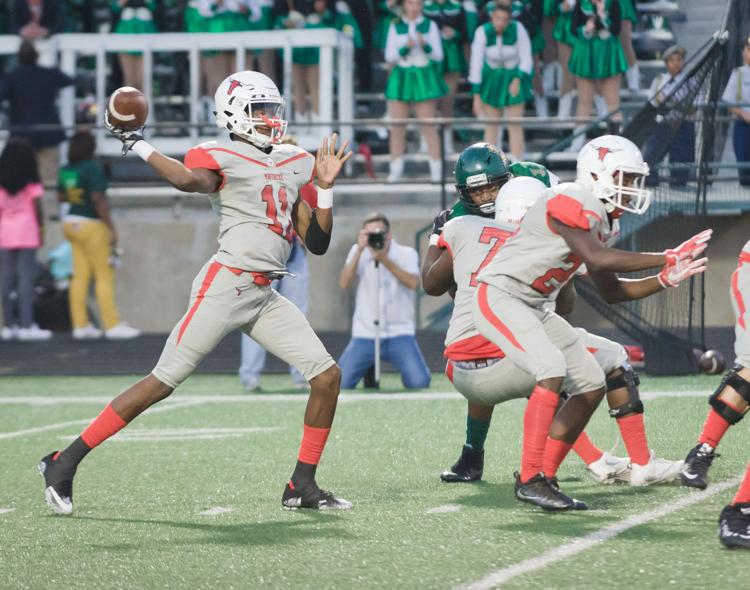 "I think sometimes we can look at a kid and think automatically 'quarterback'. But other times we look at a kid and just don't know. It doesn't always play out the way you think," longtime Gilmer quarterback coach Alan Metzel said.
"What we look for and like is size, athleticism, big hands and someone who has leadership abilities and takes care of his business in the classroom. Different guys have different boxes checked. We try to identify them as early as we can. So when start out in the junior high, we pick four to five. That's going to narrow down to three or four as an eighth grader and down two as a ninth grader, two as junior varsity and the starter on varsity."
The offensive evolution during the past 20 years in high school football has made the quarterback's job more important than ever before. Not only are they valuable from a sheer athletic standpoint, they are also expected to read defensive formations and make necessary adjustments on the fly. They need to be the eyes and ears of their coach when on the field.
It's a bit of an understatement to say today's signal-caller has more on his plate than he did in the days of simply running the dive, pitch or keep. The four local young men quoted in this article seem undaunted with those responsibilities and lofty expectations of being head honcho.
"I started playing when I was five or six and always wanted to be the quarterback. I believe, as a quarterback, it's more than just being a leader of the offense. You play a big part in leading the team. You determine the energy and focus and lead by example," offered Atlanta's Andrew Samples. "There's a lot of days when you come to practice and it's 105 degrees here in Texas. Nobody acts like they want to be there, so you have to come with the energy. It's all about keeping your team focused and involved."
Talented Pittsburg signal-caller Jaylon Jimmerson said he believes the high-level of expectation just comes with the territory.
"You don't only lead by example; you're the dude in charge. It's up to you to make sure everyone gets their reps. Everybody wants to be great and do great things. For that to happen, you have to be willing to make sacrifices," Jimmerson said. "I understand that a quarterback can get too much credit and also be criticized sometimes unfairly. But that's just life. Coach (Brad) Baca is always telling me there's an eye in the sky. Someone's always watching."
The quarterback is expected to be first on the field for practice and last to leave. His leadership is intertwined with his work ethic and the rest of the team feeds of that energy. This, according to Metzel, is central in finding the right person to lead your team.
"I think most coaches would say the most important thing is they can lead. When they talk and go out on that field, the rest of our team follows that person. I would say that's probably what tips the scale," Metzel said. "Having said all that, we still need to have someone with enough athleticism and the other boxes (checked) to make a difference."
It's not all that unusual to see a multi-talented kid work his way to quarterback from another position on the field. That goes to the athleticism which Metzel alluded to as an important factor in filling the spot.
Henderson's Caleb Medford transitioned from wide receiver to quarterback last year when Trae Hall went down with an injury last season. Medford, like a good leader does, stepped up to the challenge until Hall returned. With Hall now graduated, Medford assumes complete control of the Lion offense.
"Last year, my focus was to fulfill Trae Hall's role when he went down. This year, I'm just trying to take the leadership responsibilities he had last year. I put my team before myself and I want to be the leader my coaches expect me to be," Medford said.
Being a good leader is critical and having top-shelf athletic ability carries a lot of weight in determining a field general. But don't discount the football intellect required to successfully execute the job.
The quarterback is the one who studies the most game video; breaking down an opponent's defensive tendencies and getting a feel for what might work best come Friday night.
Where much is given, much is expected. And much is expected of the quarterback.
"It's important (the quarterback) is above and beyond in the classroom, in their technique and their knowledge of the game. We work very hard in our program to put our guys in a position where you know they're gonna fail and they're gonna struggle," Metzel explained. "We have our boot camps and so forth throughout the years. You'll find out real quick whose going to stay when things get bad and maybe his team isn't the most talented. You see how they handle a loss and if they are encouraging and rally their team and fight to the finish."
The ability to handle adversity and have a short memory lends itself to a more polished conductor. The quarterback makes split-second decisions where to go with the ball. This is done many times when he's under heavy duress from onrushing defensive tackles, linebackers and blitzing safeties.
Make a good selection and the band is striking up the fight song. A bad choice, however, can lead to long faces of disgust and dejection when returning to the sidelines. That's where a momentary case of amnesia is not only required but highly recommended for the quarterback.
"You're going to put pressure on these guys. Because we want to know, 'what are you going to do?' The ability to handle when those lights come on and there's 10,000 fans, you have to maintain composure," said Metzel. "To me the key to that, obviously there's some innateness to it. But it can be developed. I think the way it's developed is by having a confidence in knowing what you're doing, knowing the game plan, knowing your opponent and trusting your coach."
Self-confidence is central when following in the footsteps of greatness. Knowing full good and well you're going to get compared and critiqued by the accomplishments of you popular predecessor. It was seamless for Aaron Rodgers in Green Bay replacing Brett Favre. One can only imagine what it will be like filling Tom Brady's shoes in New England.
Cade Camp is heir-apparent to Aaron "Poppy" Brown in Gilmer. Brown, an apprentice of Metzel's, graduated this past spring as the second most prolific quarterback in Buckeye history. Camp appears self-assured and ready for the opportunity to lead.
"This is an awesome experience for me. I'm honored to have the chance to follow a player of Poppy's ability. I love these guys. The chemistry on this team is great and I'm excited to get started," said Camp. "I learned a lot working behind Poppy. He was a great quarterback and I know the challenges that lay ahead. I've just got to go out and work hard to get better every day. That's really all I can do."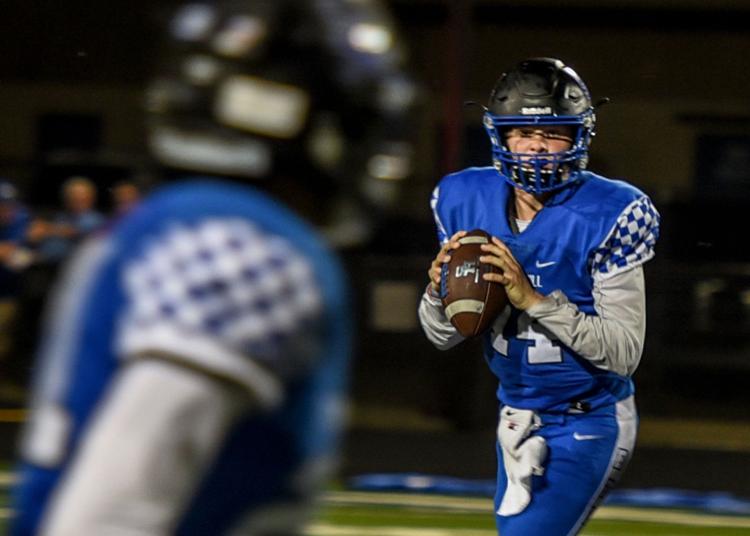 THE CUPPBOARD IS FULL
East Texas is blessed with a passel of talented returning quarterbacks that have high expectations and a handful of schools still looking for that right one to lead as the 2018 kickoff approaches.
Longview's Haynes King gears up for his junior year after coming up one game short of the state championship in 2017. The gifted young Lobo leader is already attracting the attention of DI schools across the country.
Pine Tree isn't settled on its signal-caller and will decide between junior Corey Thomas and sophomore D.J. Freeman. That isn't the case with Marshall returning J.J. Green and Hallsville welcomes back Semaj Boyd.
In Carthage, all Gunner Capps did was take a reining state champion and win another ring. Capps will be going for a personal repeat and team three-peat for the Dawgs. They'll also be breaking in a new QB at Kilgore.
Spring Hill's Gage White, a two-year starter, is seasoned and set for his junior year as the Panthers look to end a decade-long playoff drought. A few other returning starters expecting to make an impact include Gladewater's Danny Badger, Jefferson's Trey Hodge, Tatum's OB Jones, West Rusk's LJ Harper, Union Grove's Mikie Webb, Big Sandy's Caden Minter, Carlisle's Gerald Turner and Winona's Keenan Crawford.
White Oak and New Diana must replace a couple proficient passers in Heath Hood and Jackson Sampson. Dalton Sumrow, like Medford at Henderson, filled in when Hood went down with an injury. He's got the keys this year. Brandon Rosales is likely to get first shot at replacing the record-setting Sampson at New Diana. Other schools looking to fill vacancies include Harmony having to replace Spencer Seahorn, Ore City needs someone to step in for Tanner Organ and Beckville must fill the void of graduated Trey Lindsay.
Invariably, as coaches continue evaluation through the early days of preseason drills, a name, not listed above, is likely to emerge and become that dude checking off all the boxes. Clearly without the services of a capable quarterback, the rest of the team suffers by comparison.
Ultimately it's the quarterback who drives the car.