GLADEWATER — Just as on the football field, Tony Romo kept getting up off the mat until it was too much to overcome.
Romo, playing Wednesday in a U.S. Amateur qualifier at The Tempest Golf Club in Gladewater, had back issues, forcing his withdrawal after 26 holes into the scheduled 36-hole event.
"I played great last week in Wisconsin, shot 70-67-64-70 (tied for third place in the Ray Fischer Amateur Championship at Riverside Golf Course in Janesville), but I guess my back stiffen up today," the former Dallas Cowboys quarterback and current CBS football commentator said. "I'm OK, but I feel like (my back) I'm 58 instead of 41 sometimes.
"I kind of tweaked it last week but I made it through the tournament and I thought I would be OK today."
Romo said he will soon be back in East Texas to play golf competitively in Tyler this month. He expects to compete in the 51st Texas State Open, scheduled July 27-31 at The Cascades Golf & Country Club.
Part of the fans following Romo included Navy veteran Jonathan Hernandez of Dallas, who left the Metroplex at 4 a.m. to arrive in Gladewater to watch his favorite quarterback tee off.
Hernandez, along with son Jonah, followed Romo around the course, carrying Romo's No. 9 jersey on a board.
During the round, Romo said, "You are going to carry that around all 18? Appreciate your dedication and support. I'll make sure I sign it later."
Romo did sign it. He also put an autograph on young Jared's "Salute to the Military" Romo jersey.
"I have been a fan of the Cowboys since the early 90s," said Hernandez, who served nine years in the Navy and now works in the Dallas area in the healthcare field. "I was looking around, saw on Facebook Tony was playing here today. I decided to drive down. It was well worth the trip."
Romo drove down from Dallas for his morning round. He carded a 4-over 76 in the first round. He made it through hole No. 17 of the second round (he teed off on No. 10) before having to opt out.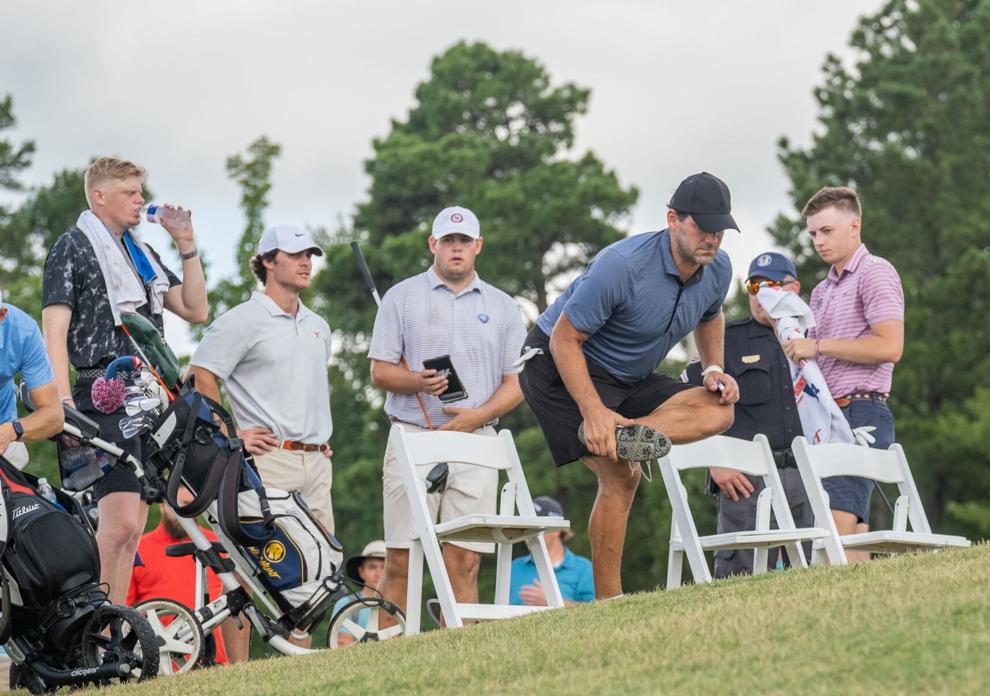 He tried loosening his back on the course, lying down to stretch it out, but to no avail. Early in the second round he appeared to have trouble bending down to get his ball.
His competitive nature drove him forward until he had to stop.
He also had high praise for The Tempest.
"I love the course (noting the challenging par 72, 7,229-yard layout)," he said after he finished. "It's fantastic."
After he withdrew, Romo also chatted with fans, signed autographs and took photos, his popularity still obviously high even after five years away from the playing field.
Matthew Spaulding, a rising senior at Klein Cain High School, said he is a Cleveland Browns fan but admired Romo's composure on the course.
"It's amazing. He has so much patience despite all the fans walking near and around him," said Spaulding, who was in the group before Romo, Chance Mulligan and Trevor Brown.
Tempest is one of seven Texas U.S. Amateur qualifying sites with successful players advancing to the U.S. Amateur Championship set for Aug. 9-15 at Oakmont Country Club outside of Pittsburgh, Pennsylvania. Any amateur with a USGA Handicap Index of 2.4 or lower is eligible to enter the 36-hole, one-day qualifier at Tempest.