Harmony looks to build on a history-setting season from a year ago but Troup, Winona and Arp will be right there with the Eagles. Check out the 10-3A, DII preview: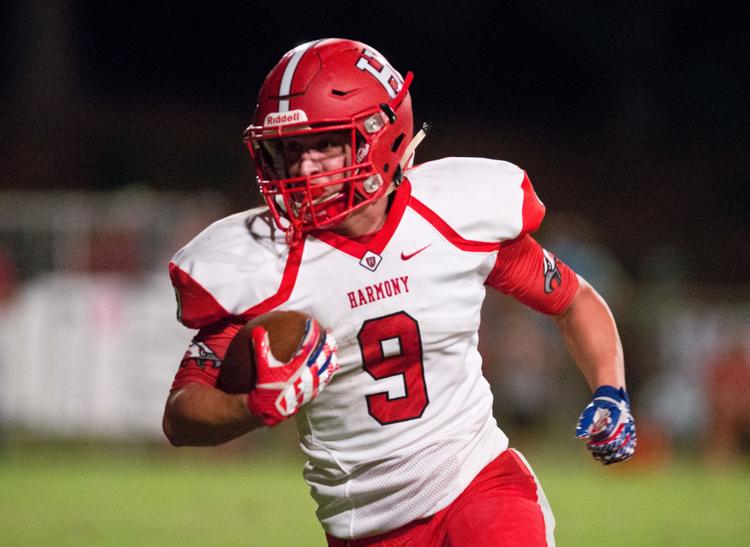 HARMONY
Coach: Tim Russell (10th year, 74-47)
2017 results: 11-1 (Class 3A, DII Area)
Returning starters/lettermen: 16/29
Offensive notables: RB Barrett Hill, Sr., 5-10, 195 . . . OG Cesar Arreola, Sr., 6-1, 250 . . . Caden McMillon, Sr., 5-11, 190 . . . Brody Chatham, Jr., 6-1, 280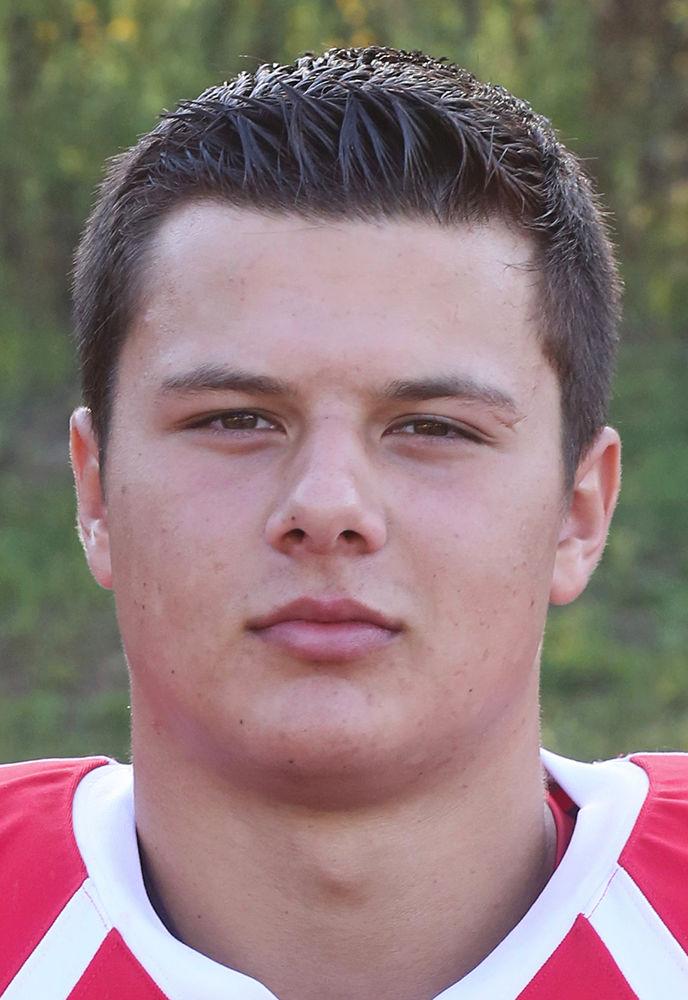 Defensive notables: LB Easton Blackstone, Sr., 6-2, 220) . . . FS Drew McNeel, Sr., 5-10, 170 . . . DL Jesus Maldanado, Sr., 5-9, 245 . . . DB Michael Everett, Jr., 5-10, 165
2018 outlook: Getting past that second round may very well be the mantra Harmony uses heading into the 2018 football season. Tim Russell, who fits Harmony like a well-worn glove, has a program that's respected for its well-drilled fundamentals and physical play. The Eagles, however, can't seem to solve the second-round slip up. Harmony reeled off 11 straight wins last fall before falling 42-26 to Jacksboro in area action. The Eagles finished 2016 with a 9-3 ledger and 2015 with a 7-5 worksheet. Each of those seasons ended with a second round playoff exit. Russell has arguably the two best players on each side of the leather returning to make a serious push for another district championship. Harmony has seven back on offense and nine returning on defense, making them a good bet to win 10-3A, DII. Senior linebacker Easton Blackstone returns after 106 tackles, 3 sacks and 3 picks. The 6-2, 220-pounder is a team leader and very unselfish, according to Russell. The offense should be in capable hands as senior halfback Barrett Hill rates among the best in East Texas. Hill piled up 1,994 yards on 164 carries for a ridiculous 12 yard per carry average. He found the pay window no less than 21 times for the Eagles. Senior guard Cesar Arreola transitions from tight end and the 6-1, 250-pounder should anchor the front line. Fullback Cade McMillon gives the Eagles another option when defenses line up to stop Hill. The senior McMillon totaled 552 rushing, 208 yards receiving and 8 TDs.
Did you know: Barrett Hill set the school single-game rushing mark with 293 yards last year against Winona
ARP
Coach: Dale Irwin (15th year, 120-60 at school, 125-65 overall)
2017 results: 4-6 (Class 3A, DII Bi-District)
Returning starters/lettermen: 8/16
Offensive notables: RB Jacobi Bussed, Jr., 5-11, 180 . . . RB Cajun Horton, Jr., 5-9, 220 . . . RB Caleb Wright, Sr., 5-8, 170 . . . RB Geo Dennis, Jr., 5-10, 165
Defensive notables: DT Blake Hays, Sr., 6-2, 300 . . . ILB Logan Shuttlesworth, Sr., 6-2, 180 . . . FS Tren Jones, Jr., 6-3, 160 . . . LB Colton Birdsong, Soph., 6-0, 185
2018 outlook: Arp, under veteran coach Dale Irwin, has established a consistency unrivaled in East Texas. The Tigers have advanced to postseason in 13 of Irwin's 15 seasons in charge. Arp averages eight wins per season under Irwin and despite a losing record in 2017, the high expectations haven't been diminished entering 2018. Though only three offensive and five defensive regulars are back, Irwin and company should contend for school's first district crown in six years. The Tigers build their defense around senior DT Blake Hays. The 6-2, 300 pound Hays actually starts on both sides of the ball and is one of the team leaders for Arp. Senior linebacker Logan Shuttlesworth is back after a 75-tackle season last fall. The offense welcomes back junior running backs Kajun Horton and Jakobie Bussey. Horton is a short-yardage runner, while Bussey compiled 420 yards and 3 TDs last year as a sophomore. Junior free safety Tren Jones fills the large shoes of graduated and UT-bound Demarvion Overshown. Jones is a ball-hawk in the secondary and has clocked a 4.6 in the 40. He's coming off an injury-riddled sophomore where he totaled 30 tackles and 1 interception.
Did you know: The proud Arp football program once suffered consecutive winless seasons in 1950 and 1951.
TROUP
Coach: John Eastman (8th year, 39-35)
Returning starters/lettermen: 16/20
Offensive notables: QB Weslee Ross, Sr., 6-0, 165 . . . HB Bryce Attaway, Sr., 5-10, 185 . . . OL Cade Jones, Sr., 6-3, 295 . . . OL Garrett Towery, Jr., 6-2, 210
Defensive notables: CB Desmond Deason, Jr., 6-0, 150 . . . DL Braxton Cassell, Sr., 6-1, 290 . . . FS Matt Adams, Sr., 6-0, 170 . . . OLB Calob Smith, Jr., 5-10, 165
2018 outlook: In this day and age, making playoffs don't necessarily equate to a successful season. But don't try telling that to the Troup Tigers, who've missed out on a postseason invite for the last four years. With a total of 16 returnees from each side of the leather, John Eastman is looking to snap that lengthy drought. Troup celebrates the 45th anniversary of the school's only state football title and would love nothing more than to punch its ticket to the dance in 2018. Senior QB Weslee Ross ranks among the loop's best field generals and gives the Tigers optimism. Senior Bryce Attaway is a key cog at tailback and the offensive line pins its hopes on 6-3, 295-pound senior Cade Jones and 6-2, 210-pound junior Garrett Towery. Speedy junior Desmond Deason patrols the secondary for the Tigers and fellow junior linebacker Calon Smith teams with senior free safety Matt Adams to fortify the Troup defense.
Did you know: John Eastman is in his second tour of duty as head coach of the Troup Tigers.
WINONA
Coach: Keylon Kincade (4th year, 20-26)
2017 results: 4-7 (Class 3A, DII Bi-District)
Returning starters/lettermen: 15/16
Offensive notables: QB Keylon Kincade, Jr., 5-10, 175 . . . WR Dakota Pullum, Jr., 6-1, 195 . . . RB Quindarius Johnson, Jr., 5-6, 160 . . . QB Keenan Crawford, Sr., 5-8, 180
Defensive notables: LB Zack Bradford, Sr., 6-2, 200 . . . CB Keenan Crawford, Sr., 5-8, 180 . . . CB Clifford Brown, Sr., 5-11, 175 . . . DE Damon Jones, Jr., 6-0, 185
2018 outlook: Don't sleep on these Winona Wildcats. Keylon Kincade, Sr., one-time Dallas Cowboy and former Winona standout, is ready to take his squad to the next level. With 15 total starters back from a playoff team a year ago, the Wildcats promise to make some noise in 2018. It's an embarrassment of riches for the elder Kincade at quarterback. He has the luxury of selecting between two talented young men in senior Keenan Crawford and his son junior Keylon Kincade, Jr., Crawford, who runs a 4.5 40, passed for 1,101 yards with 11 TDs and rushed for 366 yards with 4 TDs. Kincade, also a 4.5 speedster, finished with 1,501 all-purpose yards with a dozen scores. The Wildcats will field a very athletic, yet still pretty young, team. Winona's better days may be in 2019, but for the present, Kincade is confident a fourth-straight playoff berth is doable. Dakota Pullum, like several on the Wildcat roster, excels both ways. The junior Pullum had 57 receptions for 1,033 yards and 16 TDs. He took two kickoffs back to the house and picked four passes and totaled 48 tackles. Junior Quindarius Johnson is a returning 1,000-yard rusher for the Wildcats. The 5-6, 160-pound sparkplug finished with 1,299 on 149 touches with 12 TDs.
Did you know: Winona last won an outright district championship in 1994.
GRAND SALINE
Coach: Michael Ridge (5th year, 11-39)
Returning starters/lettermen: 16/20
Offensive notables: Ath Zane Taylor, Sr., 5-9, 165 . . . WR Luke Melton, Sr., 5-8, 155 . . . OL Reed Deatherage, Sr., 6-1, 235 . . . OL Aaron McKiddy, Jr., 6-1, 245
Defensive notables: Ath Judsen Truett, Sr., 6-2, 180 . . . LB Bryce Smith, Jr., 5-10, 195 . . . DL Aubrey Barnes, Sr., 6-2, 250 . . . LB Cameron Lowe, Jr., 6-0, 180
2018 outlook: If it worked for Texas coaching icon G.A. Moore, then Grand Saline coach Michael Ridge is banking it works for him. Moore made the rarely used 10-1 defensive scheme lead to victories and state championships at Celina. There is really nowhere to go but for Ridge and his Indians after a 1-9 debacle in 2017. The Tribe returns nine defensive regulars and seven offensive starters from a year ago. Ridge, who overcame back-to-back winless seasons to open his tenure in 2013 and 2014, got the Indians in the playoffs in 2015. He is now hoping to wipe away the memory of a tough one-win campaign. Stock will be put into the athletic types of seniors Zane Taylor and Judsen Truett. Also keep an eye on senior pass-catcher Luke Melton and junior linebacker Cameron Lowe. Grand Saline should find ample running lanes behind the capable blocking tandem of senior Reed Deatherage junior Aaron McKiddy. The defensive line rests in the reliable hands of 6-2, 250-pound senior Aubrey Barnes.
Did you know: Grand Saline last won a football district championship in 1999.
ALBA-GOLDEN
Coach: Derek Smith (2nd year, 3-7)
Returning starters/lettermen: 14/13
Offensive notables: QB Zane Smith, Sr., 6-4, 190 . . . Ath Boedy Baker, Soph., 6-3, 205 . . . OT Zach Kellis, Jr., 6-3, 220 . . . OG Ryan Jackson, Soph., 6-0, 195
Defensive notables: LB Tom Mitchell, Sr., 5-11, 190 . . . OLB Dylan Arenas, Jr., 5-9, 165 . . . DE Tom Mitchell, Sr., 5-10, 155
2018 outlook: Derek Smith embarks on his second year at Alba Golden optimistic with seven regulars back from both sides of the leather. Senior field general Zane Smith, son of the head coach, is back after passing for 1,200 yards and totaling 14 TDs. The defensive welcomes back senior linebacker Tom Mitchell and his 103 tackles from 2016. Mitchell, who broke his ankle in the opener last year and missed the entire season, had seven TFLs as a sophomore. The Panthers will also rely on sophomore Boedy Baker, who is simply listed as an athlete by his coach. The 6-2, 205-pound Baker racked up 67 tackles and 125 receiving yards as a freshman. He started at tight end and linebacker last fall for the Panthers.
Did you know: Entering their 35th year of organized football, the Alba Golden Panthers have yet to win a district crown.
QUITMAN
Coach: Bryan Oakes (2nd year, 0-10)
Returning starters/lettermen: 14/15
Offensive notables: Ath Trey Berry, Jr., 5-10, 170 . . . QB Josh Medlin, Sr., 6-1, 165 . . . WR Riley Flanagan, Jr., 6-3, 165 . . . OL Hunter Gilbreath, Jr., 6-0, 250
Defensive notables: CB Gavin Derryberry, Sr., 6-2, 175 . . . S Coe Dylan, Jr., 6-1, 170 . . . CB Ty Holland, Soph., 5-9, 150 . . . DL Hunter Batcheider, Soph., 5-10, 220
2018 outlook: Somewhere Annie is singing about the sun coming out tomorrow. Quitman second year football coach Bryan Oakes is counting on it. The Quitman Bulldogs have grown accustomed to winding up on the losing side of the ledger. They have lost 42 games and counting. You would have to search all the way back to October 11th, 2013 to find the last time Quitman left the football field victorious. Oakes knows the sun will come out tomorrow and he just hopes that is sooner than later. The Bulldogs have seven starters back on offense and seven starters back on defense. They will put a lot of eggs in the basket of talented junior athlete Trey Berry. Senior Josh Medlin is penciled in at QB with junior Riley Flanagan a preferred pass catcher. Flanagan showed flashes late and will be counted on to make contributions. The Bulldog defense is anchored in the secondary by senior CB Gavin Derryberry and junior safety Coe Dylan. The front line has sophomore Hunter Batcheider, who saw a great deal of varsity action last fall as a freshman.
Did you know: Quitman's last win in 2013 was a 21-0 shutout of Eustace. The week before, the Bulldogs blanked Grand Saline, 41-0.
FRANKSTON
Coach: Paul Gould (1st year at school, 42-17 overall)
Returning starters/lettermen: 16/14
Offensive notables: QB Brink Bizzell, Soph., 5-10, 165 . . . WR Boogie Krajca, Sr., 5-10, 155 . . . OL Ethan Roark, Jr., 6-3, 200
Defensive notables: NG Jesse Owen, Sr., 5-11, 255 . . . OLB Luke King, Sr., 6-1, 185 . . . DB Clayton Carnes, Jr., 5-10, 165
2018 outlook: Chaotic might be describe what transpired with the Frankston athletic program over the summer when Kevin Chase was relieved of his duties after just one season. This set off a mad scramble to find a football coach and athletic director in mid June. The Indians landed a good one when former Alto coach Paul Gould took the reins. Gould went 42-17 with Alto in five seasons and inherits a Frankston squad that had its worst season in a dozen years in 2017. The Tribe welcomes back eight on each side of the ball and only lost six letter winners. Gould knows how to win, but he will have to do so on the run. Sophomore QB Brink Bizzell had significant on-the-job training as a freshman. He started nine games and is considered one of the leaders for Frankston. Senior wide out Boogie Krajca pulled in 450 yards receiving and added another 200 on the ground. He is a versatile athlete that can be hard to tackle in the open field. The defense should be spearheaded by senior nose tackle Jesse Owen, who finished with 76 tackles, and junior DB Clayton Carnes, who picked three passes last fall.
Did you know: Paul Gould is the fifth coach in five years for Frankston.