When Emily Franklin wears her mascot suit, she becomes a "hype beast" and embodies school spirit to share with Van High School and the community.
"You're in a costume and you get to be whoever you want to be," she said. "And nobody can say anything about it because mascots are so much bigger than what they're supposed to be."
Van High senior Franklin, 17, calls herself clumsy and ditzy. "So when I'm in the suit, I can be that 10 times more than who I am outside of the suit," she said.
Her hard work as Van's Vince the Vandal paid off when she performed as one of 48 all-star mascots from across the country in the Citrus Bowl pregame, in Orlando, Florida, on Jan. 1.
Her invitation was a result of being chosen as a Mascot All-American from the National Cheerleaders Association while at camp at Texas A&M-Commerce last summer. She received All-American and Top All-American honors.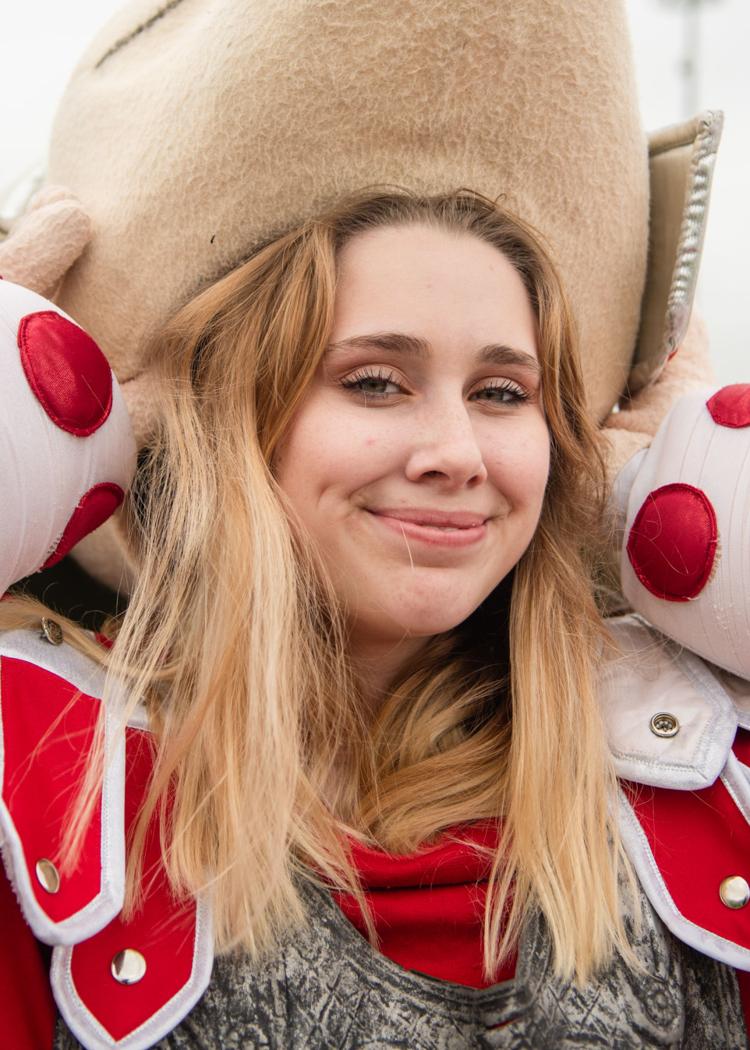 The All-Americans try out for the honor through the NCA and Universal Cheerleaders Association on their character development and crowd leading skills. Only 10% of mascots at NCA and UCA are chosen for a bowl performance, according to Varsity Spirit.
"I was just in shock," Franklin said. "It kind of had to register for a couple of days, then I was like, 'Oh my God, I'm going to the Citrus Bowl.'"
The mascots learned a big dance routine during morning practices and they spent the rest of the day at Walt Disney World. She said a lot of the other mascots had her personality.
"It's incredible. I didn't know that I was actually going to be this good. When I started out, I thought I'm just going to be an average mascot, but I have made more friendships," she said. "I think of myself as a legacy at this school. I'm going to miss it. I cried on senior night because I wished I'd done this before."
Franklin said she always thought about being a mascot, but her friends encouraged her to pursue it last year. She's always had a high level of school spirit, she said.
"In the student section, I was always in the front. I always started all the chants and I'd be crowd surfing," she said. "At pep rallies, I would go crazy."
At football games, attendees can see her in costume with a cow bell and a messy get-loud sign. Sometimes, she'll take the cheerleaders' third-down sign.
During football season, Franklin will visit the kids in lower grades every Friday for mini pep rallies with the football players. Her first event as mascot was Vandal Victory, a Special Olympics event for kids across the area, in April.
She also tries to be a role model for kids and supports people wherever she's needed, she said.
"It's actually kind of awesome. I love it. I like people's reactions. The main part of it is, kids, really, because for me, personally, it feels like I'm changing their lives," Franklin said. "When they see me, they're like 'Oh my God, it's Vince the Vandal.' It's really amazing."