Editor's Note: Stories labeled ETX View Medical Directory PLUS supplement ETX View's inaugural Medical Directory magazine, which subscribers will find in their weekend newspaper. The special edition highlights the growing medical community and health care workers in East Texas. To read all the stories or view the e-edition of the magazine, visit etxview.com.
Curtis Cason was sitting in bed talking to his wife when, at age 43, his heart unexpectedly stopped beating. Through the efforts of the UT Health EMS dispatcher who coached his wife through CPR, the ambulance crew that arrived on scene and the cardiac team that cared for him at UT Health Tyler, Cason was able to walk out of the hospital about two weeks later.
"My heart just stopped," Cason recalled of that December night. "The last thing I remember is me and my wife at home discussing scriptures out of the Bible, and she later told me I slumped over and couldn't breathe."
Cason's wife, Brynn, immediately called 911 and was connected with EMS dispatcher Shannon Sparks.
"She was awesome. She talked me through how to get him down on the ground. She talked me through it all," Brynn said. "I did chest compressions for over 10 minutes on him, and then when EMS got there, they worked on him for I don't know how long. It seemed like forever."
Members of the Tyler Fire Department were first on scene, and they shocked Cason's heart once before the EMS crew arrived and had to shock his heart several more times to get it back into a normal rhythm.
"This is the first code I've run that we actually had a fighting chance," said Charles Bishop, who has been a paramedic for five years. "There was little room for errors, but if it wasn't for his wife I don't think we even would have had a chance. Because of (her), everything fell into place the way it should have, and now we get to see him walk out of the hospital."
Once Cason arrived at UT Health Tyler, he was treated by emergency room staff and then the cardiac team. Interventional cardiologist Dr. Gaurav Patel discovered Cason had a tear in his mitral valve, which likely caused his cardiac arrest.
"As soon as I saw the mitral valve was leaky, I called the heart surgeon on call at the time," Patel said.
After the mitral valve was repaired, Cason also had a defibrillator installed to prevent future abnormal heart rhythms. However, the cardiac team credited Cason's successful recovery to the quick actions of his wife and EMS.
"At UT Health East Texas, we have technology and expertise to help these complex patients, but in his case it was the quick call from the wife to 911 and instructions from the dispatcher that ultimately led to a good outcome," said cardiologist Dr. Raul Torres-Heisecke.
Dr. Yagnesh Desai, UT Health EMS medical director, said Cason's successful experience was an example of the teamwork involved in responding to emergency medical calls.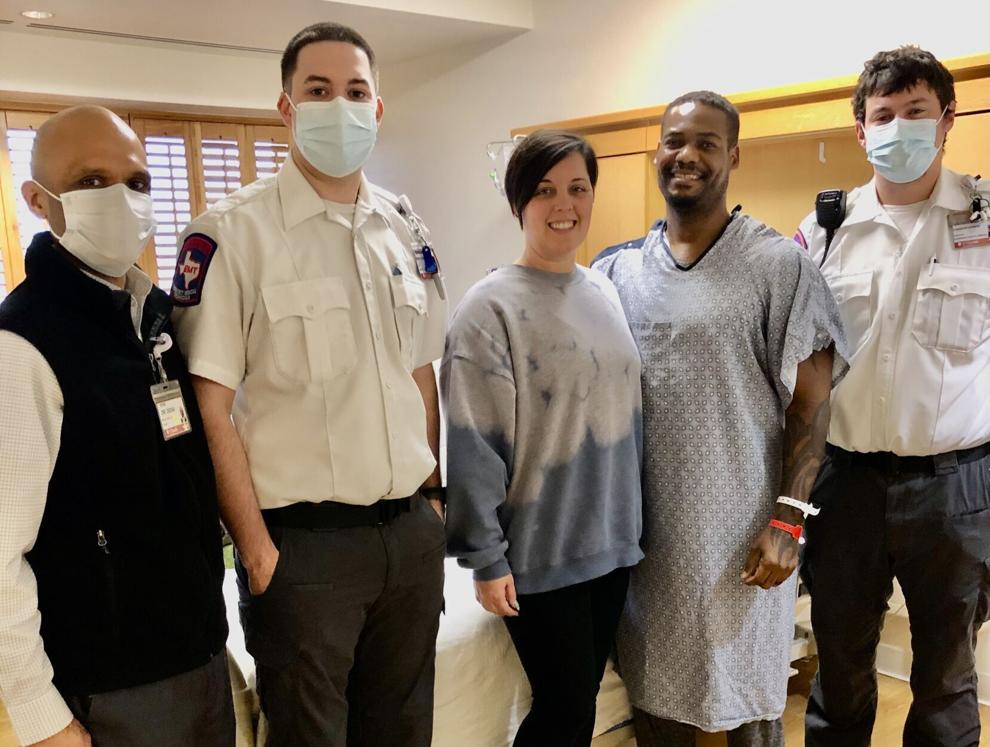 "There's a lot that goes into these calls that I don't think people realize. It starts as soon as they call 911," Desai said. "The dispatcher instructing his wife, who has no CPR background, to do CPR, his wife having the courage to do it, and then our crew showing up and continuing high-quality care as soon as they get there.
"It's pretty amazing to actually be able to come back and meet that person. That's pretty rare in the industry," Desai added. "It's an amazing opportunity for these guys to see the patients they've helped."
Cason and his wife expressed an interest in meeting the crew who helped save his life, and Bishop and EMT Bobby Roberts stopped by the hospital the day before he was discharged.
"To see him fully healthy, it's humbling," Bishop said. "To see him now, actually walking and talking and super healthy for the most part, it's very amazing to see."
Brynn and Curtis Cason agreed.
"He's a walking miracle," she said.