After a year of apartment life, Monica Hunt revels in the quiet space she's found in the duplex she recently moved into in Central Longview.
She moved to the city with her job with Christus Good Shepherd Medical Center about a year ago and found living in an apartment a noisy experience. Then, she learned about Coral.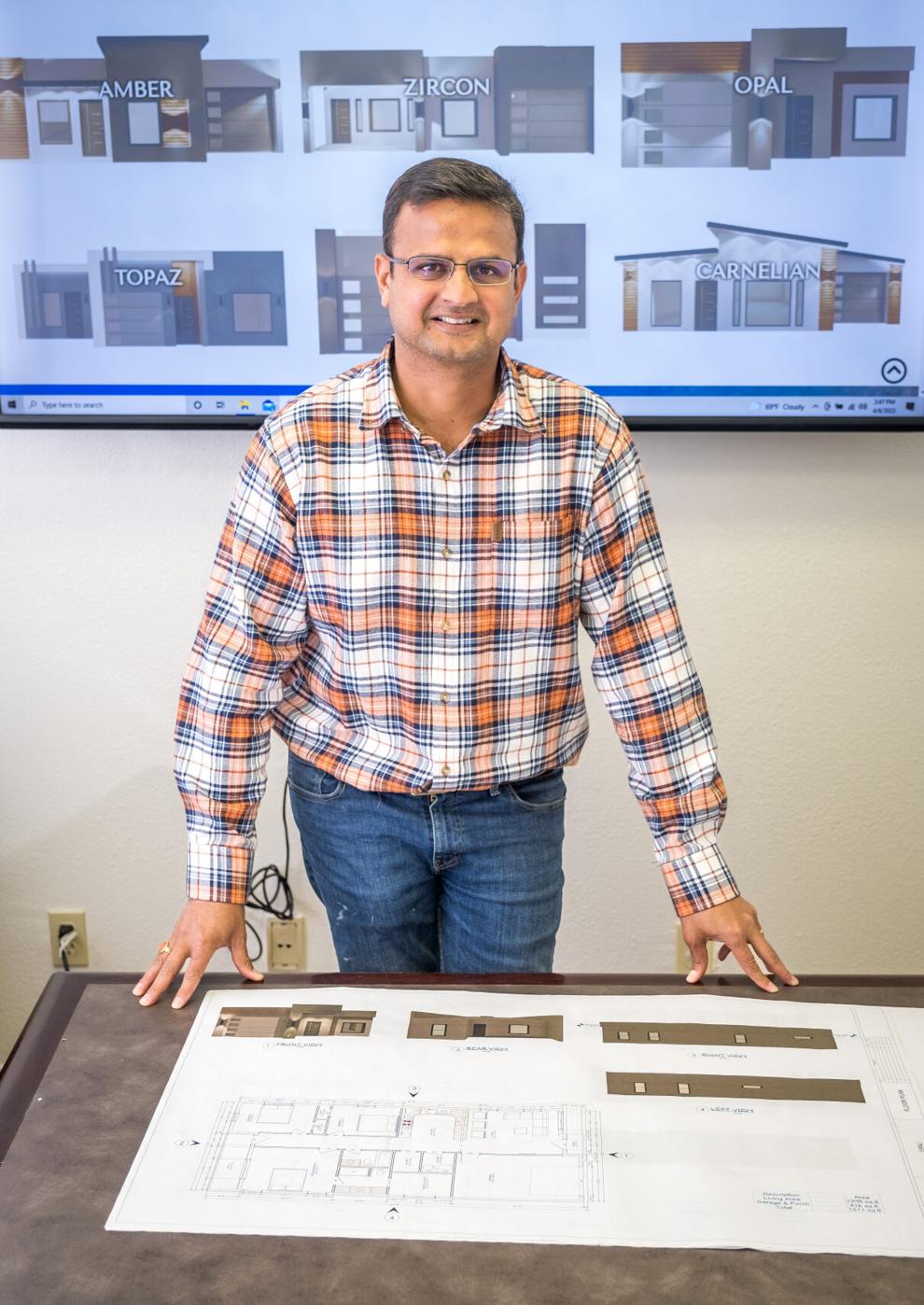 That's the name Arun Srinivasan gave to a building method he's bringing to Longview for residential construction using concrete blocks. He started with two duplexes he built in Central Longview.
Hunt was excited when she saw them.
"I never hear (my neighbors)," she said in a nod to the 8-inch concrete block walls that eliminate noise and also help insulate the home. She said she had trouble getting the duplex to a comfortable temperature at first, but she was trying to adjust the thermostat too much.
"Leave it on 70 and you're good," she recalled Srinivasan telling her. She found he was right.
The exterior and interior are sleek and modern looking, with an open kitchen featuring stainless steel appliances and polished concrete floors.
Srinivasan, owner of Arman Solutions and Akron Consulting, is a civil engineer by profession. He also has designed businesses and homes. He and his family have been in Longview 14 years.
"For me, it's always an anxious moment whenever the tornado siren went off," Srinivasan said, expressing concern about the ability of some traditional construction methods to stand up to a tornado's destructive winds. "As an engineer, not doing anything to address that situation — I kind of felt like we're not doing the right thing for the community."
Concrete blocks can withstand higher winds than typical construction, he said, although it's not 100% tornado-proof.
"Mother Nature is stronger than me," he said. "At least this is a first step toward something."
Coral is one of his "pet projects" that Srinivasan said he's been trying to conceptualize for some time. In addition to the two duplexes, he's building a development of 26 homes, called Alpine Gardens, using the same concrete block construction style. Infrastructure has been installed and home construction is beginning in the development off Alpine and Tryon roads.
Srinivasan also describes this building style as "sustainable," low maintenance and energy efficient. Mold, mildew and termites aren't an issue in these types of homes, he said.
This kind of construction isn't new, he said. Big box stores such as Walmart and Sam's have long used that construction method, and some of the commercial projects he has designed in this area have as well, including the gas station and convenience store Scotties 2.0 and Sunset Farms and meat processing plant north of Longview.
Srinivasan moved to the United States from India 21 years ago to attend college. Cinder block houses are common in India, he said.
"But what we lack is what we have in product development in this country," he said, pointing to water proofing, insulation and central heat and air developments that are available here. "I feel like it's a good mix of both worlds."
Homes in Alpine Gardens are 1,500-square-feet maximum — 1,800 square feet when the garages are included. Six floor plans are available. Srinivasan said homes are "affordable," with prices starting at $250,000.
"Our ultimate challenge would be how the people perceive these homes and how they accept it as part of their lifestyle," he said. "That's going to be the big challenge we're trying to overcome."
For additional information, visit liveincoral.com.