Health officials on Thursday reported more than 500 new confirmed and probable COVID-19 cases in Gregg County residents since Monday — along with three deaths — continuing a resurgence of the virus and its Delta variant in the region.
The Northeast Texas Public Health District, known as NET Health, reported 513 new cases — 103 of which are confirmed and 410 probable cases — with its biweekly report. That is 179 more than the 334 new cases reported Monday.
NET Health also announced Gregg County's deaths from the virus increased to 208 from 205.
Gregg County Health Authority Dr. Lewis Browne said Thursday that three deaths were reported Wednesday at a Longview hospital.
Gregg County on Thursday had 2,291 active cases, according to the health district.
In Smith County, NET Health reported 685 new confirmed and probable cases of COVID-19 since Monday as active cases for the county rose to 3,718.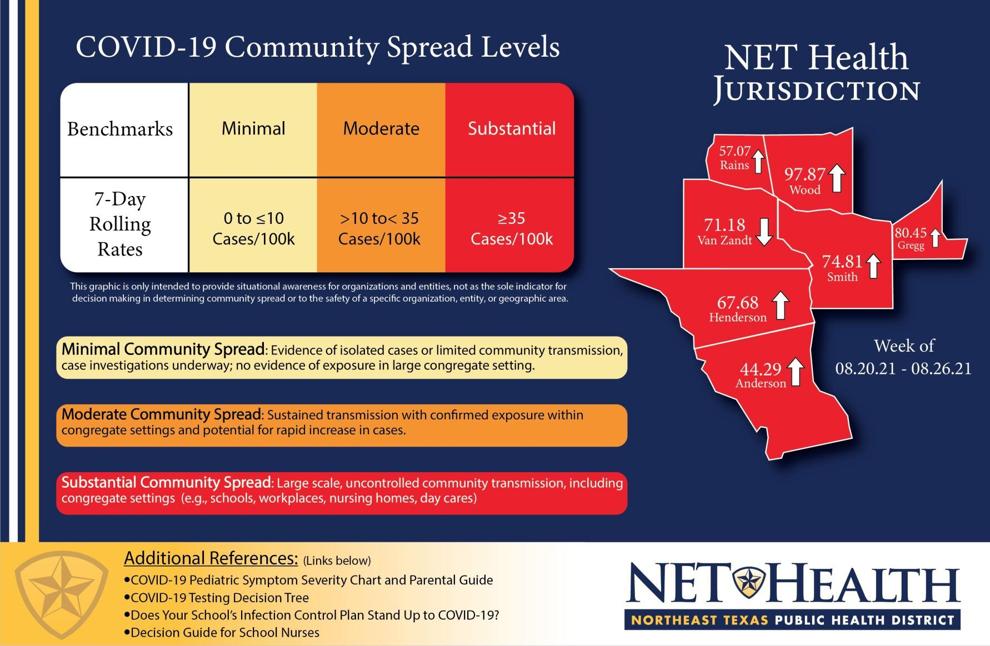 Community spread levels of COVID-19 on Thursday were "substantial" in each of the seven counties for which NET Health provides disease surveillance.
With the most recent data, Gregg County has the second-highest seven-day rolling rate of new COVID-19 cases in the region at 80.45 per capita. Wood County had a higher rate at 97.87.
The NET Health seven-day rolling rate calculates the average number of all positive COVID-19 cases from the previous seven days. The number is divided by the population of the county, then multiplied by 100,000 to produce the seven-day rolling rate.
A county reaches "substantial" community spread when its rolling rate is 35 cases or above.
Substantial community spread represents large-scale, uncontrolled community transmission, including in congregate settings, according to NET Health.
In addition to Gregg and Smith counties, NET Health covers Anderson, Henderson, Rains, Wood and Van Zandt counties.
In the past week, each of the counties' seven-day rolling rates of new cases has increased except in Van Zandt.
Other counties
In Anderson Counties, total cases increased by 119 bringing the active cases to 354 for the county. NET Health on Thursday reported the county has had 84 deaths from COVID-19 since the pandemic began.
Henderson County's total cases increased by 226 with active cases at 1,023. The county has had 133 deaths from the virus since the pandemic began, according to the health district. NET Health reported 32 new probable and confirmed cases with 144 active cases in the county. There have been 15 deaths in county residents from the virus.
In Van Zandt County, total cases rose by 126 since Monday, and there were 911 active cases on Thursday. The county's death toll from the virus was at 76, NET Health reported.
Wood County's total cases rose by 180 with NET Health's Thursday report, and active cases were at 782. The county has had 92 residents die from the virus, the district reported.