Sally Crocker and Linda Ballard said they have both been without water for two to three days in Kilgore following the arctic blast of winter storms last week.
"I'm up in age, and I never experienced anything like this," Crocker said, laughing. Though the snow had mostly melted in Kilgore by Monday morning, residents could still feel the lingering effects of the record-breaking storms.
"We went to the store, and they didn't have nothing," Crocker said. Grocery stores across East Texas sported empty shelves due to shipping delays brought on by snow and ice.
Kilgore police, the nonprofit Helping Hands of Kilgore, volunteers and others mobilized to provide free bottled water and produce to Kilgore residents on Monday.
Crocker and Ballard picked up free water being distributed at Brookshire's by Kilgore police and free produce from Helping Hands. The distributions were contact free due to COVID-19 precautions as police officers and volunteers loaded items in to vehicles.
"God is on his way," Ballard said. "If this don't get them close to God, they're never going to get close."
"You know, it's a time to help everybody," Crocker said. "We should work together and everybody help everybody."
"Come together," Ballard said.
Helping Hands Director Ursula Plaisance counted about 250 families receiving produce from 10 a.m. to noon Monday. The produce comes from the East Texas Food Bank.
"Kilgore is a very close-knit family when there's any kind of tragedy or need," Plaisance said. "We're glad to still be meeting some needs here."
Donna Young also attended both distributions because she could not find what she needed at local stores.
Robina Clark said she did not lose her water, but a tree fell in her yard due to the weight of the snow and ice.
Kimbley Roberts said she was used to winter storms having lived in Maine previously, moving to Kilgore about four years ago.
"I've been through this before," she said. She and her family lost water to parts of their home. But their experience enabled them to help others during the week.
"My husband did a lot of driving to help out people and stuff," Roberts said, "bringing them what water we could and taking trips to the store and stuff."
Being able to have fresh produce is helpful to her family, she said.
The city is still operating under strict water conservation and a boil water advisory as repairs are made to water pipes and residential plumbing across the city. Water straight from the tap is not safe for human consumption (unless boiled first) until further notice.
Kilgore police have worked for 9 consecutive days on storm relief efforts, as well as organizing volunteers to help those in need across the city. Officers helped with two communitywide water distributions.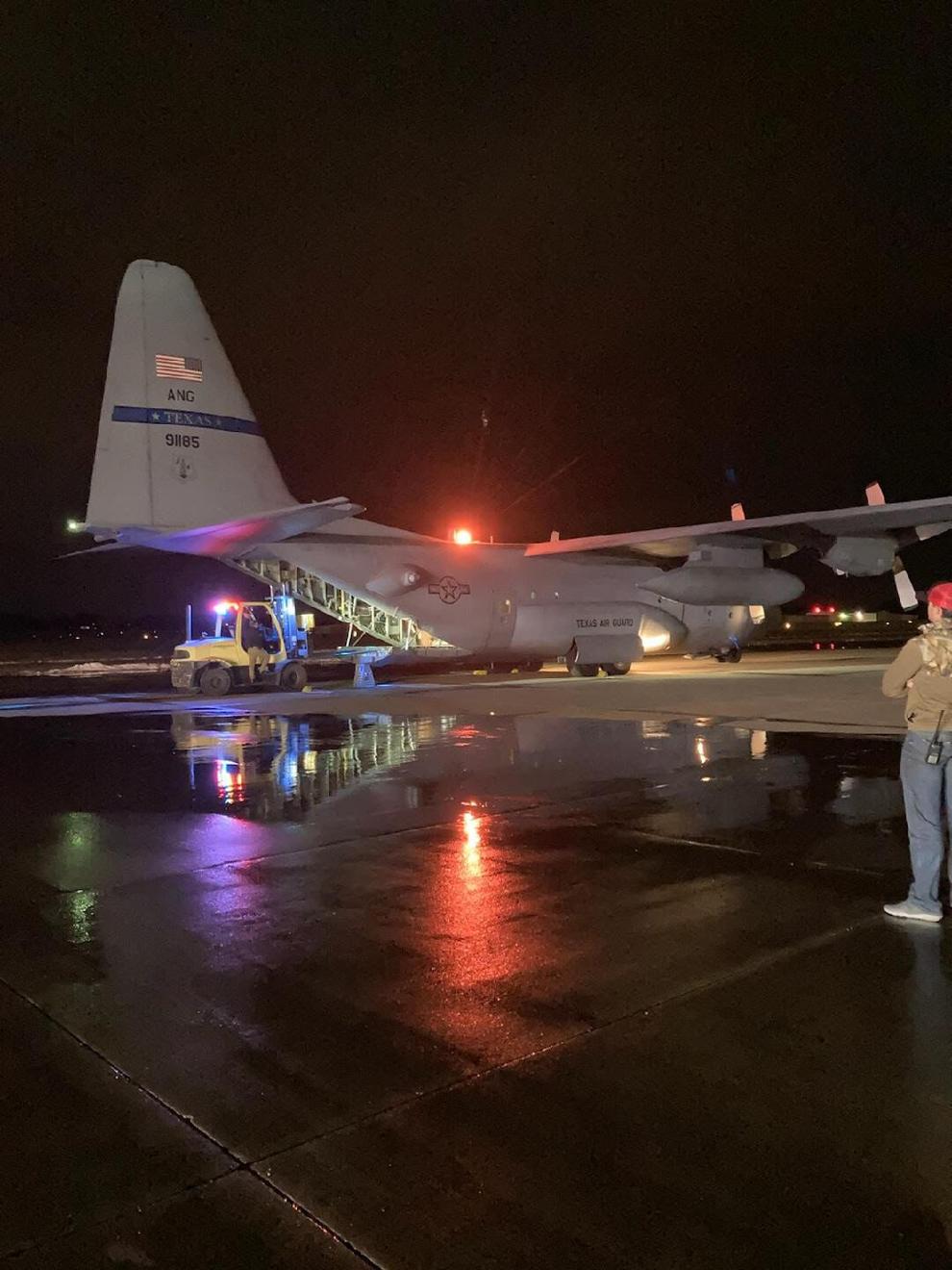 A Fort Worth-based Texas Air National Guard C-130 cargo plane delivered 16 pallets of boxed water to Gregg County Airport Saturday night, said city archivist Bill Woodall, who was at Brookshire's Monday to lend a hand loading cases of water into cars.
The Texas Department of Emergency Management coordinated with Gregg County Sheriff's Office to arrange the emergency delivery but the effort was overseen by KPD Support Lieutenant Terry Linder, the city's director of emergency management.
Monday's efforts were preceded by another water distribution event Saturday, when 1,700 cases of water were distributed to locals.
Sgt. Vance Callahan worked on produce distribution along with Assistant Chief Johnathan Gage, Victim Services Coordinator Jonathan Latham and others. Callahan said he also worked Saturdays bottled water distribution though it was his day off.
"Saturday was 23 pallets, totaled over 46,000 bottles," Callahan said.
Latham said his job last week was mostly organizing volunteers and helpers.
"Mainly contacting people trying to get folks to help people that were in need," he said. "And they stepped up. We did wonderful. Kilgore people are good folks."