COVID-19 patients have taken up more than 15% of the total number of hospital beds in a region that includes Longview and Tyler for 30 straight days, the latest data showed Wednesday.
Patients being treated for COVID-19 accounted for 20.73% of hospital capacity Wednesday in the Trauma Service Region G that stretches across a 19-county region in Northeast Texas and includes Gregg, Upshur, Rusk, Harrison, Panola and Smith counties. According to Texas Department of State Health Services, the number has decreased each day since a 25.43% pandemic record set Saturday.
Seven consecutive days of hospitalization rates for the Trauma Service Area on Dec. 20 set in motion renewed restrictions at businesses and restaurants in the region, per an executive order issued in October by Gov. Greg Abbott.
The counties that make up the trauma service area are Gregg, Anderson, Camp, Cherokee, Franklin, Freestone, Harrison, Henderson, Houston, Marion, Panola, Rains, Rusk, Shelby, Smith, Trinity, Upshur, Van Zandt and Wood.
Seven consecutive days in which the COVID-19 hospitalization rate is less than 15% of total hospital capacity in the region are required to lift the mandate.
The state reported 35 ICU beds were available in hospitals throughout Trauma Service Area G.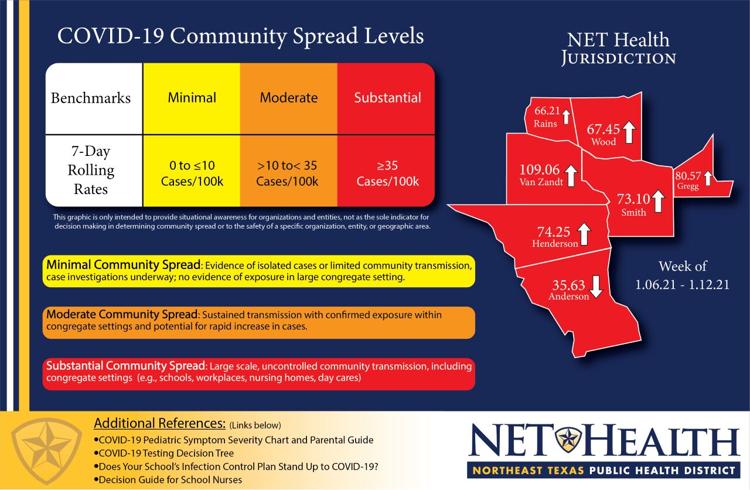 The Northeast Texas Public Health District, known as NET Health, on Wednesday reported Gregg County had the second-highest rate of community spread of the seven counties it serves in the past week. All of the counties for which the district provides disease surveillance had "substantial" levels, which signifies large-scale, uncontrolled community transmission.
Gregg County's seven-day rolling rate of infection, adjusted for population, was 80.57 for the period Jan. 6 through Wednesday, an increase of nearly 24 from the previous week.
NET Health also provides disease surveillance for Smith, Anderson, Henderson, Rains, Van Zandt and Wood counties.
Van Zandt County had a higher seven-day rolling rate of infection at 109.06, which was more than double its rate the previous week at 48.97.
NET Health had not updated new confirmed cases, deaths and recoveries for its seven counties Wednesday evening at deadline.
The Texas Department of State Health Services on Wednesday reported 21 new cases of coronavirus in Harrison County residents and one additional death.
The county has had 1,714 cases and 69 fatalities from the virus, according to state data.
The state reported nine new cases of the coronavirus in Rusk County and one additional death. The county has had 1,670 positive cases, according to the state, and 59 COVID-19 deaths.
Upshur County's coronavirus cases increased by 17 for a total of 907, and the county's deaths from the virus remained at 38.
Statewide
About 13,000 individuals who are 65 and older will receive the COVID-19 vaccine during a drive-thru clinic in Houston this week.
The large vaccination event will be today through Sunday at NRG Park, a large complex that's home to NRG Stadium, where the Houston Texans play. The drive-thru clinic is being organized by Memorial Hermann, a Houston-based hospital system.
The vaccine will only be administered to pre-registered individuals who have been invited to participate by the hospital system and have an appointment.
Texas is vaccinating health care workers, people 65 and older and those with medical conditions that put them at greater risk of hospitalization and death from COVID-19.
"We also hope to host more events like this in the near future as we continue to make vaccination available to all those who are eligible, and eventually to all patients and members of the community. The speed at which we can move through additional populations will be determined by continued and/or increased vaccine supply," Memorial Hermann said in a statement.
In response to frustrations over a slow and often confusing rollout of vaccines over the past month, Texas is shifting from its original model of using thousands of smaller vaccine providers to large-scale sites that can process thousands of shots per day.