COVID-19 infections are spreading rapidly across East Texas as the region continues to see high transmission rates and an increase in total cases.
In Gregg County, the exposure rate rose 154% during the weekend, according to data from the Northeast Texas Public Health District. The county's community transmission level remained "substantial" with a seven-day rolling rate of new cases of 130.35 compared to 51.29 on Thursday.
The county's rate of new infections on Monday was the second-highest in NET Health's seven-county jurisdiction, passed only by Smith County's rate of 137.60.
All counties are experiencing substantial rates of transmission, meaning cities across each county are experiencing large-scale, uncontrolled community transmission of the virus in places such as grocery stores, schools, churches, workplaces, nursing homes, day cares and other congregate settings.
Seven-day rolling rates of infection at 35 or more cases are considered substantial, compared to moderate at 10 to 35 and minimal at zero to 10.
According to NET Health, the rate calculates the average number of all COVID-positive cases from the previous seven days. That number is divided by the population of the county and multiplied by 100,000.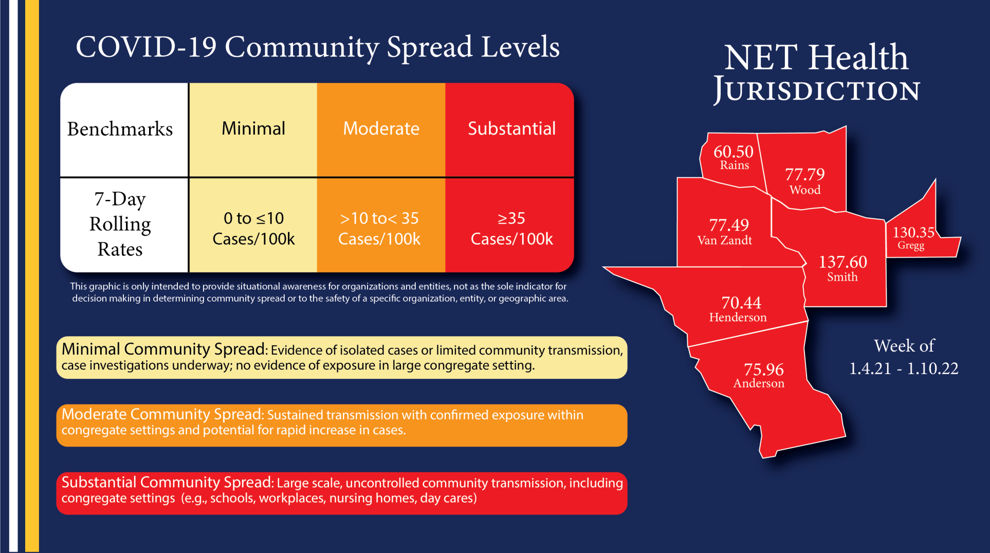 In Monday's report, NET Health showed Gregg County's total active cases was 1,676 an increase of 37% since Thursday. Also on Monday, Gregg County saw 455 new cases — 227 confirmed, 228 probable — reported since Thursday.
NET Health defines probable cases as those which are attributed to patients who have received positive antigen tests, until the individual has been administered a Polymerase Chain Reaction (PCR) test. If a person's PCR laboratory result is positive, that becomes a confirmed case.
In Longview on Monday, the line for drive-thru COVID-19 testing at Christus Good Shepherd's NorthPark facility stretched onto Hawkins Parkway. Gregg County Health Authority Dr. Lewis Browne this past week said half of the people who have presented in the county for testing and receiving a positive result.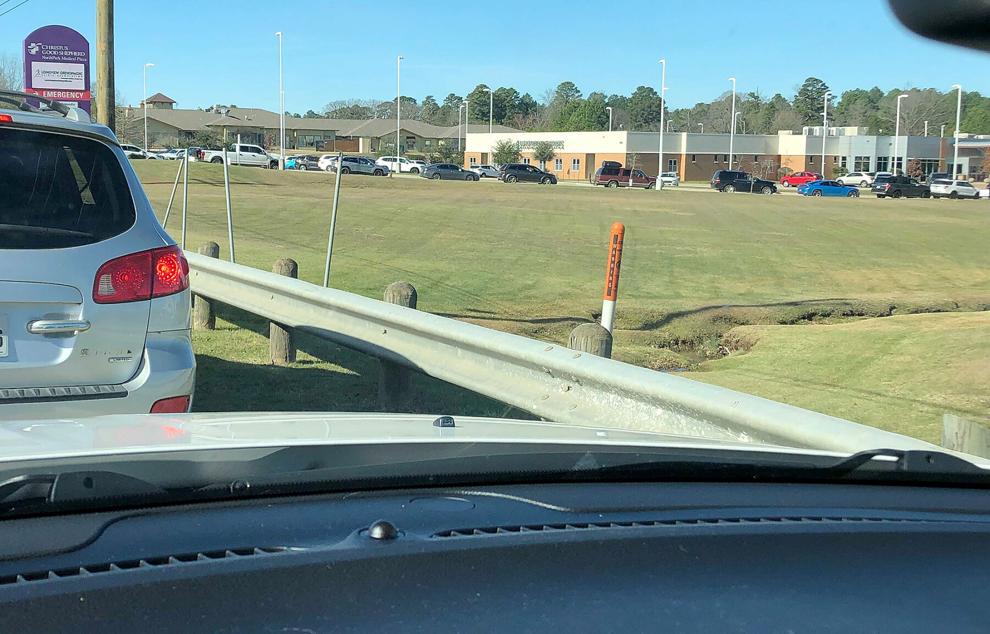 He also said the demand for COVID-19 tests has been stressing local emergency rooms.
On Monday, NET Health reported 147 East Texans being treated for COVID-19 at Tyler hospitals. The county's hospitalization rates now trend similar to data last seen in early November.
On Monday, there were 267 COVID-19 patients hospitalized in the state's 19-county Trauma Region G. Of COVID patients hospitalized, 63 of those are in ICUs and 48 patients are on ventilators. In the first half of September, hospitalizations reached 822, the highest number of single-day COVID-19 hospitalizations in the region since the pandemic began. Similar trends were last seen late October.
As of Monday in Gregg County, 55.11% of people age 5 and older had received at least one dose of the COVID-19 vaccine, while 48.12% of people age 5 and older had been fully vaccinated, according to the state. State data shows 88.51% of people 65 and older in the county had been vaccinated with at least one dose on Monday, while 80.94% of that population had been fully vaccinated. As of Nov. 4, children 5 to 11 years of age are included in vaccination numbers and rates.
NET Health on Monday reported no active cases of COVID-19 in the Gregg County Jail. In Smith County, 41 jail inmates had an active diagnosis of COVID-19. The Smith County Jail last week announced it suspended visitation due to the recent uptick in cases.
From Dec. 1 to Dec. 30, there were 435 total new cases reported in Gregg County. In November, just 121 new cases were reported compared to October and September in which more than 723 and 4,099 new cases were reported each month, respectively.
There have been 21,264 total COVID-19 cases in Gregg County since the pandemic began and 19,303 total recoveries, according to NET Health.
Other counties
Smith County has seen 986 new cases — 405 confirmed and 581 probable — reported since Thursday. There were 3,846 active cases in the county.
Henderson County had 199 new cases — 132 confirmed, 67 probable — reported since Thursday. There were 707 total active cases within the county.
Van Zandt County had 174 new cases — 87 confirmed, 87 probable — reported since Thursday. There were 550 total active cases within the county.
Anderson County had 156 new cases — 33 confirmed, 123 probable — reported since Thursday. There were 521 total active cases within the county.
Wood County had 155 new cases — 80 confirmed, 75 probable — reported since Thursday. There were 417 total active cases within the county.
Rains County had 33 new cases — 15 confirmed, 18 probable — reported since Thursday and there wer 81 total active cases within the county.
Total recoveries and total active cases include probable and confirmed data. Data gathered in Monday's report represents data from noon Thursday to noon Monday.