Gladewater ISD announced Monday that the district will switch to remote learning for the remainder of the week due to the city's ongoing water issues caused by the winter storms.
"We can't guarantee water pressure for our kids and our employees," Superintendent Sedric Clark said Monday. "We should be up and running by Monday (March 1). That's what we're hoping."
Clark said Gladewater ISD did not sustain any major damage to the district's buildings due to the storm.
There were burst pipes in three buildings and maintenance crews made the necessary repairs over the weekend. The pipes busted in the high school gym, central office and bus barn.
"Those city crews are working as hard as they can, but it's just difficult to find those leaks," Clark said.
The district has been working with the city to make decisions and is in contact with those making water line repairs in town.
"We feel that this is the best decision right now," Clark said.
Clark added that there were more leaks and issues as the snow began to melt.
"This is just another adventure that is going on as part of the year," Clark said, looking back to March 2020 when schools were closing and going remote due to COVID-19. "It's been a challenge, but I'm very pleased with how we have handled it."
The district will also provide 100 laptops for check out this morning to families that require them for remote learning. They will be distributed from 7:30 a.m. to 9:30 a.m. at the Gladewater ISD Central Office, 200 E. Broadway Ave.
Gladewater was not the only area district that had issues continuing to affect its campuses after a week of snow, sleet and record-breaking temperatures in the are. Kilgore ISD Superintendent Andy Baker announced on Monday that it would not have class — in person or remote — today after not having classes on Monday due to the city's water issues.
Baker said the district would be offering "Grab-and-Go" curbside pickup meals for children from 10:30 a.m. to 12:30 p.m. today at Kilgore High School and Chandler Elementary School. He said an update would be coming today about classes on Wednesday.
Schools across East Texas experienced damages due to the storm, though most were minor.
A Longview ISD spokesman said Saturday that the only damage to district facilities was to a water main at the high school that was repaired.
White Oak ISD reported a busted water main behind the high school. Sabine ISD also reported a pipe burst at the high school with no extensive damage.
All Marshall ISD campuses will conduct virtual learning on today and Wednesday as the district and surrounding area continue to work back to full strength following last week's historic winter storms.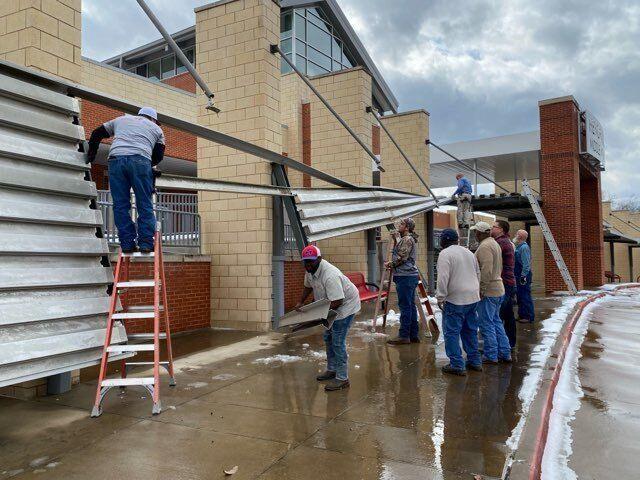 Several of Henderson Middle School's awnings on the front of the building collapsed while others were damaged due to the weight of snow and ice.
"Whether you are aware of it or not, merely being able to return to school after a winter storm like last week's doesn't just happen on its own," Henderson ISD Superintendent Dr. Thurston Lamb said in a post on the district's Facebook page Monday. "It is only through the careful work of planning, response and recovery that we are able to come back to buildings with water, lights, kitchens and bathrooms — all ready for teachers to teach and students to learn."
Lamb applauded the Maintenance and Transportations Department who worked through the week on repairs.
"They were checking for leaks, repairing the plumbing, removing fallen debris and tuning up the buses," Lamb said. "I am so thankful for these people who stand behind, just beyond the public eye, taking care of the things that the rest of us take for granted."