KILGORE — When he was younger, Pete Luman moved to Nashville twice to pursue his music career but says he got homesick almost as soon as he left.
He soon returned home to East Texas and, following in his father's footsteps, began driving trucks — eventually owning his own hot shot company for about 10 years.
When the bottom fell out of the oilfield industry more than a decade ago, Luman says he pretty much lost everything. Forced to close the doors to his business, the 62-year-old now drives for Orgill in Kilgore.
Luman was supposed to go to work Monday, but after his route to Mississippi was canceled because of the weather and poor road conditions, the truck driver says he was looking for something to do.
"I was just sitting there and drank about three cups of coffee, and I was bouncing off the walls, so I said, 'I gotta get out and do something,' " he said.
Luman turned back to the road.
Known to his friends as Cool Cat Daddy, Luman says he likes to help people and has a large following on social media as the bass player for the Reo Ramblers, the house band at the REO Bar and Grill at the REO Starplex where he plays on weekends.
So, when he made a post on several Facebook pages offering rides in his four-wheel drive SUV to people needing to get supplies from the store or needing a way to get to their jobs, he instantly got replies.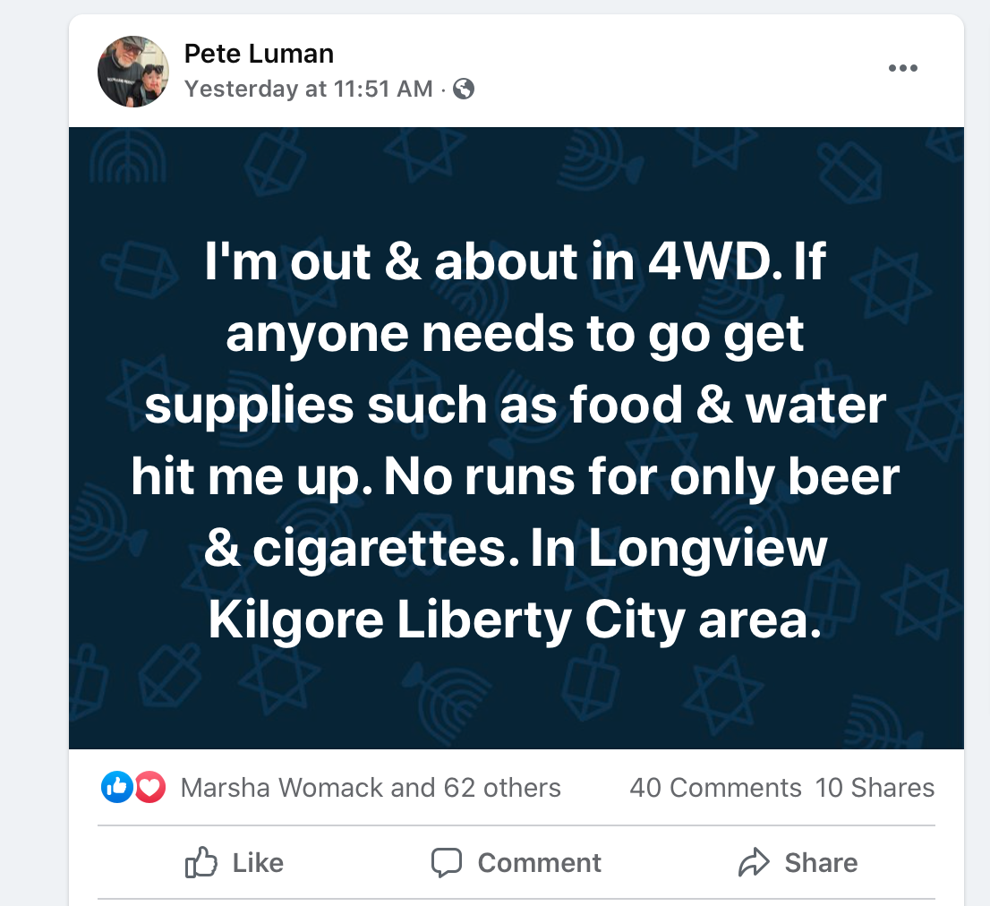 "Most of the responses were, 'You're so sweet,' or 'Thank you, Pete for doing this for people,' " Luman said about the initial response. "But I finally got a few folks that were needing help."
Mike Boyle, who lives in the Liberty City area, requested Luman's services on Wednesday. Luman picked up Boyle and his son, Lucas, and drove them to a store so they could purchase water, tea and a few other necessities.
"We were without power for about eight hours and we're still without water," said Boyle as they drove from his home four miles to the nearest store.
Luman said he's helped nurses and other employees get to and from their jobs at the Truman W. Smith Children's Care Center in Gladewater.
He stops to offer assistance if he sees someone walking or a if car has run off the road.
"Sometimes, I might circle around to give them a little while to ponder the decision that led them to being in that situation," he said with a laugh, "but I've always liked to help people."
Luman said one man told him he had $10.61 and just wanted him to deliver a box of rice for supper.
"When they break it down to the 61 cents, you know that's all they have," he said. "I went on his Facebook page and saw he had three kids, so when I brought the box to his door, I just handed it to his wife and left — he messaged me back telling that I forgot to get the money, I told him, 'Man, I don't want your money. Merry Christmas!'"
Another woman said she just needed small packages of diapers and wet wipes for her baby. Luman brought large packages of each and didn't ask for payment.
"I don't tell them up front," he said, "but if I see they're in need, I won't ask them to pay for it."