A century after a Longview race riot made national headlines, echoes of that chaotic week are faintly heard in the memories of people who live where the violence occurred.
But the rioting of July 10 to 14, 1919, isn't officially remembered by any historical markers, a change some community leaders say is needed.
Larry Wilson, who has lived on Ware Street for about 60 years — a half-block from where rioters horsewhipped Belle Sanders and Charlie Medlock for protesting while their homes burned — says he heard stories about the riot when he was a child.
"It was bad, man. A lot of it I don't like to repeat," he said this past week while standing outside his house.
Medlock's house was across Ware Street from Wilson's home, on the lot where the Stamper Park Resource Center now sits on South Center Street.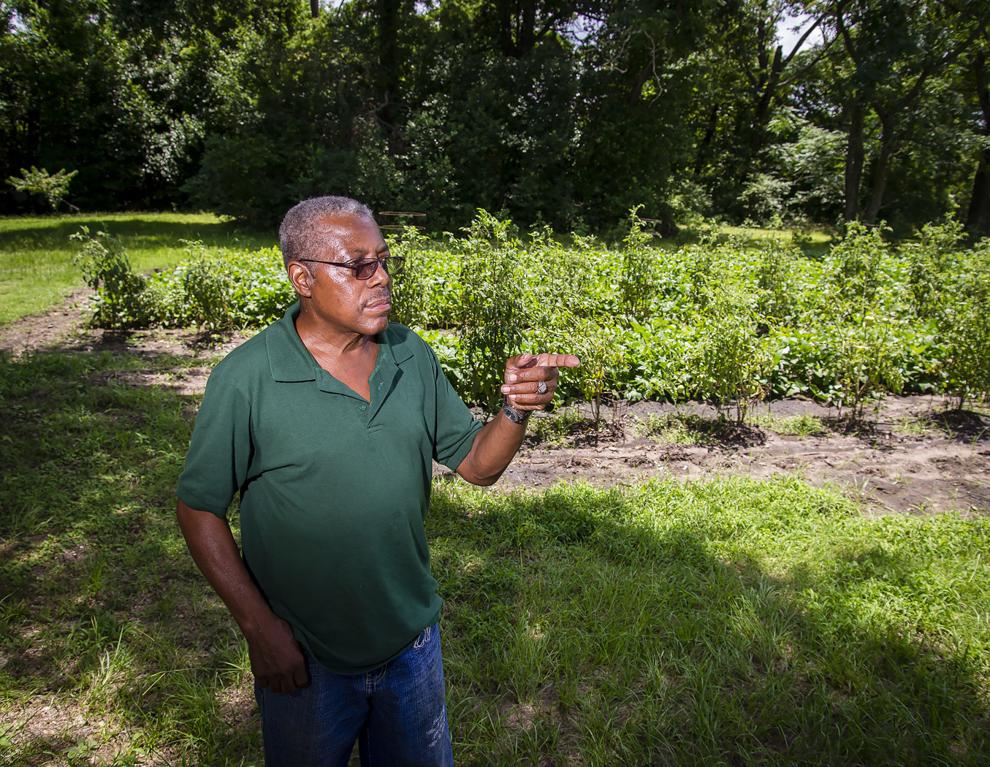 On July 10, 1919, a day before the riot began, Samuel L. Jones, a Longview teacher and part-time reporter for national black periodicals, was severely beaten across Methvin Street from the Gregg County Courthouse.
Jones, the few historical accounts of the riots show, was targeted because he wrote an article in The Chicago Defender, a weekly black newspaper with nationwide readership.
The story, which Jones denied writing, detailed the June 17, 1919, fatal shooting of Lemuel Walters because, the article said, he was a black man involved romantically with a white woman.
Jones' home at Harrison and College streets was the first target of a mob made up of white men.
The marauders at first numbered a dozen, and they regrouped at the downtown fire station after being rebuffed by gunfire at Jones' home. The 25 or so defenders there had been under the informal command of Dr. Calvin P. Davis, who had treated Jones after his beating in his home at Nelson and Harrison streets.
More than 100 shots were fired, leaving three white men with bird shot wounds.
The dozen or so rioters swelled to more than 100 in response to the fire bell they rang to signal their "emergency." A night of violence ensued and continued until dawn.
Finding Jones' home deserted, the mob set it ablaze before heading two blocks down Harrison Street where they torched a dance hall, owned by Medlock, known as Quick Hall that was frequented by black residents. The suspicion that ammunition was stored there was confirmed by the sound of exploding ordnance.
Davis' house, two blocks south at Harrison and Nelson streets, was deserted when the mob arrived for its second assault, but a car parked nearby was burned.
The mob then headed three blocks east on Nelson Street to Sanders' and Medlock's homes near where Wilson now lives.
Davis' father-in-law, Marion Bush, was killed July 12, the lone reported death of the four-day rioting. Bush's home sat on property where either Longview City Hall or Safety City is on Cotton Street (records are unclear.)
The National Guard and eight Texas Rangers were dispatched to Longview by July 13, 1919, and the city was put under martial law. All residents and law officers were ordered to surrender their firearms at the courthouse.
Longview's riot was part of "Red Summer," a period between May and October in 1919 when numerous violent racial conflicts broke out across the nation.
Conversations in private
Like others interviewed recently in those historical neighborhoods, Wilson recollects few details handed down by his elders. Neither does Councilwoman Nona Snoddy, who grew up in and now represents District 2, where the riot played out.
"My mom would tell stories about, not necessarily the race riot, but at one time the Stamper Park area (where Jones' house sat) was 'whites only.' "
Snoddy said it "could be" that her elders, whose parents and grandparents would have been here in 1919, were protecting the younger generation by not reliving the night of violence.
"If they did (speak of it), they did it in private," she said, speculating it might have come up occasionally in black barber shops where little girls seldom if ever joined the conversations. "Oh, I'm sure it did. I'm sure it did get talked about. In my childhood, it was not something I have in my memory. ... But we knew that there was tension around blacks and whites, but not to the degree of the type of violence that took place (in 1919)."
Sergio Costict, a 26-year Longview resident and homebuilder who lives at Nelson and Harrison streets where Davis' home was at one of the four corners, said he has heard faint accounts from elders such as his late grandfather, Jimmy Fitts.
"Yeah, I know about (the riot)," he said, standing Wednesday on his front porch catty corner to the Harrison Street Church of Christ. "I believe my granddad was here, because my granddad talked about it."
Costict didn't recall any hair-raising stories from those dim memories.
"It was a big ordeal," he recalled. "I can remember him bringing it up. I can't remember it ."
He said being asked about the riot on its 100th anniversary could prompt him to dig deeper.
A house that's across Harrison Street from Costict's might be old enough to have been Davis' house, with board-and-batten construction and a front-yard magnolia that easily could be 100-plus years old.
"Wow. OK, 1919. I've got a couple of people that are older that I'm going to ask," Costict said.
No marker
Wilson, Snoddy and others believe the city and/or the Texas Historical Commission should place a marker at some key site along the marauders' violent path.
"Absolutely, absolutely, because I would hope it would be the kind of site to where you can Google it and it will take you to it," said Winsell Coleman, president of Longview's NAACP chapter. "Yeah, I think that's an excellent idea. Longview is getting ready for its 150th year. (A marker) will tell people that, just because you legislate something, that doesn't mean the problem is gone."
History is history, Coleman added, and it should be observed so it doesn't disappear.
"Sometimes, people find it hard to believe something happened here in Longview," he said. "But, it's like any other community. Black folks and white folks have lived it."
Gem Meacham, who has led marker efforts for the Gregg County Historical Commission, said the nearest thing to a mention of the riots is a Texas Historical Commission plaque for then-Sheriff D.S. Meredith Sr. that includes a mention of the violence.
"But some of it is about his tenure as sheriff at that time and what he and Mayor (G.A.) Bodenheim did in calling in the National Guard. ... I guess I would say we have not had a champion to promote" a marker on the race riot.
If a champion ever does arise for that task, Wilson has some hopeful language he hopes it will include.
"I would love to have one right here," he said. "You know what I would like for it to say? 'Thank God that times have changed.' It may not seem like it, but to me times have changed."