TYLER — Even the most casual fan of sports knows the Rose Bowl and the New Year's Day Rose Parade in Pasadena, California.
Many also know Tyler is the "Rose Capital of America," and every TV in America talked about "The Tyler Rose" Earl Campbell, the Tyler native who was one of the most decorated football players of all time in college and professionally.
When it was announced this past weekend that the Rose Bowl is moving from Pasadena to Arlington for one year because of restrictions in California, Gov. Greg Abbott had the perfect response to his 1.3 million followers on Facebook and on Twitter.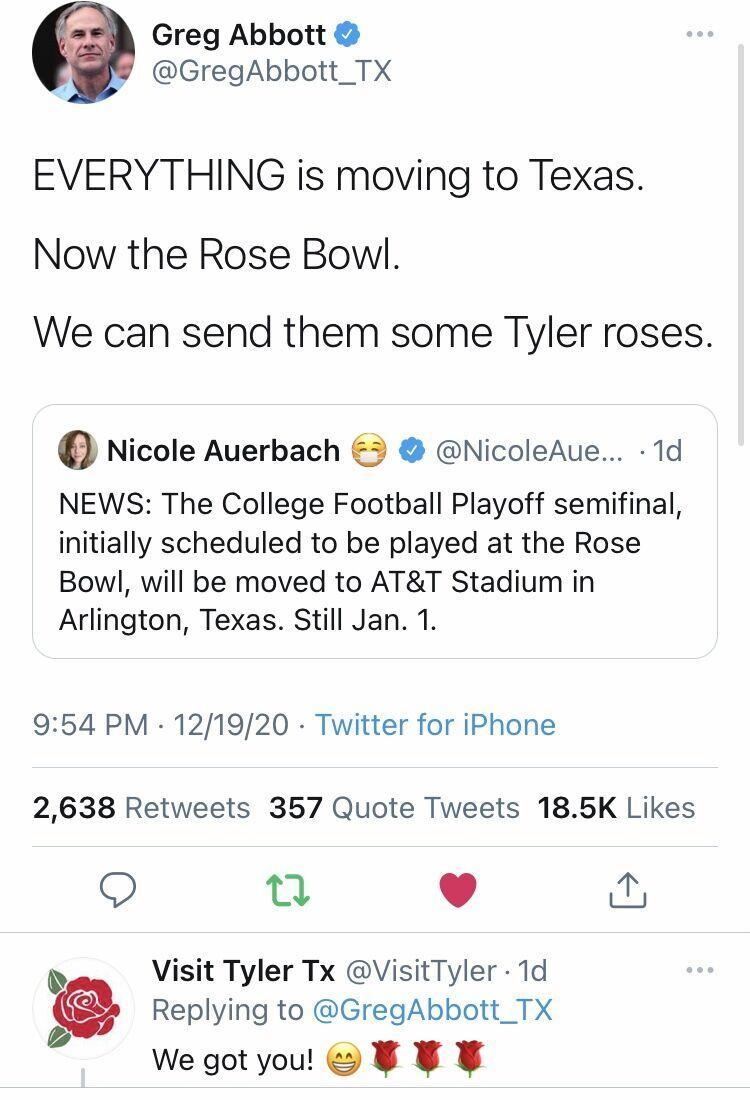 "EVERYTHING is moving to Texas. Now the Rose Bowl. We can send them some Tyler roses," Abbott tweeted.
Tyler Mayor Don Warren agreed and said the Rose Bowl is getting close to the "true" Rose City.
"Pasadena didn't adopt the rose until 1961, and the city of Tyler started the Rose Festival in 1933. That's 87 years. So as far as I'm concerned, we are the city that is about the rose," Warren said. "Gov. Abbott's mention means a lot. It's something we are about, it's our history. In the Rose Garden there are 35,000 rose bushes and 500 different varieties over 14 acres. This is what Tyler is all about. When you talk about the Rose Bowl coming to Dallas, it's getting closer and closer to the 'true' Rose City."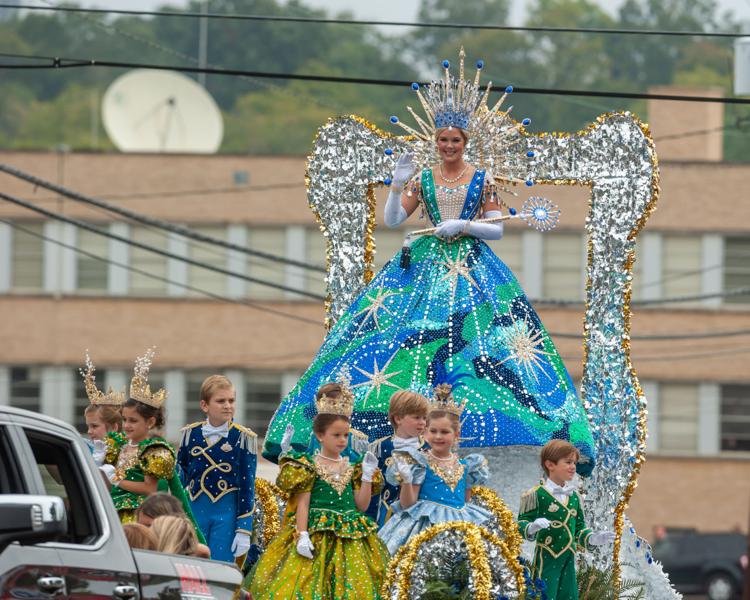 Cindy Smoak, executive director of SPORTyler, works with Campbell for the Earl Campbell Tyler Rose Award, given out annually to the best college football player in the nation with Texas ties.
"We travel all over the state with our convention visitors bureau. People recognize Tyler for roses or Earl Campbell," Smoak said. "To have him as someone who represents our city is super exciting and something not every city has. For him to have that as his nickname ties it all into one package."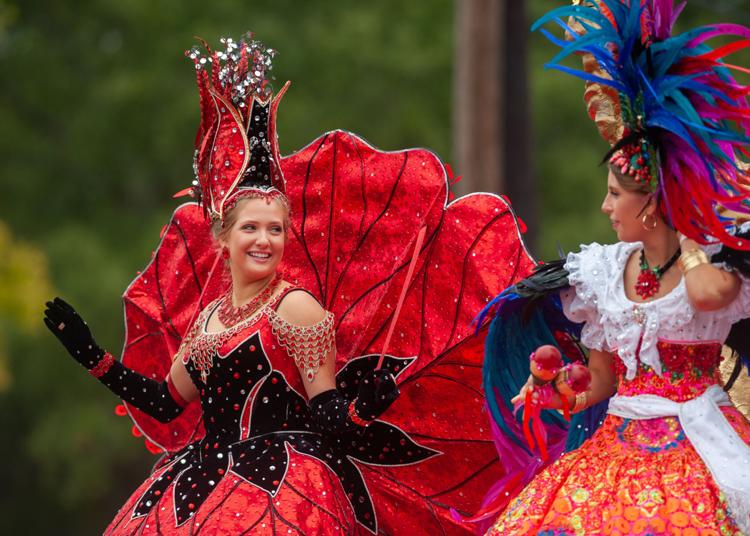 Shari Lee, president of Visit Tyler, said everyone associated with promoting Tyler and the chamber of commerce were texting each other after the announcement.
"I flipped open my phone and saw the tweet from the governor. Immediately, we were all excited. All of us texted each other asking, 'How do we highlight Tyler and get them roses?' That's what we are known for," Lee said. "When you have roses and you talk about Tyler, you talk about Texas. I'm not sure there is anyone who doesn't put that together. As a young girl growing up, you knew what all the cities were known for. When you get to the city of Tyler and learn about the roses, you want to go there."
Lee added, "When the governor gives you emphasis and notices what you stand for, it's a fine thing for people to hear."
Tyler City Manager Ed Broussard said it's more than exposure for Tyler.
"It goes a long way toward the branding we've had for Tyler. Being the Rose Capital of America, of the world, is something we're very proud of. It's in our emblems. Last year, we were able to get it marked as the U.S. Register of Historical Places," Broussard said. "For the governor to recognize us in that tweet about the Rose Bowl and, just the potential of what we could do with some kind of interaction with that and show off that we here in Tyler, Texas, we know how to do roses right is something we are very proud of and excited about.
"It definitely creates more exposure. In terms of the economy, the Rose Garden, the Rose Festival, the Rose Queen and her coronation, those are all things that put us on the map and keep us on the map and bring thousands and thousands of people here each year to take part in seeing the Rose Garden and seeing all the festivities, so it's something that definitely has a major impact on our community," Broussard continued. "People are used to the roses and the Tournament of Roses. But when you come here to Texas, and especially to Tyler, you can come here and see roses beyond compare to anything else you are going to find in the world."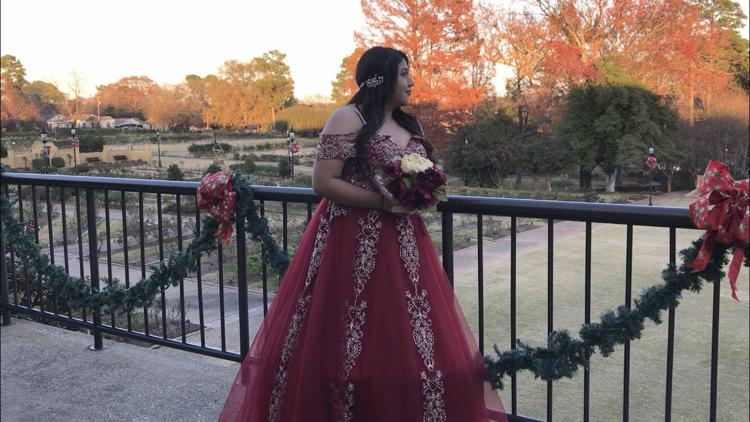 On Sunday, Vanessa Salgado, a senior at Marshall High School, celebrated her 18th birthday with a photoshoot at the Tyler Rose Garden. It was her first trip to the garden and said she felt it was a special place and the perfect setting for her birthday photo shoot.
"I think it's amazing idea to have roses from Tyler at the Rose Bowl," Salgado said. "It's beautiful here. It's very pretty and has a lot of nice views. I was so pleased with having the shoot here. The photos will be amazing."