A statewide effort to shine a light on the dangers of isolation for residents in long-term care facilities as the COVID-19 pandemic continues has come to East Texas.
Chasity Dillard and Judy Case this weekend placed more than 300 signs in Dillard's yard on FM 2087 between Longview and Kilgore on behalf of Texas Caregivers for Compromise, a group working to get the Texas Health and Human Services Commission and Gov. Greg Abbott to approve a plan to open long-term care facilities, because they say isolation can also be deadly.
The signs read, "Isolation kills, too," and each one has a name on it — names of people the group's members said have died in isolation or remain in quarantine in a long-term care facility.
Dillard, a licensed vocational nurse with an East Texas hospice company and a member of the group, said she has seen firsthand the pain that pandemic-related isolation can cause.
"For some of the elderly people, their nightmare has become a reality, 'My family is going to put me in a home and forget about me,'' Dillard said. "They don't all understand that there's a sickness (pandemic)."
Texas Caregivers for Compromise organizers said they are not asking the state's government to open wide the doors to care facilities. Instead, they want one caregiver per resident to be allowed to visit with and care for their loved one.
In March, Gov. Greg Abbott shut down visitation at the state's nursing homes in a move meant to protect the state's most vulnerable populations safe from a pandemic that has proved especially deadly for older people.
This past month, the state put in place new guidelines to allow masked, outdoor, socially distanced supervised visits in what are called qualifying Phase 1 facilities. The facilities must not have a current resident or an employee with COVID-19 for 14 consecutive days. One of the group's organizers said few nursing homes in Texas have the designation.
Case, of Kilgore, helped Dillard place the signs over the weekend.
Her father, 90-year-old Emmett Stephens, is in the memory care unit at Arabella in Kilgore, a coronavirus-free Phase 1-approved facility. She can visit her dad, but she must make an appointment to see him and it must be outside so they can remain at least six feet apart.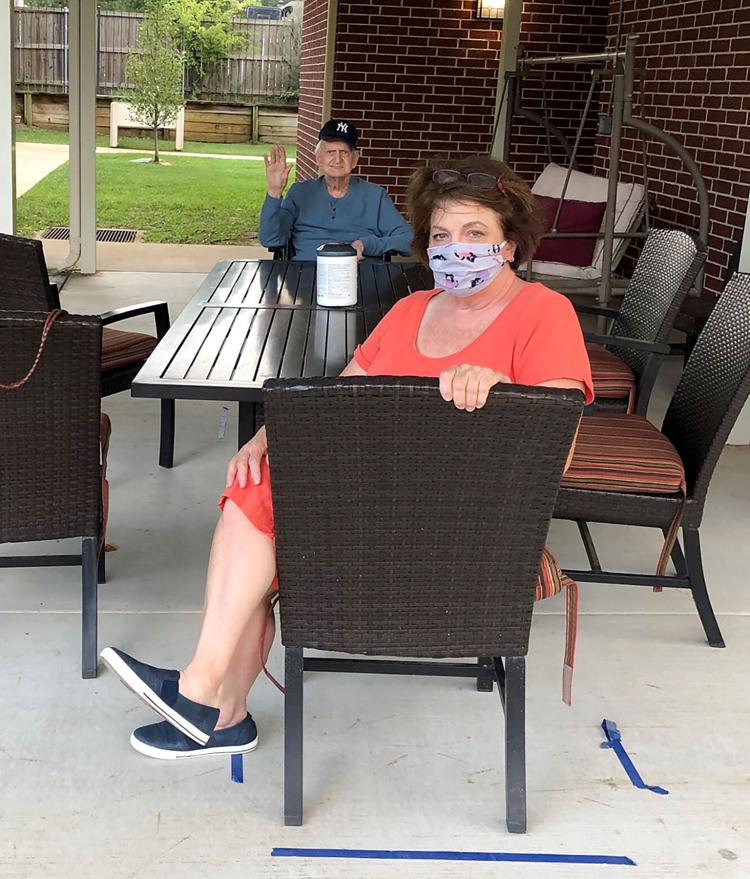 "I'm really grateful to be able to see him," Case said. "My dad is in good hands; we're just locked out."
While being able to see him is good, Case said physical touch is also important for socialization, and she said that is breaks her heart to have to stay away from her dad.
"He hasn't been able to hug me," Case said as her voice was breaking. "He hasn't been able to see me as often … he calls 911 because he thinks something's happened to me."
She last saw her father, close and face to face on March 6.
Stephens, a war veteran, has suffered from depression and weight loss since isolation began in March, Case said.
"He said he doesn't have a reason to live anymore," Case said.
"I've feared my dad will die before that happens," she said. "He has to be reminded that there's a virus."
In May, after about two months of not being able to see her father, Case said she began writing letters to the governor. She was eventually connected with Mary Nichols on Twitter, creator of the Texas Caregivers for Compromise group.
"There's other people who feel this way too," Case said. "This is not political. This is strictly for our families and to save our loved ones."
A Caregivers for Compromise group was first started on July 9 in Florida. Nichols, of Forney, started the Texas group on July 12. Since then, the Texas group has gained more than 2,600 members.
Nichols said the sign campaign is like sending their loved ones on a statewide road trip by proxy.
"It's really to show how human this is," Nichols said. "These are people, not statistics."
The signs started out in Forney then moved on to Fort Worth, Celina and Kilgore. The bright yellow and black signs will then travel to Henderson, Palestine, Bryan/College Station, Conroe, Marion, Marble Falls, San Angelo, Lubbock and Amarillo.
Case will move the signs to a field near the intersection of U.S. 79 and U.S. 259 South in Henderson. She said she received permission from the property owner to relocate the signs within the next week.
Nichols laments that many facilities are not applying to because Phase 1 approved and that the guidelines only allow caregiver access to the same residents who were previously able to visit at windows, have phone conversations or virtual visits.
Case said that if her father was bedridden, she might not be able to see him.
She said the guidelines do not allow residents who are bedridden, blind or have cognitive disabilities to participate.
Dillard said she has seen the mental health toll isolation takes while working in the health care industry.
"It's terrible and really sad to see. I mean, we're all human and we need social interaction," she said. "Their dignity has been taken away from them, their family has been taken away from them."
She added that it's hard to watch because death in isolation is preventable.
"These residents feel like they've been left to die alone," Dillard said. "We're at a loss as to what we can do."
The best thing workers in these facilities can do is to keep residents engaged as best they can, Dillard said.
"It breaks my heart," she said. "They feel like they're being held hostage."
Of the more than 1,200 nursing homes in Texas, only about 30 are Phase 1 approved, Nichols said. The guidelines do allow family access when a resident is "actively dying."
Texas Caregivers for Compromise sent an "essential caregiver" plan to the governor's office, to allow one family member access to loved ones in long term care, she said. Nichols also started a Change.org petition which has gained more than 20,000 signatures.
"We are willing to do whatever it takes," Nichols said, adding that caregivers are willing to be tested frequently and wear PPE among other requirements. "We don't want anyone else to die alone."
Caregivers often do more than just visit with loved ones, Nichols said. They clean dentures, brush teeth, clean and trim nails. This is all an added burden to healthcare workers, Nichols added.
The caregivers group members sometimes feel like their concerns are getting lost in the noise surrounding COVID-19 and other issues.
"There's so much else going on," Dillard said.
"There are so many people who have no idea what's going on," Case said. "It's disheartening to see people argue about masks when so many can't see their families. What people don't realize is that those case numbers going up or down affect us."