City of Kilgore to issue boil water notice
The City of Kilgore said Wednesday night in a Facebook post that it is issuing a boil water notice.
"Unofficially, our water pressure has dropped to levels that require any water for human consumption to be boiled prior to usage," the city said in the post. "Please cease using water now. Do not open your faucets do not fill your bathtubs. If everyone will be patient we can beat this."
Earlier Wednesday, the city said it was implementing Stage 3 water restrictions because of increased usage, including from burst pipes.
City of Longview offices, facilities, sanitation collection to resume Monday
City of Longview offices and facilities as well as sanitation collection will resume normal operations beginning Monday.
The city announced late Wednesday that its offices and services, including recreation centers, compost site and Longview Transit, will remain closed through Sunday. Offices will reopen Monday.
Trash and recycling will not be collected for the remainder of this week, but collection is scheduled to resume Monday on regular schedule.
Longview Municipal Court hearings also remain canceled for the remainder of this week.
The Longview Public Library will continue to serve as a community Warming Shelter and will be open from 10 a.m. to 9 p.m. Thursday.
City personnel continue to monitor weather and road conditions. The city has created a map that displays information about road closures, street conditions and traffic lights. To view road conditions, visit LongviewTexas.gov/RoadClosures.
---
Longview Public Library opens as warming shelter
The City of Longview is opening the Longview Public Library as a warming shelter beginning at 2 p.m. today. 
In a statement, the the city said the library, 222 W. Cotton St., will be open from 2 p.m. to 9 p.m. 
"Food and beverages will not be provided, and residents are encouraged to bring their own snacks, supplies, and device chargers," the statement said.
"Hiway 80 Rescue Mission (3117 W. Marshall Ave.) and The Salvation Army of Longview (519 E. Cotton St.) have also opened as warming shelters for those without power who need a place to stay warm.
"Roads remain icy, and travel is discouraged at this time. If you must be on the road, please use extreme caution. Visit LongviewTexas.gov/RoadClosures for an up-to-date listing of road closures and issues."
---
Elderville Water Supply Corp. issues boil water notice
Because of freezing weather causing a water outage, the Texas Commission on Environmental Quality has required the Elderville Water Supply Corp. to notify customers to boil their water before consumption, including hand washing, brushing teeth, etc.
"Due to our current weather conditions we have been enduring these pasts few days, some of our water distribution equipment was comprised," the corporation said in a statement. "We do have plants up and running, but due to the drop in water pressure and water loss, we are issuing this notice as a cautionary measure to ensure the safety of the water until this crisis has ended. 
"When it is no longer necessary to boil the water, the public water system officials will notify customers that the water is safe for drinking water or human consumption purposes."
Contact Elderville Water Service Dept. at (903) 212-2299.
---
TxDOT: 'Please stay home!'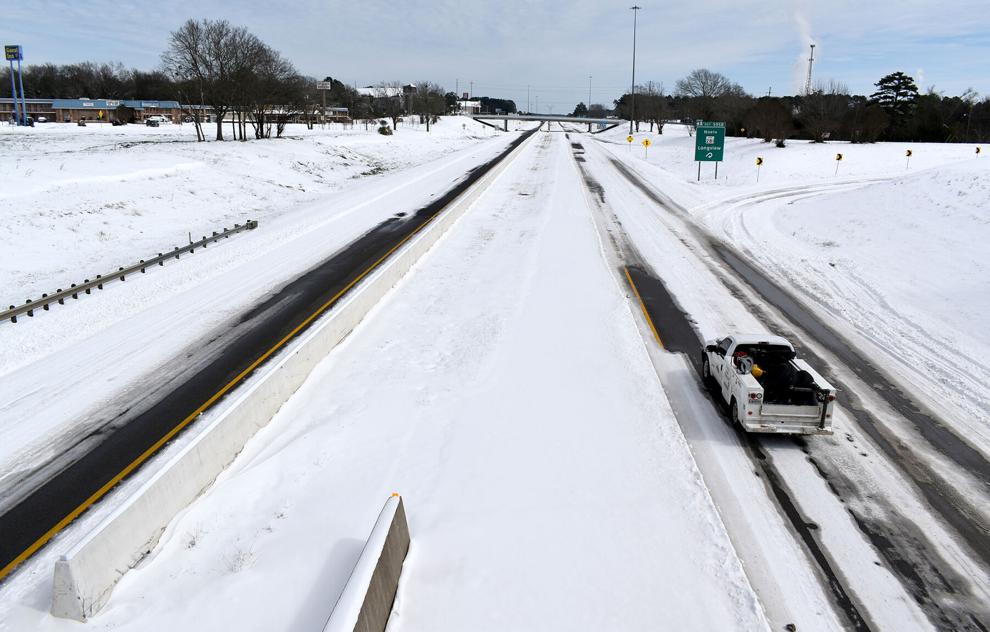 The Texas Department of Transportation says it is working around the clock to treat roads as it cautions residents to stay home and off the roads. 
In a statement issued at just before 11 a.m., TxDOT said:
Please stay home! Motorists are reminded to avoid all non-essential travel. Too many drivers are risking their safety and getting stranded on the roads in these extreme conditions. 
The winter precipitation returned overnight and continues in some areas further deteriorating road conditions, covering them with ice. Crews remain working 24-hour shifts patrolling, treating, and plowing roadways when it is safe to do so. We are thankful to be receiving assistance from our contractors and county forces in these ongoing efforts.
There are more than 5,000 roadway sections affected by snow/ice impacting all TxDOT Districts. It is safest to stay home. For those who must drive, use extreme caution.
SH 315 in Rusk County is closed due to icy conditions. Steep grades not passable due to icy conditions. Closed at the intersections of SH 315 and US 259 at Mt. Enterprise; and at SH 315 and BU 79G in Carthage.
Exit 562 (FM 14) on I-20 EB is closed due to backups from trucks and fuel supply issues.
---
City of Kilgore goes to stage 3 water restrictions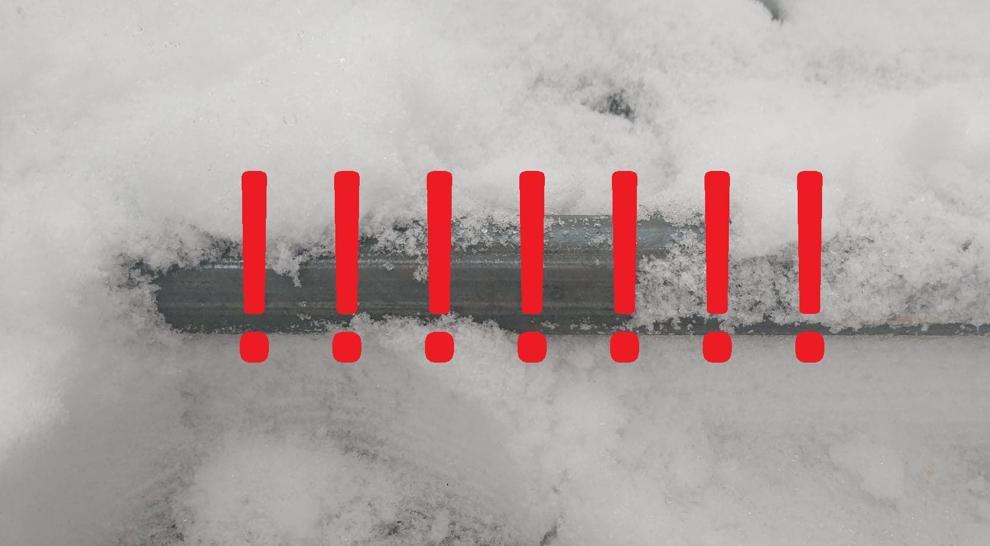 The City of Kilgore is implementing "Stage 3" water restrictions as they run out of water because of increased usage.
The city said it believes some of the increased usage is from pipes bursting.
"Normal winter usage is 800 gallons per minute in Kilgore, we are currently at 2,500 gallons per minute (highest usage ever), and we can only produce water at 1,300 gallons per minute. In other words, we're running out of water and we need your help, the city said in a notice.
If you find a burst pipe, call (903) 984-5081 to request a disconnect. If you don't get an answer there, please call (903) 983-1559, which is the non-emergency PD line.
If you are not home or at the business that you own, have someone local go check for leaks or burst pipes.
Use water only when necessary — avoid baths, long showers, laundry and other high water uses.
Slow your drip! If you have your faucets running full on, please slow them down to a drip.
---
Longview police on roads: 'We strongly encourage you to stay off them'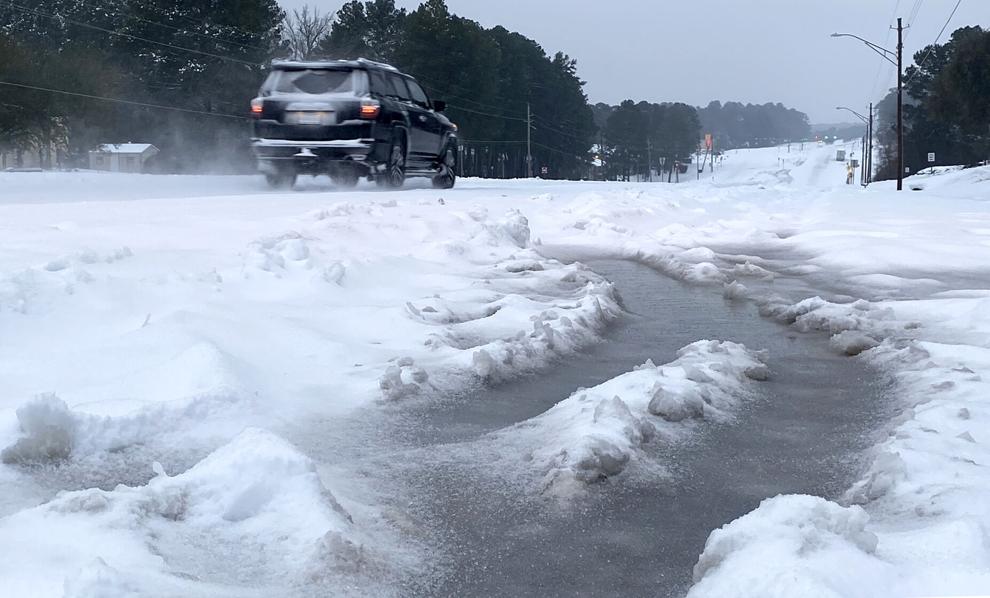 The Longview Police Department is encouraging residents to stay off the roads as sleet falls in the region during a continued winter storm warning.
"If you don't absolutely have to be out on the roads today, we strongly encourage you to stay off them," Longview police said at about 6:45 a.m. in a post on the department's Facebook page. "The roadway(s) have already (begun) to ice up again. Ice on top of ice, makes for a very slippery roadway."
The region remains under a winter storm warning with ice and snow expected in the Longview area through Thursday afternoon.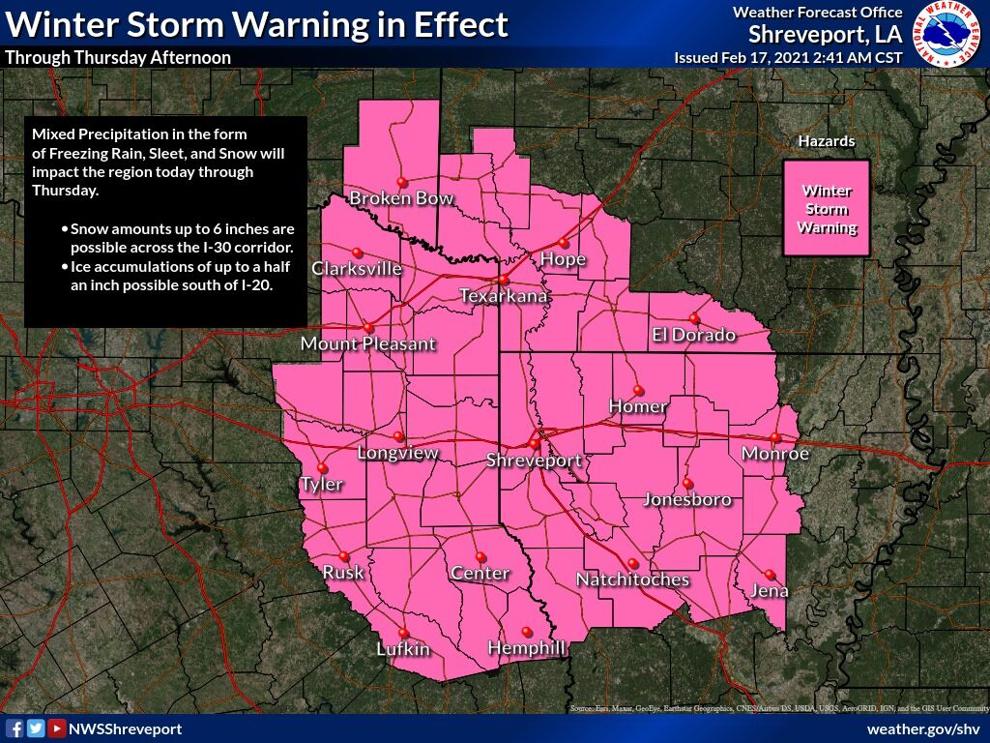 "A significant winter storm producing a mix of snow, sleet, and freezing rain to threaten the region today and not totally ending until during the day Thursday," The National Weather Service said in a hazardous weather statement. "Wintry precipitation is expected to be primarily snow along and north of Interstate 30, a mix of snow, sleet and freezing rain around the Interstate 20 corridor, and primarily freezing rain over Deep East Texas and Central Louisiana."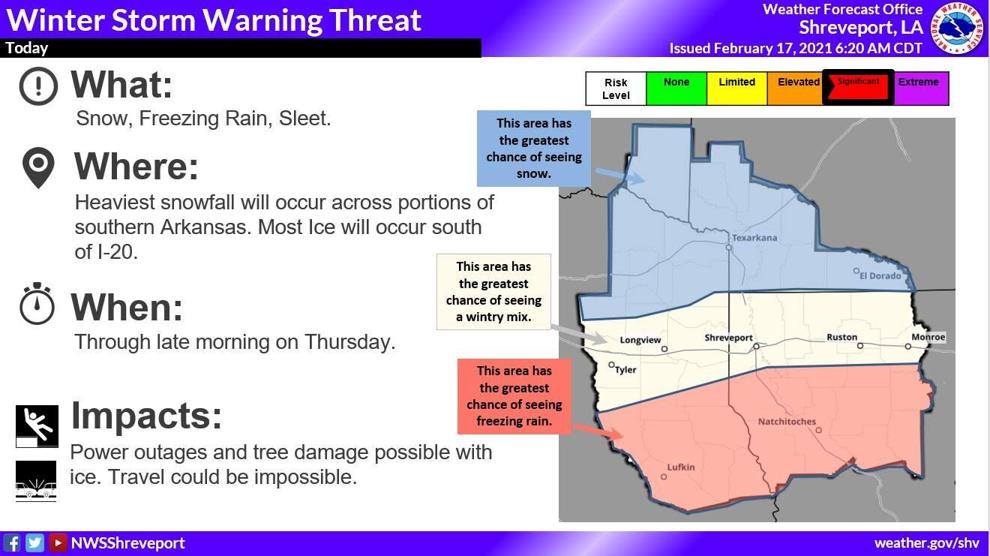 According to the National Weather Service, the Longview area could see less than an inch of snow through Thursday afternoon and about a quarter inch of ice.
The Texas Department of Transportation issued a warning Tuesday cautioning about the closure of Texas 315 in Rusk County and U.S. 259 in Mount Enterprise, but the statement also warned motorists to stay off the roads.
"Roads are frozen and travel is discouraged," the statement said. "We are doing all we can with all available resources to keep them open for emergency vehicles."