A Longview man indicted this past week in the January 2021 death of a woman has written multiple letters to a judge in which he admits injuring her and writes about "hearing voices telling me to hurt and kill someone."
Joshua Ross McCuller, 40, was booked Jan. 4, 2021, into the Gregg County Jail on a charge of aggravated assault of a date/family or household member with a deadly weapon. He was later indicted on the charge; however, a grand jury on Aug. 31 indicted McCuller on a murder charge in the death of Lori Follis.
According to the murder indictment, McCuller is accused of striking Follis with a hammer "on or about the 3rd day of January, 2021." The document states McCuller did "commit and act clearly dangerous to human life that caused the death of the complainant (Follis), by striking her with a hammer."
The previous indictment on the aggravated assault charge states McCuller and Follis had a dating relationship.
McCuller has written at least a half-dozen letters addressed to 124th District Judge Alfonso Charles or District Clerk Trey Hattaway. In the letters, McCuller writes about extensive mental health issues. He said he was not taking his medications around the time of Follis' death and that he was hearing telling him to hurt someone. He also repeatedly pleads for mercy in sentencing because of mental illness.
"My name is Joshua Ross McCuller and I've been charged with aggravated assault with a deadly weapon, but the woman ended up dying afterwards for reasons unknown whether by me or the car crash," he writes in a letter he dated Nov. 26.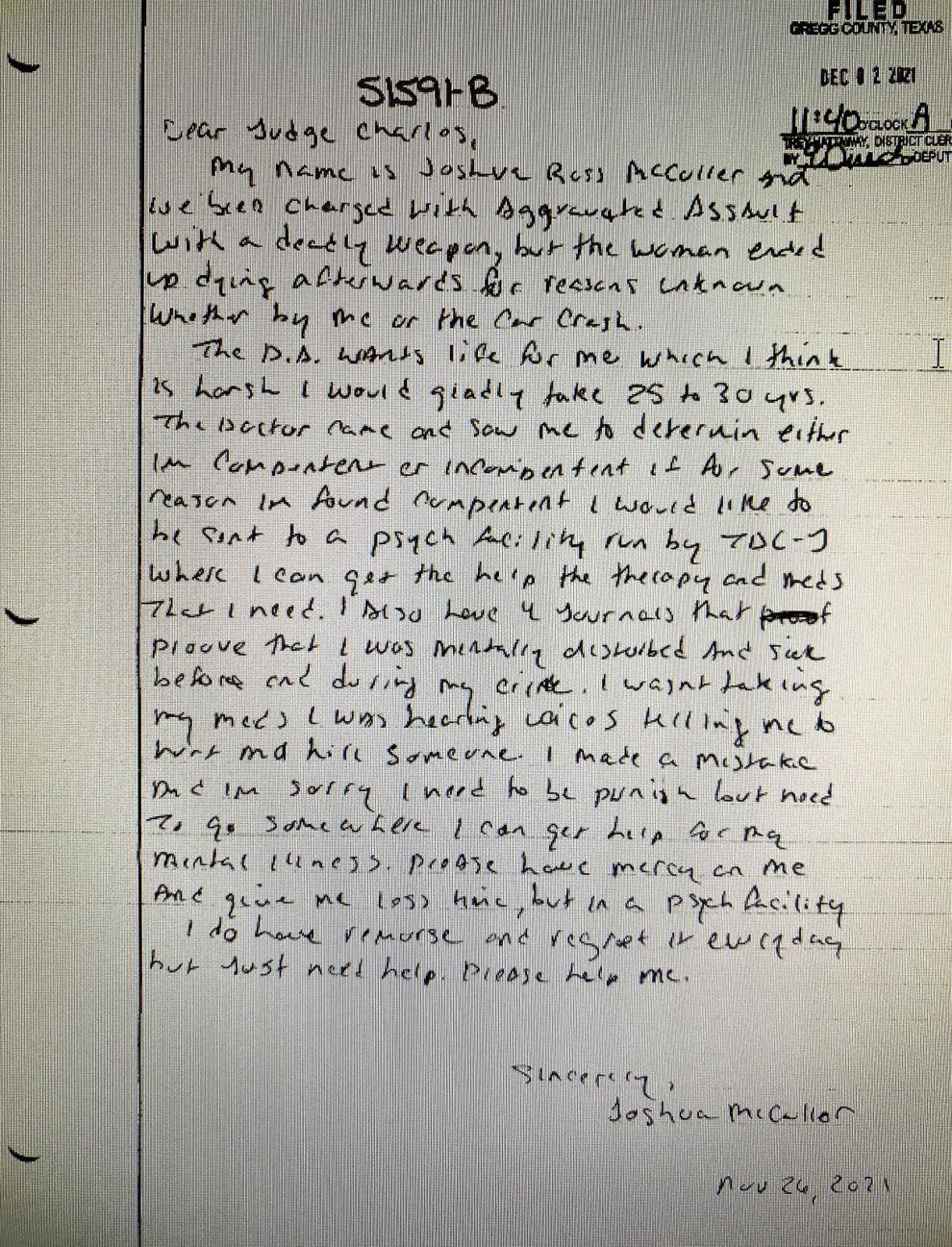 In the letter, McCuller wrote that the district attorney wants him sentenced to life in prison, which he thinks is too harsh a sentence. He wrote he "would gladly" take 25 to 30 years but that he thinks it should be served in a psychiatric facility run by the Texas Department of Criminal Justice "where I can get the help the therapy and the meds I need."
He wrote in the letter that he has journals that prove he "was mentally disturbed before and during my crime."
"I wasn't taking my meds. I was hearing voices telling me to hurt and kill someone," he wrote. "I made a mistake and I'm sorry I need to be punished but need to go somewhere I can get help for my mental illness. Please have mercy on me and give me less time, but in a psych facility. I do have remorse and regret it every day but just help me. Please help me."
In a letter he dated June 7, McCuller writes that he is still having symptoms while on the medications he takes in jail. He also again asked for mercy.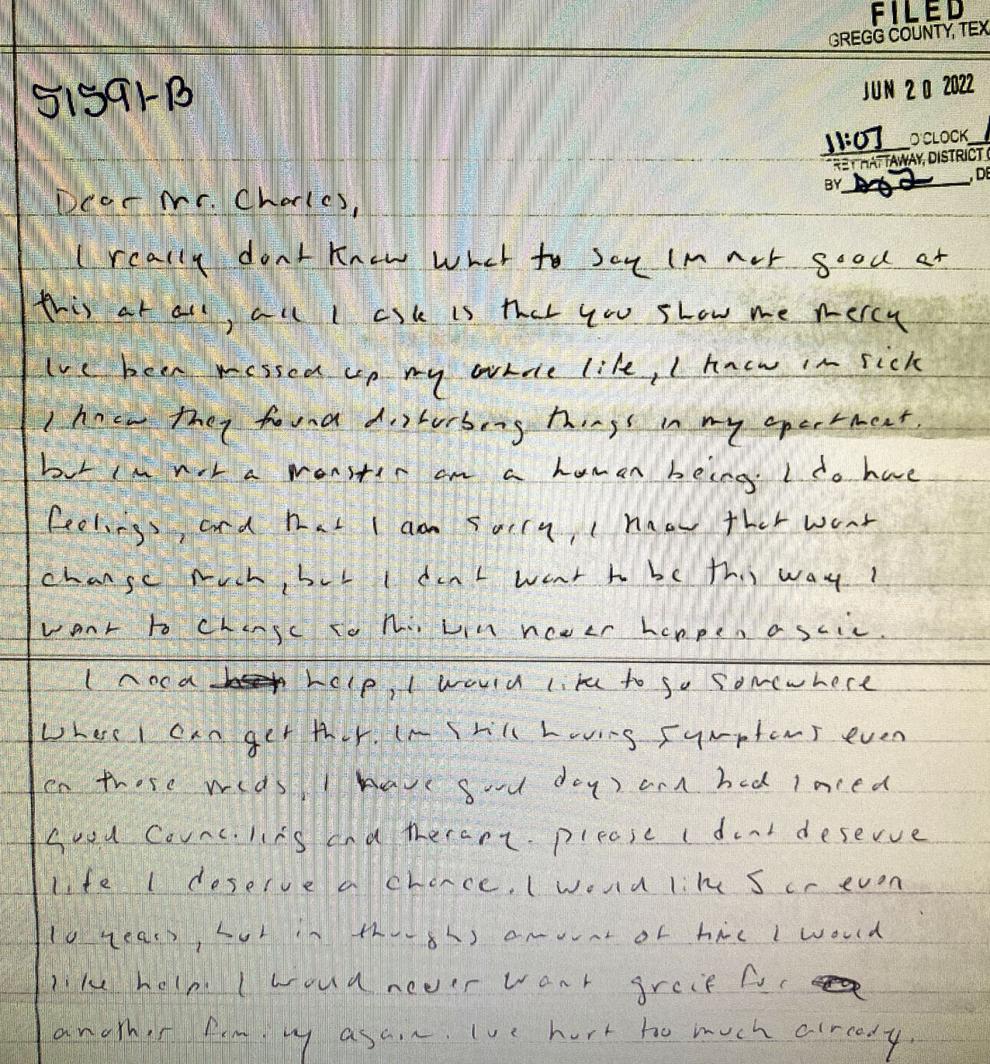 "… I've been messed up my whole life. I know I'm sick. I know they found disturbing things in my apartment but I'm not a monster (I'm) a human being," he writes. "I do have feelings, and that I am sorry. I know that won't change much, but I don't want to be this way. I want to change so this will never happen again."
Charles in early May issued an order for McCuller to be evaluated to determine if he is competent to stand trial. On May 4, psychologist Dr. Thomas G. Allen examined McCuller inside the jail.
In a report dated May 7, Allen details the examination that led to a finding that McCuller is competent to stand trial. In the report, Allen wrote that McCuller reported he quit school in the ninth grade and that he has had "multiple psychiatric hospitalizations." The report shows "about 20" admissions to Meadow Pines beginning at age 15 along with admissions to Austin State Hospital, Terrell State Hospital and facilities in Tyler and Houston.
According to the report, McCuller is taking four medications and has "been diagnosed various with Schizophrenia, 'manic depression', Obsessive Compulsive Disorder, and Schizoaffective Disorder."
"He indicates that at age 15 he began dissecting animals such as squirrels, mice and birds," the report shows.
Allen wrote in the report that McCuller's thinking with "logical and linear" throughout the examination.
McCuller told Allen that he hears voices that often awaken him, "whispering to him." He said there are two voices he called "bad entities" that torment him and tell him to hurt people.
"The voices are often command hallucinations that tell him to hurt people and 'do sexual things to women,' " Allen wrote.
McCuller claimed to have an alter-ego named Jack who, he said, "is a werewolf inside me."
McCuller told Allen has was sexually abused by his mother and grandparents beginning at age 8. He said he was "always punished" by women and bullied by them at school.
"He indicates he had thoughts 'for a long time' about hurting his girlfriend and the thoughts became increasingly dark, and he decided to killer her 'on August 20th,' " Allen wrote. "He intended to knock her out, then killer her … and then eat parts of her."
In the report, Allen wrote that McCuller said he had a "slaughter room" set up in a closet with surgical tools and lined with plastic There were restraints in place in the bedroom. McCuller's plan was "suicide by cop," Allen wrote, but then he changed his mind and "gave myself up."
"He now denies suicidal ideation but indicates homicidal ideation 'sometimes, recently,' " Allen wrote.
Online jail records show McCuller is set for trial in the original case related to his aggravated assault arrest on Sept. 19.