Thousands in East Texas remain without power this morning after high winds Thursday took down power lines and toppled trees across the region.
According to the AEP-Southwestern Electric Power Co. outage map update at 7:45 a.m. Friday, nearly 3,000 Gregg county customers were still without power. Of the counties in Texas the utility serves, Gregg County had the most outages. 
Smaller numbers of outages were reported in Smith, Harrison, Rusk, Upshur and Panola counties. About a dozen Upshur Rural Electric Cooperative customers were also without power.
Outages were widespread throughout East Texas, Northwest Louisiana, Southeast Oklahoma and Southwest Arkansas, leaving 5,775 without power, though numbers have decreased since Thursday afternoon.
At 5 p.m. Thursday, SWEPCO reported that more than 15,000 customers in Texas were without power. In Gregg County, there were 7,989 customers without power.
A lake wind advisory remains in effect until 7 p.m. in the region. 
Winds are expected to continue around 20 mph with gusts as high as 30 mph throughout the day Friday. Calmer winds will continue Friday into Saturday at 5 to 10 mph.
High winds on Thursday left widespread damage in the region, keeping first responders busy into the night.
Crews battled fires in Kilgore, power outages in Longview and responded to a scene near Lindale after high winds caused a tree to fall on an 11-year-old boy who was riding a go-kart. The child died.
National Weather Service Shreveport Meteorologist Chris Nuttall said a 55 mph wind gust was clocked in Longview after 3 p.m. Thursday. According to a National Weather Service graphic, Longview the 55 mph wind gust was the third-highest in the region behind wind gusts in Rusk and Nacogdoches.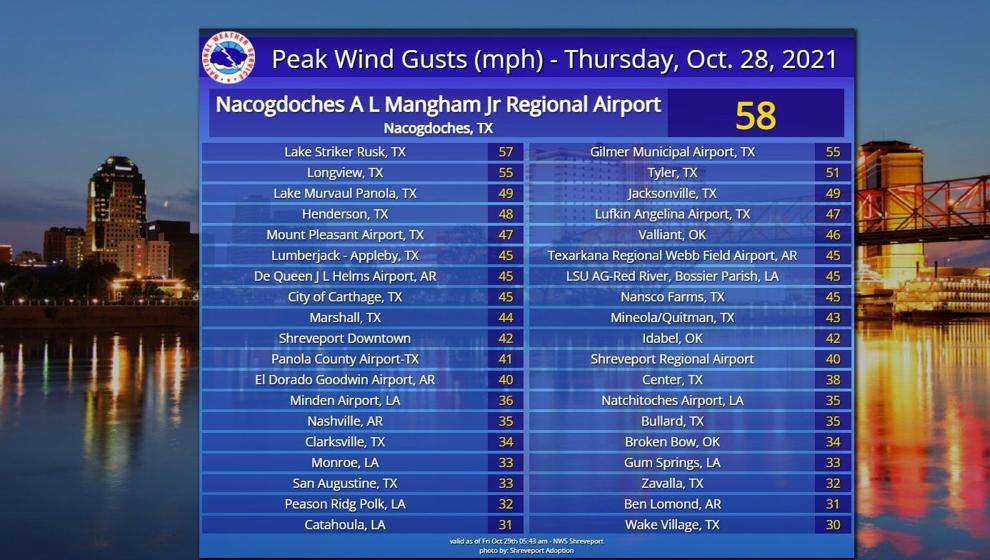 Winds remained consistent between 25 and 35 mph with gusts between 30 and 45 mph.
Gladewater police reported the wind blew a roof off a building downtown causing road blockage.
Longview police spokesman Brandon Thornton officers throughout the day responded to power lines and poles down along with fallen trees blocking the roads in the city.
Longview Fire Marshal Kevin May said firefighters also responded to calls about down power lines along with "false alarms and power surges."
Kilgore fire crews were "working on several fires," according to Kilgore police.
The fires included a "large wildland fire" off Industrial Boulevard and Watson Road, police said in an afternoon post on the department's Facebook page. Firefighters also responded to a fire at a building on Industrial Boulevard near Woodlawn Street.