Interstate 20 traffic backing up near Waskom
Eastbound traffic on Interstate 20 is backing up into Waskom after a crash across the state line in Louisiana, according to the Texas Department of Transportation. 
"Motorists are advised to take alternate route if possible. Get latest road conditions at DriveTexas.org," TxDOT said in a statement.
---
City of Kilgore: Boil water notice could last seven or more days
The City of Kilgore says it's still working to identify the source of a massive water loss that is preventing them from supplying water to the city — and that a boil notice could remain in place for more than a week.
"Our crews are working diligently and at great risk to locate and repair," the city said. "The optimistic expectation is that we will locate the source within 24 hours and repair it within 48 of that. However, we do not anticipate being able to rescind the boil water notice for 7 or more days due to the time it will take to refill the entire distribution system and become compliant with disinfection and pressure requirements."
---
City of Kilgore: 'Roads are worse today than they have been at any other point this week'
The City of Kilgore this morning had some unwelcome news about roads in the area for local residents. 
The city said in a 9:51 a.m. post on its Facebook page that "the roads are worse today than they have been at any other point this week so we will continue our mantra of stay home stay safe stay warm."
The city has been experiencing water problems during record snowfall and low temperatures this week. 
"Our water system did not recover overnight despite fixing many breaks," according to the statement," and as such we do not currently have a estimated time frame for restoring water pressure."
---
National Weather Service cancels winter storm warning for four-state region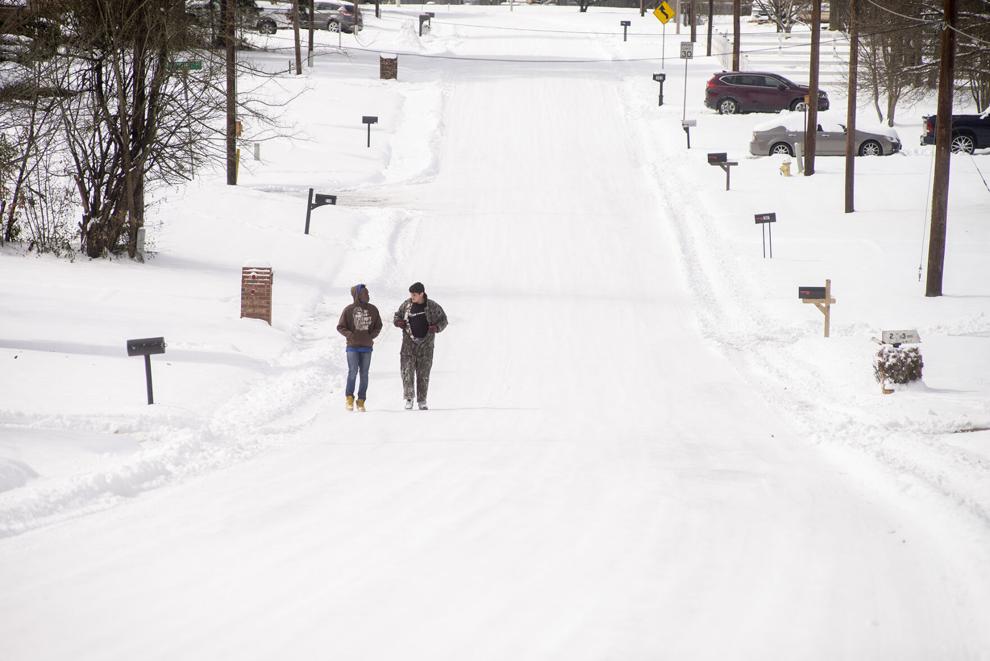 The National Weather Service has canceled a winter storm warning that had been in effect for a four-state region that includes East Texas. 
"Any additional winter precipitation is expected to have very little if any impact on very hazardous road surfaces for the remainder of the day," the National Weather Service said in a statement. "Travel is still not recommended."
---
Longview Public Library opens at 10 a.m. as warming shelter
The city of Longview is again opening a warming shelter at the Longview Public library today from 10 a.m. to 9 p.m.
The city first opened the library, 222 Cotton St., as a warming shelter from 2 p.m. to 9 p.m. Wednesday. 
According to a statement from the city, food and beverages will not be provided at the facility. Residents are encouraged to bring their own snacks, supplies and device chargers. 
"Hiway 80 Rescue Mission (3117 W. Marshall Ave.) and The Salvation Army of Longview (519 E. Cotton St.) have also opened as warming shelters for those without power who need a place to stay warm," the statement said. "Roads remain icy, and travel is discouraged at this time. If you must be on the road, please use extreme caution. Visit LongviewTexas.gov/RoadClosures for an up-to-date listing of road closures and issues."
---
Longview police again ask residents to stay off roads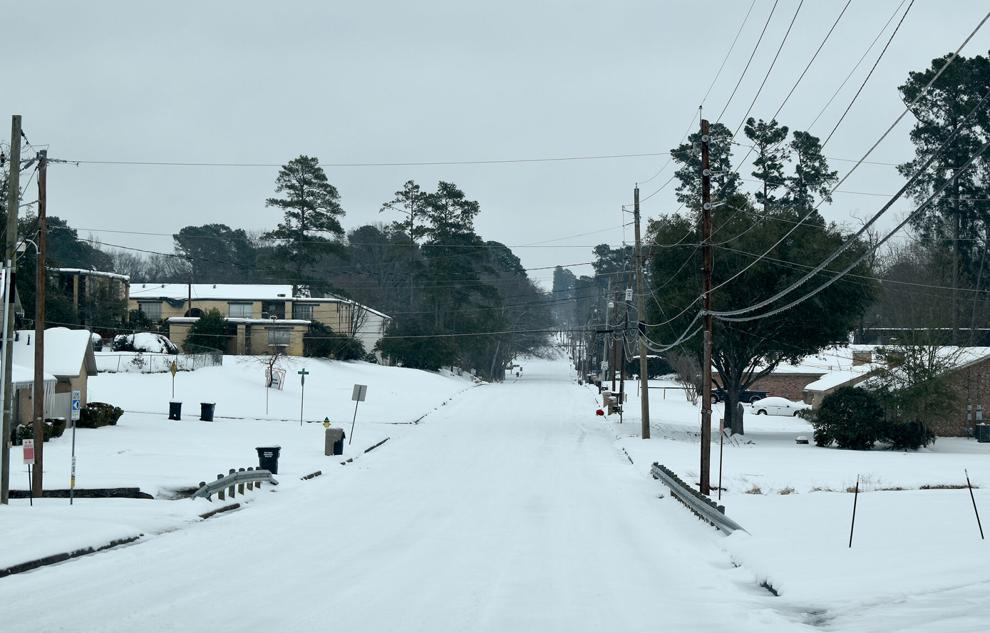 After sleet, snow and sub-freezing temperatures again on Wednesday, Longview police this morning also again urged residents to stay off the roads today.
"Good Morning, with the sleet, snow, and low temperatures from last night, the roadways are very icy and slippery," the Longview Police Department said in a statement on its Facebook page. "If you don't absolutely have to be out on the roads today, we strongly encourage you to stay off of them."
A winter storm warning remains in place for much of the region until noon. The National Weather Service warning area includes Gregg and surrounding counties.
"Even though the big winter storm has exited our Four State region, we are allowing the Winter Storm Warning to continue through tomorrow morning in the southeast two-thirds of the region," the National Weather Service said on Wednesday. "Some additional light snow or freezing amounts starting late tonight could ensure very poor travel continue in those areas."
Winter storms brought nearly 10 inches of snow and brought a record-low temperature for Longview on Wednesday of minus 5 degrees. The situation caused school and business closures, kept most residents at home and off often-unpassable roads and led to the opening of a warming shelter at the Longview Public Library. The warming shelter is expected to open again this afternoon for several hours.
Kilgore police this morning issued a warning about Interstate 20 and also cautioned residents to stay off the roads unless necessary.
"This is probably the worst we've seen the roads so far," Kilgore Police Department said at 3:17 a.m. on its Facebook page. "Be safe."
The Texas Department of Transportation said in a statement Wednesday night that staff were working around the clock to treat the roads, but it also cautioned motorists to stay off of them.
"Please stay home! Motorists are reminded to avoid all non-essential travel," the statement read. "Too many drivers are risking their safety and getting stranded on the roads in these extreme conditions."
Cloudy skies and a high of 32 degrees is expected today in Longview with a slight chance of a wintry mix of precipitation.
Mostly sunny skies are expected Friday with a high above freezing at 34 degrees. Temperatures will start to climb over the weekend with highs of 40 on Saturday and 49 on Sunday. Overnight temperatures will continue to dip below freezing, likely causing melted snow to refreeze.